[Written by Mikaela Ian Pearman]
Excellent service, incredible food and an amazing vibe sum up my last stop for Restaurant Weeks.
I decided to save my last review for a place I hadn't enjoyed yet – BLT Steak NY at St. Regis. The menu was simple but well executed.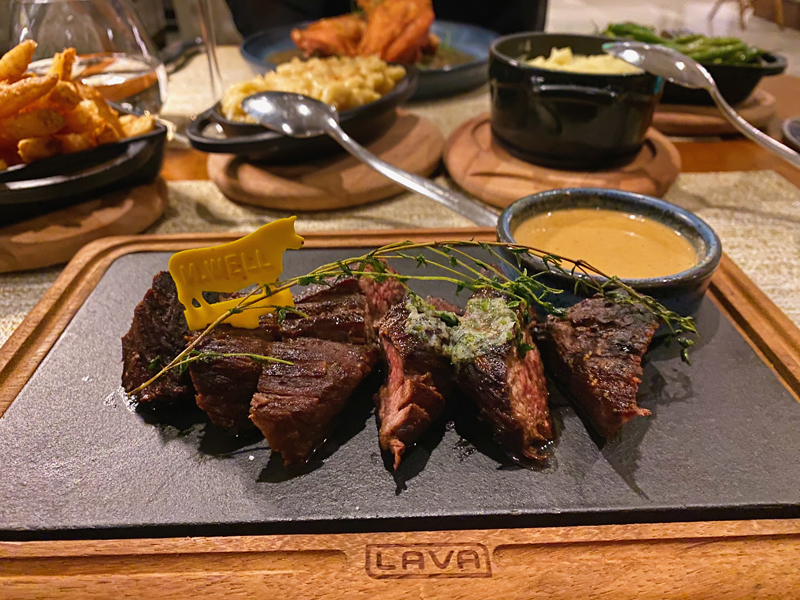 My friend and I arrived and grabbed a drink upstairs at the bar before heading down for dinner. When we arrived, we were quickly escorted to our table and introduced to our server, Naveen. He explained the restaurant weeks menu to us then took our drink order.
While we were waiting for our drinks, an amuse bouche of chicken liver spread with crostini quickly appeared followed by gruyere popovers with butter. The chicken liver wasn't my vibe but the popovers were absolutely amazing! They were crunchy and salty and moist at the same time. The butter added to the yuminess. This was an excellent start to the meal because usually bread in restaurants is an afterthought and this was clearly an early showstopper.
Another great start – watermelon jalapeno margaritas. Please do me a favour and order this drink if you ever dine at BLT Steak NY. Absolutely fabulous.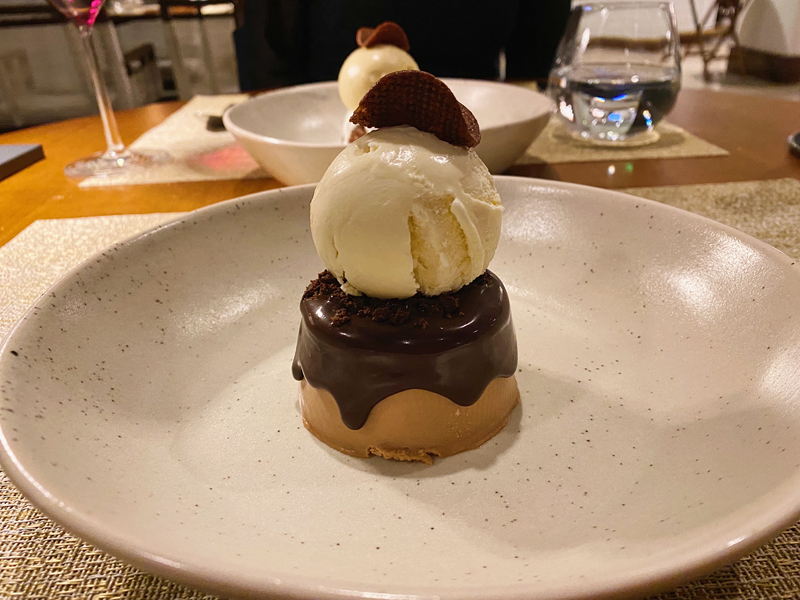 The menu offered two choices for each course and we decided to just get everything. To start, we enjoyed the Chopped Vegetable Salad and Caesar Salad. The chopped salad was crunchy and creamy thanks to an oregano mustard vinaigrette. The caesar was my favourite out of the two because of garlicky bread crumbs sprinkled on top of the whole salad, which equaled crunchy garlic goodness in every bite.
For mains, we enjoyed Roasted Chicken with dates and preserved lemon and a 10oz Hanger Steak. The chicken was crispy yet moist and the sauce was delicious. The steak was cooked perfectly medium and paired well with peppercorn sauce. I've never had hanger steak so wasn't sure what to expect but it was tender and seared beautifully.
For sides, we ordered all the things: mac and cheese, mashed potatoes, green beans and french fries with aioli. They were all excellent but my favourite accompaniment to steak is always mashed potatoes so that I can get a bite of steak, some sauce and then creamy mash on one fork. Heaven!
For desserts, we had Carrot Cake with Ginger Ice Cream and Peanut Butter Chocolate Mousse with Vanilla Ice Cream. The carrot cake was amazingly moist and delicious and paired perfectly with the ginger ice cream. But the mousse was the star. It was salty, creamy, chocolately and decadent. I could happily eat another bowl right now.
Overall, this dinner was absolutely incredible. Dare I say, it was my favourite out of all of them. It was a combination of excellent service [we seriously never had to ask for anything], incredible food and such a great vibe. I highly recommend checking out BLT Steak NY before Restaurant Weeks finishes on Friday. I think I'll have to try the new brunch menu next!
*BLT Steak NY is in the $52 category.

Read More About
Category: All, Entertainment