[Written by Stephen Wright]
Tyler Christopher raced to his third consecutive win as a professional boxer after a controlled and measured display against Carl Turney in Birmingham last night.
Christopher was too sharp and slick for his journeyman opponent, who barely laid a glove on the Bermudian who won the super-welterweight bout 40-35 on points.
Turney, a replacement for original opponent Jamie Quinn, was also deducted a point for holding during a scrappy final round.
The gulf in class between the pair was evident in the opening round, with Christopher finding a regular home for his piston-like jab.
Crouching low and hiding behind his high guard, Turney was offering little in the way of attacking ambition aside from the occasional overhand right and groping left hook, with Christopher staying in range throughout the second round, landing shots to the head and body.
Smelling that a knockout was in sight, Christopher pursued Turney with greater urgency in the third; however, he was frustrated by his resilient and wily opponent, whose survival instincts have been tried and tested from his previous 21 successive defeats.
The fourth round descended into a ragged affair, with Christopher losing some composure while looking to deliver the decisive blow to finish the fight.
Ultimately, Turney held on, quite literally, twice slipping to the canvas in his desperate efforts to hear the final bell inside the Holte Suite, Villa Park.
He did connect with an accurate right hook to the body, flooring Turney, although the referee adjudged the 35-year-old had slipped rather than knocked down.
"I'm a bit disappointed because I was looking for a stoppage, but he was a veteran, and he knew how to survive the rounds," Christopher told Bernews.
"He was holding my arms around the side so the referee couldn't see and had a point taken off him. He knew what he was doing. I felt like the knockout was coming."
The 25-year-old believes he must now learn to lure his opponents into a false sense of security to earn the knockout wins he craves.
"He was the right opponent for me to work on things and land the shots I've been practising with my coach," the southpaw added.
"Sometimes, I was looking to be too dominant. With some of these journeymen, you need to give them some encouragement before there's an opening.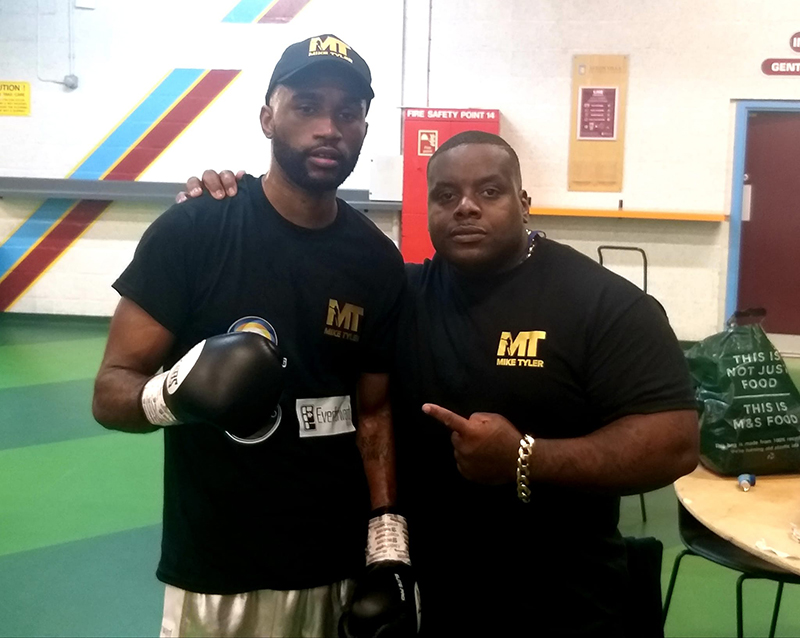 "If you're too dominant, they will cover up and stay defensive. I'll be working on that when I'm back in the gym on Monday."
Anthony Hull, who coaches Christopher, believes his fighter could have exhibited more patience in the final round but was more than satisfied with his overall performance.
"We all know Tyler's a boxer, nice and slick, so we said to him, 'We want you to bring something different to the table. It's time to start learning,'" said Hull, the head coach at DNA Boxing School of Excellence in Stirchley, Birmingham.
"We wanted Tyler to stay within inches of range, and he did everything we asked of him.
"In the last round, he rushed things a little bit, but I've told him that if you're looking for a stoppage, you need to allow your opponent to get some fake confidence.
"If you're throwing hard punches all of the time, then, obviously, they're going to cover up. But if you allow them to exchange a little bit, you can wait for the perfect time to catch them off guard."
"If there had been one more round, he would have taken him out."

Read More About