[Written by Stephen Wright]
Tyler Christopher claimed the second stoppage win of his professional boxing career with his opponent Justin Menzie unable to answer the bell for the third round of their bout at the Holiday Inn in Yardley, Birmingham, last night.
The Bermudian dominated the opening two rounds of the welterweight contest before dropping the experienced Menzie after he ducked into a straight left hand at the end of the second stanza.
Although the 40-year-old journeyman – a trial horse for contenders such as Christopher – got up after the eight count, he decided enough was enough and retired on his stool at the end of the round. It was the eighteenth loss on Menzie's 24-fight resume.
"In the second round, [Menzie] started taunting me, saying, 'Come on, Tyler'," Christopher told Bernews. "He was trying to provoke me and get into my head. He was a pretty cagey fighter and hesitant to throw as he could see my reflexes were quicker.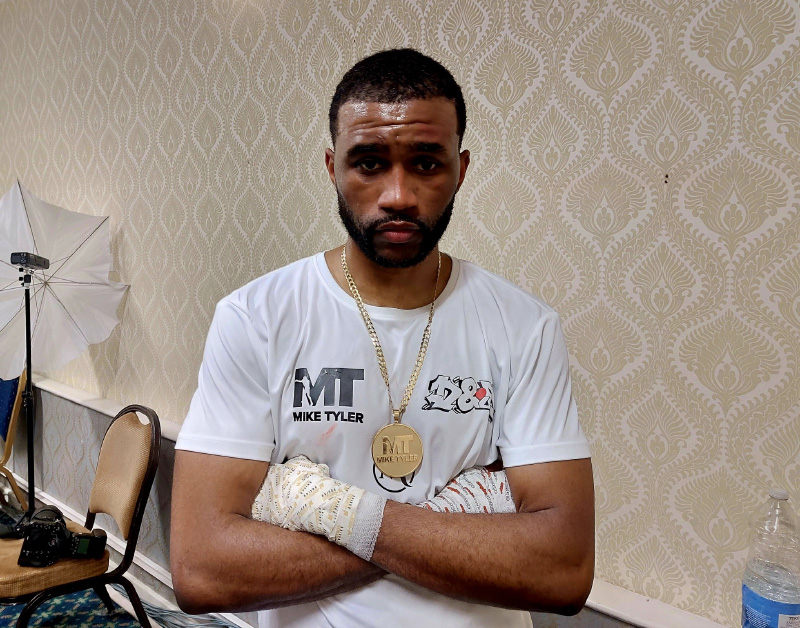 "I floored him with a combination I'd been working on with my coach [Anthony Hull]."
Christopher, who extends his perfect record to seven victories, insists he wanted his first six-round contest to continue for longer and get more rounds under his belt as he pursues a shot at the Midlands Area title.
"My manager Jon Pegg told me, 'I want you to work your way through the fight,'" the southpaw said.
"Don't go out there and blow him out. You must show the [British Boxing Board of Control] you're ready to go the distance [to be awarded a title fight]. The plan was to get him out in the fifth or sixth round.
"I wasn't looking for an early stoppage; I wanted to access my fitness and go the distance in those later rounds. I got the win, and it's another knockout; it puts my stock up."
The 26-year-old will take a summer break from the sport before resuming his quest for a regional title in September.
"I might have to do another fight before I get a title shot," he added. "I'd like to get three more fights this year."
Mellows Catering, Plant N Plate in King's Heath, Birmingham, and Urban Renaissance and Island Air Conditioning in Bermuda are Christopher's sponsors.

Read More About