[Written by Stephen Wright]
Andre Lambe will headline a boxing card in Bermuda for the first time as he targets his fourth successive victory as a professional.
Lambe takes on American Dajuan Robinson in a four-round welterweight bout at The Shed in Royal Naval Dockyard on March 26th.
Robinson, who fights out of Michigan, is more familiar with the octagon than the boxing ring, having had six bouts as a Mixed Martial Artist and is yet to record a win.
"I'm just focusing on being strong and prepared for whatever he brings," Lambe told Bernews.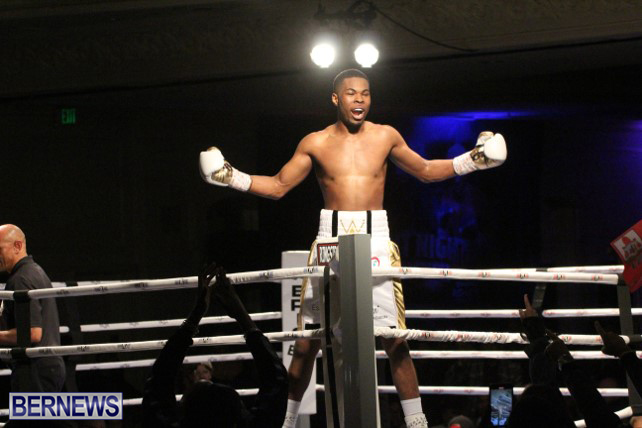 "The MMA guys don't throw conventional punches. They're not as orthodox as regular boxers, so you have to prepare for some of the crazy stuff they will be throwing."
Lambe, who has fought primarily on the undercard of Nikki Bascome, said he does not feel under any extra pressure to put on a show despite being the main attraction.
"I'm excited about it," Lambe added. "Mostly, I'm just thinking about getting the job done.
"It's a surreal moment [to be the headliner]. I'm thankful to have this opportunity.
"I don't try to look a certain way. I'm just trying to please myself. If I'm happy with my performance, it doesn't matter what other people think. People seem to like the way I fight, so I'll go out there and do what I do."
The 26-year-old hopes to have at least six contests this year, having already fought once, scoring a third-round stoppage over American Jose Ceja at The Shed in January.
He said he is prepared to continue stepping outside his comfort zone by testing himself overseas after eviscerating South African Dominique Williams in Orlando, Florida, last summer.
"I'm trying to get to eight fights by the end of the year," the southpaw said. "Next year, I want to be strategic about the people I fight. I want to put myself in the contender category.
"I'll be going back overseas [to Orlando, Florida] to train, but if we can't get enough fights in Bermuda, I'll go away and fight. I'm looking forward to that."

Read More About