The Bermuda Arts Centre at Dockyard will open a show titled 'Food for Thought' on Sunday [March 20].
A spokesperson said, "A new show opens at the Bermuda Arts Centre at Dockyard this Sunday.
"'Food for Thought' is the theme, and as one can imagine, this has inspired some fun and interesting entries from our member artists.
"Because our shows change every month, a new theme is put out for the artists to follow. This keeps the gallery forever changing and interesting and allows our members to always have a wall to have their work displayed and for sale. It also offers our artists a chance to express themselves in a variety of media and thought. 'Food for Thought' has brought out some interesting points of view on the subject in a wide array of media.
"We invite all to make a day of it in Dockyard. Take a walk around the beautiful open space through Bermuda's past. Have lunch or dinner at one of four restaurants. Visit the National Museum of Bermuda and definitely come in and see 'Food for Thought'. It all makes for a fun and interesting day, and that to us is important!
"'Food for Thought' opens at 3:30pm to 5:00pm on Sunday, March 20. The show will remain on the walls until April 21.
"The Bermuda Arts Centre is open every day 11:00 to 4:00 with free admission and is wheelchair accessible.
"For more information, email bermudaartscentre@gmail.com, visit artbermuda.com, or call 534 2809."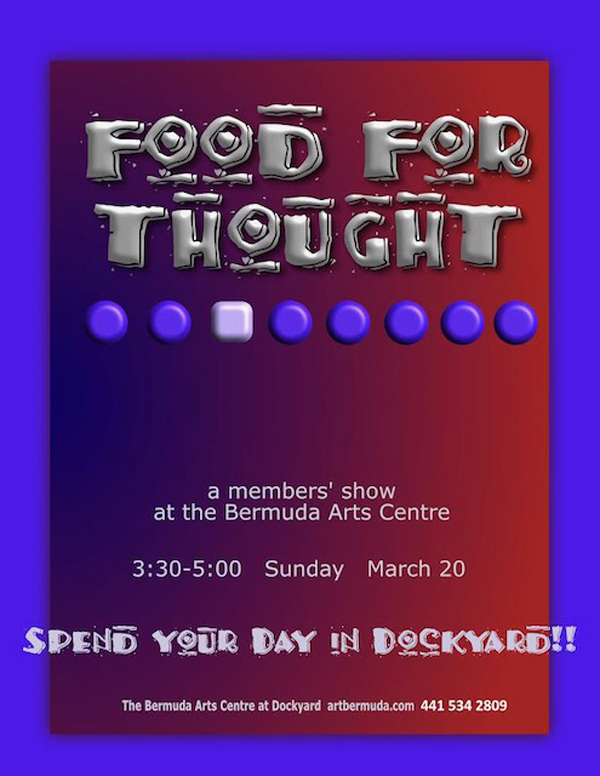 Read More About
Category: All, Entertainment