The Bermuda Underwater Exploration Institute [BUEI] announced that the topic for this month's 'Kids Hour Saturdays' on March 19 is turtles.
A spokesperson said, "Kids Hours Saturdays' takes place every third Saturday of the month at 11am and 2pm respectively. Each hour will feature the screening of short films followed by a book reading for children aged 5-12 years.
"This month's Kids Hour will feature two short films entitled 'Sea Grass Conservation" and 'Cold-Stunned' which will be followed by a reading of a book entitled 'Follow the Moon Home' by Philippe Cousteau.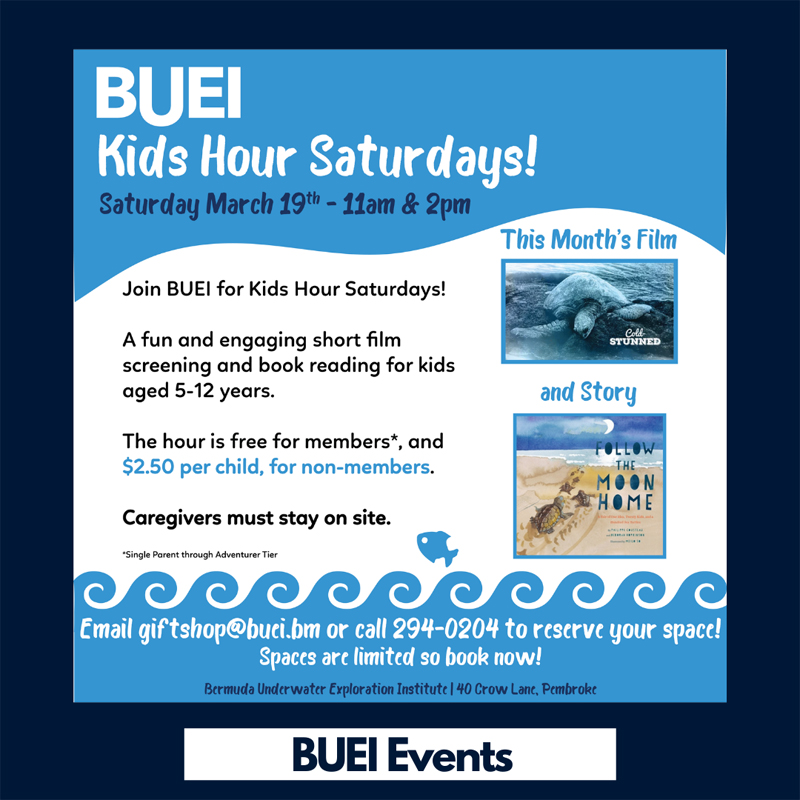 "The first film, 'Seagrass Conservation', highlights the relationship between sea turtles and seagrass in Bermuda. The second film, 'Cold-Stunned', follows a mission to rescue stranded turtles from the shores of Cape Cod. Often suffering from pneumonia and infections, rescue is only the first step in their journey back to health and their ocean home.
"The book 'Follow the Moon Home' is a story of unity through community action in an effort to save the sea turtles of the South Carolina coast. Told through the eyes of a young student named Viv, this book is sure to inspire!
A spokesperson said, "There was such a warm response to last month's 'Kids Hour Saturdays' which focused on the topic of whales, and when asked what the next theme should be, we noted a lot of interest surrounding turtles! Turtles have been around for at least 200 million years, so it was alarming to learn that such an ancient animal is having difficulty surviving as a result of rapid environmental changes. We are excited to delve deeper into the conservation efforts surrounding turtles and learn more about what practices are taking place here in Bermuda and around the world to ensure their survival."
"Kids Hour Saturdays are free for members [Single Parent through Adventurer Tier] and all care givers, and $2.50 per child for non-members. Please note, caregivers must stay on site for the hour.
"Mark your calendars for a subsequent selection of Kids Hour Saturdays taking place on Saturday April 16th and Saturday May 21st.
"Space is limited and advance registration is encouraged. To register for BUEI's Kids Hour Saturdays, please call 294-0204."

Read More About
Category: All, Environment