The Bermuda Zoological Society [BZS] is getting set to present lecture title "Leatherback Turtles, Wandering Voyagers of the Reptile World" on Thursday, August 16 at 7.00pm at BAMZ Education Classroom
The event poster says, "The largest of all sea turtles, and one of the largest reptiles on earth, the Ieatherback turtle can reach 8 feet in length and 2,000 pounds in weight. They are ocean wanderers that specialize in hunting deep sea jellyfish and can dive to over 1000m in search of a meal. They survived the extinction of the dinosaurs and thrived until the last several decades when human interactions have taken a major toll.
"Dr. Daniel Evans has worked for the Sea Turtle Conservancy [STC] since 1996. His research has focused on sea turtle tracking using satellite telemetry conducted as part of STC's online sea turtle tracking educational program.
"Join us to learn more about these fascinating animals and their ocean migrations which often pass close to Bermuda shores."
Price cost $20 for members and $25 for non-members, and to register please visit www.bzs.bm.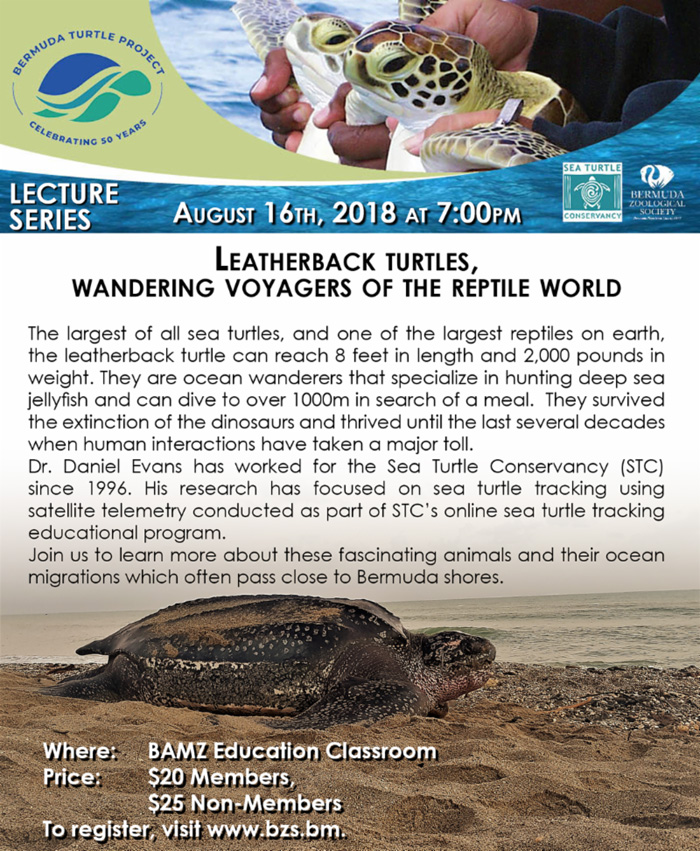 Read More About
Category: All, Environment