The Senior Women's National Football Team [SWNT] is preparing for the next round of matches in the Concacaf W Championship Qualifiers, and is set to take on Grenada here in Bermuda on April 12th.
After the first two qualifying matches in February, the SWNT is placed third in Group C of the competition. The SWNT will host their home match in Bermuda for the first time in the competition, against Grenada; the final match of the qualifying round.
Head Coach of the SWNT, Naquita Robinson, said the team is "very excited about these next two matches, especially the home match.
"Preparation has been along the same lines as in the first two matches," she said. "Having the home crowd for our final match which could play a huge role in our chances to qualify for the next round will be vitally important. We anticipate a very tough match against the group leaders Dominican Republic but have total faith that our players are up for the challenge."
A spokesperson added, "The Bermuda SWNT will face off against the Dominican Republic on Friday, April 8th, at 8pm [AST] at the Estadio Olympico Felix Sanchez, in Santa Domingo, Dom Rep. Bermuda's final qualifying match against Grenada will kick off at 7pm [AST] at the National Sports Centre.
"Tickets for the Bermuda vs Grenada match are available at Ptix.bm. They will also be available at the BFA Office and Pro Shop. Tickets will be $20 for seniors & children and $30 for adults. VIP tickets will be available. Early bird tickets [$10 senior/children $20 adult] will be available online Ptix for a limited time."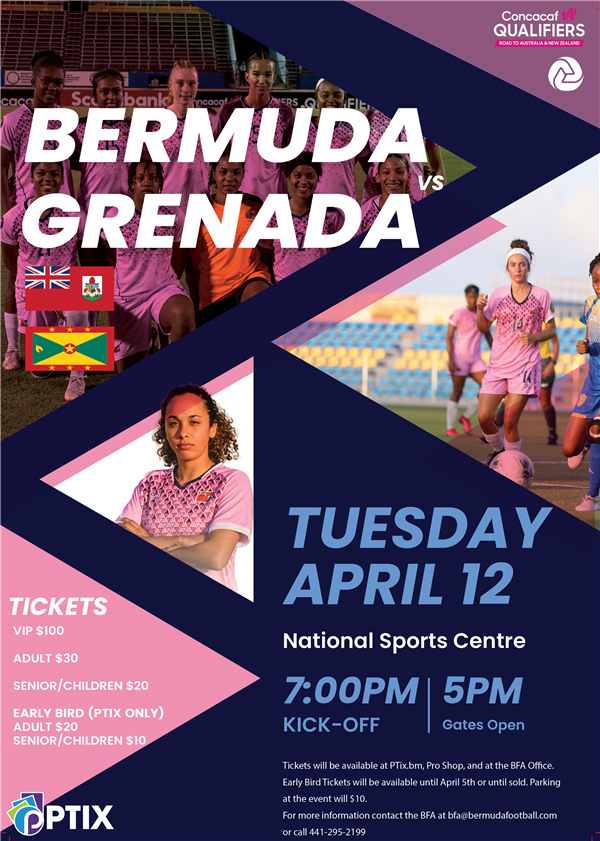 Read More About