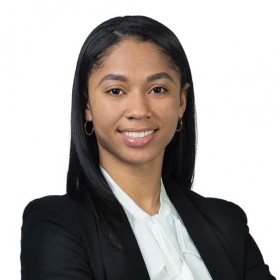 Appleby has welcomed Ojeda Smith to its legal trainee programme.
A spokesperson said, "Ojeda, who was called to the Bermuda Bar in November 2021, begins her first seat with Appleby in its Insurance department."
"Prior to joining Appleby, Ojeda worked in the corporate and litigation departments at another law firm, and gained in-house legal experience with a company in Bermuda. She received a Bachelor of Arts from Nottingham Trent University before obtaining both a Graduate Diploma in Law, and a Legal Practice Course and Master of Laws from Nottingham Law School.
"Ojeda will complete two, six-month seats for her final training year. She will be mentored by Matthew Carr, a partner in the Corporate department. Appleby's two-year trainee programme aims to provide a thorough legal foundation and exposure to a variety of practice areas, helping trainees to identify areas to specialise in the future. Each trainee is assigned a senior attorney, often a partner, as a mentor in every seat.
"Trainees are typically called to the Bermuda Bar halfway through the programme after completing their first two seats in year one."
Bermuda Managing Partner Brad Adderley said, "We have seen many trainees over the years gain practical and valuable experience – some of who are now partners with the firm. We're excited Ojeda has decided to join our rewarding programme and complete her training with us. We look forward to her enthusiasm and contributions to the team."
Ms Smith said, "It is an honour to be given the opportunity to train at one of Bermuda's leading law firms. I am already receiving world-class training from Bermuda's top legal minds and I am looking forward to the journey ahead. I know that Appleby will set me up for success."
Read More About