Bermuda International Long Term Insurers and Reinsurers [BILTIR] held a careers event with students at Warwick Academy to highlight job opportunities in the island's thriving life insurance industry.
Due to Covid-19 restrictions, this was the time first time BILTIR had held an in-person careers event in two years.
Warwick Academy pupils with BILTIR members Matt McPhail of Fortitude Re, centre, Kiara Somner of Global Atlantic Re, third from right, and Paolo Fiandesio of Resolution Life Re, right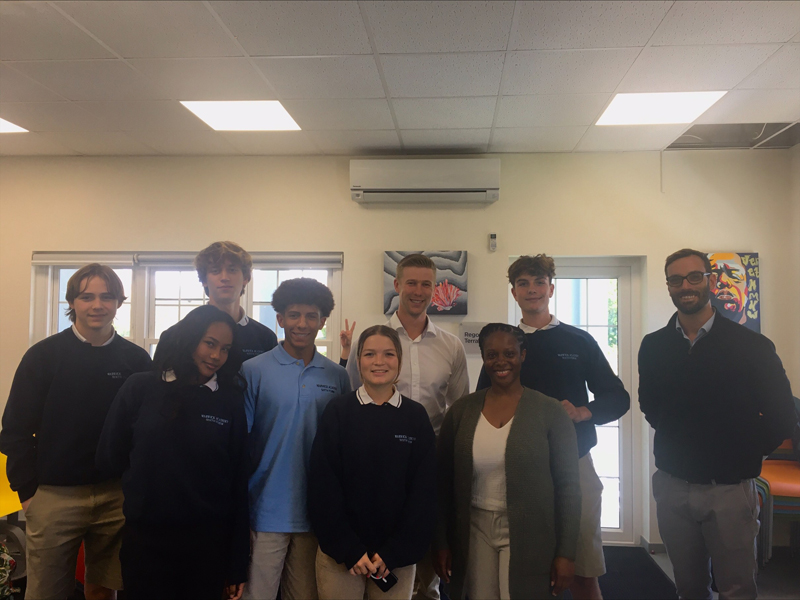 "Raising the awareness of the sector's job opportunities by providing education opportunities with schools is a key objective of BILTIR, and resuming our career fairs was an important goal to meet that objective," said BILTIR's Executive Director Martin Laframboise.
BILTIR represents 66 annuity, life insurance and reinsurance businesses and servicing companies in Bermuda who provide life and annuity products and employ more than 600 people on the island.
More than 30 senior school students heard about the wide range of careers – including underwriting, claims, actuarial, accounting, and risk analysis – during presentations from members of BILTIR companies.
The session was organised by BILTIR's social committee, and the presenters were Matt McPhail of Fortitude Re, Kiara Somner of Global Atlantic Re, and Paolo Fiandesio of Resolution Life Re."
"It was inspiring to see the genuine interest the students have in the life reinsurance industry," said McPhail. "I am excited for this next generation of talent to help further grow Bermuda's life sector."
"It was great to have the opportunity for presenters to come into school again and for the students to find out what a variety of options are available for employment in the Bermuda workplace with insurance," said Ralph Woods, Head of sixth Form at Warwick Academy. "It was also good for the students to recognize that there are a variety of routes they can take to get into that profession."

Read More About