[Updating] Police are responding to an incident in the Warwick area this evening [April 7] with unofficial reports suggesting there may have been a shooting. Further details are limited at this time, however we will update as as able.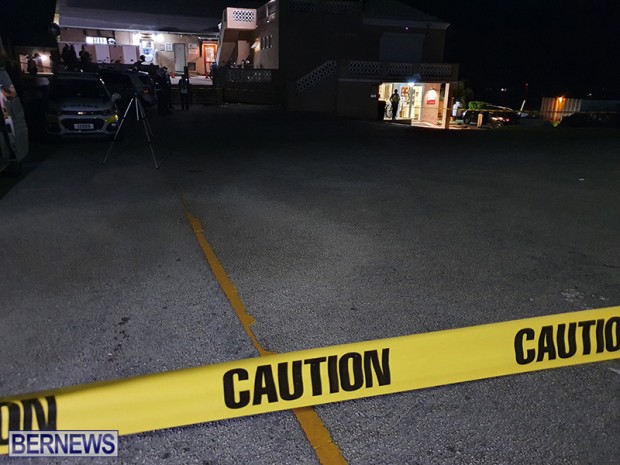 Police continue to remain on scene at the Warwick Workmen's Club, in high numbers, with the area taped off with crime scene tape.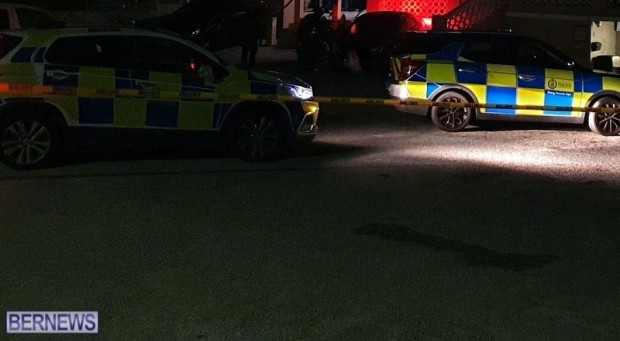 Update: The live video replay is below
Speaking in the video above, the police said: "Shortly after 8.30pm this evening, police received several calls of gunshots in the Warwick Workmen's area. Police attended and found a 24-year-old male who was rushed to the hospital, and has since succumbed to his injuries." The police appealed for anyone with information to please contact them
Unfortunately, this is the second murder this week and the 6th confirmed shooting in the last 30 days. Anyone with any information is asked to call the police on 211, the main police number 295-0011, or Crime Stoppers on 800-8477. Alternatively, you may also share any information you might have regarding this incident, by speaking with a police officer with whom you are familiar.
Update: A statement from Warwick Workmen's Club said, "Today, we held our Annual Kite Making and Easter Egg Hunt for our members and community as part of our 100th Anniversary Celebrations. Over 100 children and their families attended, learned how to make traditional Bermuda kites, had dinner, made Easter baskets, and had an Easter Egg Hunt from 4 to 8 pm. Unfortunately, there was an unrelated incident that occurred in the parking lot, after the event ended. The club will continue to stand with and support our community."
Update: The police said, "Shortly after 8:30 p.m. on Thursday, 7th April, 2022, police received several reports of multiple gunshots at the Warwick Workmen's Club.
"Police and Emergency Services were dispatched to the scene and upon arrival, found an unresponsive twenty-four-year-old male lying in the club's car park.
"The victim was transported via ambulance to King Edward VII Memorial Hospital, where sadly, he was pronounced dead a short time later. With the investigation into this incident still in the early stages, details are limited.
"However, there were several patrons at the club at the time of the incident and police urges anyone who may have witnessed the incident or who may have any information about it, to please call 211, the main police number, 295-0011 or the independent and confidential Crime Stoppers number, 800-8477.
"Alternatively, you may also share that information with a police officer with whom you are familiar."
Update April 8, 10.20am: Shadow Minister of National Security Michael Dunkley said, "On behalf of the One Bermuda Alliance, I would like to extend my condolences to the family of the young man who tragically lost his life last night.
"Bermuda is in a crisis and it behooves no one if we continue to remain in denial. Young people are not valuing life and sadly, it is undeniable that young, Black males are being lost—whether it be as victims or perpetrators. I am not saying this to be alarmist, but we cannot ignore reality. The question remains, where do we go from here.
"The community has marched, prayed, created social media posts and even extricated their children from the island, but the fact remains that these heinous crimes continue. It's time for each of us to look inward, examine what's going on inside our homes, and in our streets. Turning a blind eye and thinking that crimes like this won't happen in your backyard can no longer work. It doesn't matter what economic class one is in, we have seen over the last 12 years that when shooters want to hurt, they will.
"Newly appointed National Security Minister Michael Weeks has a very challenging journey ahead of him. As always, I am willing to work collaboratively with him in order to forge a new way forward to end this scourge that is overshadowing the true beauty of our island."
Update 10.32am: Senator Dr Douglas DeCouto, Candidate for Constituency 25, Warwick North East, said, "Last night's shooting murder at Warwick Workmen's Club is a chilling and shocking event, especially as it comes just 48 hours after another young man has lost his life in the same manner.
"I would like to extend my deepest condolences to the family and loved ones of the deceased.
"As a resident in the community, this rocks me to the core. We are close knit and live peacefully. Whatever conflicts, beefs, or disagreements exist, violence is not the answer. We urge anyone with relevant information to come forward. It may not be easy, but we have to send a message, as a community and as an island as a whole, that we don't want to experience this again. No one deserves this.
"I hope that Government will give the Police the resources they need to tackle this problem and get to the bottom of it. We should accept nothing less than a full-court press by the Government in all the necessary areas to bring this tragic chapter to an end."
Read More About