[Written by Stephen Wright]
Athene Life Re, the main sponsor of the USATF Bermuda Games, says it "takes immense pride" in helping bring the inaugural athletics meet to the island.
The USATF Bermuda Games, a World Athletics Continental Tour Gold Label Event – the highest level outside the World Athletics Diamond League – will be held at the Flora Duffy Stadium tomorrow [Saturday].
Natasha Scotland Courcy, SVP, General Counsel and Chief Operating Officer of Athene Life Re, said: "Bermuda is a premier jurisdiction and well-suited for hosting global events.
"Athene is excited to be the main sponsor of the USATF Bermuda Games, and we are honoured to help bring this world-class event to Bermuda to showcase world-class talent and support Bermuda's local track and field athletes.
"There is immense value in connecting our local community with global excellence in athletics.
"The Athene Fastest Kid on the Rock [held tonight] event provides young people with a platform for healthy competition and gives them a chance to shine in Bermuda and on the world stage.
"We take immense pride in our role in helping to bring this prestigious event to Bermuda and look forward to cheering on the amazing athletes."
Ms Scotland Courcy added: "Athene's giving philosophy is core to who we are as a company.
"Athene has a long history of supporting the communities where our employees live and work. Giving back is woven into Athene's culture and core values, one of our key core values is 'Engage Actively.'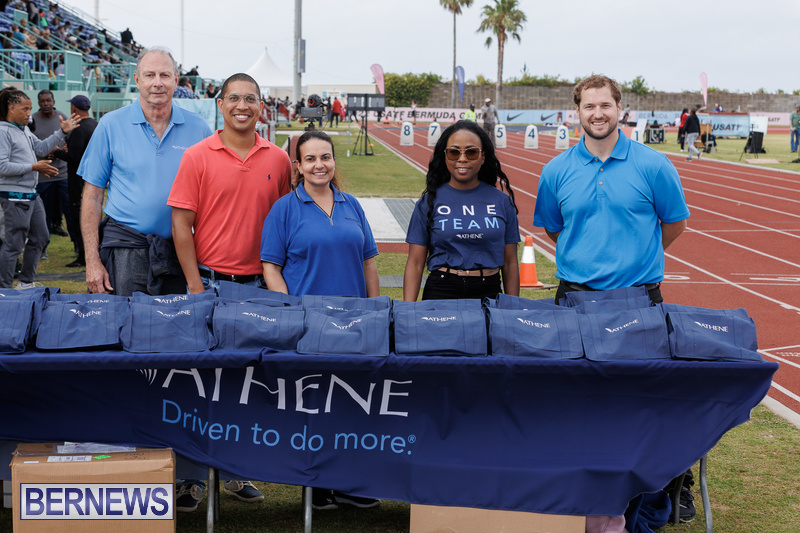 "We not only donate in terms of dollars, we give back to our communities through volunteer service, philanthropic giving and community outreach.
"A lot of our charitable giving efforts is focused on programmes that directly impact children and youth.
"From fostering talent on the island through the Athene Scholarship Programme and apprenticeship programmes to charitable giving to our educational institutions, investing in our future leaders is a way to strengthen our community for years to come."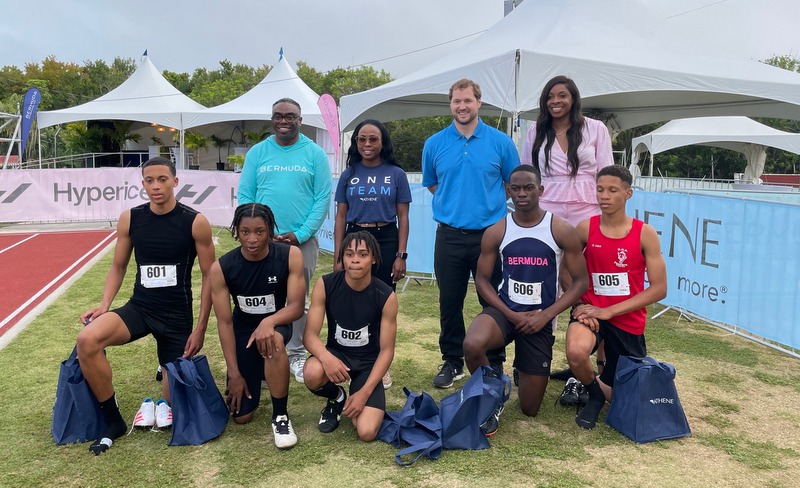 Another island-based company, Butterfield, is an official corporate community partner of the USATF Bermuda Games and an official sponsor of the USATF Run Jump Throw Bermuda event.
Michael Neff, the managing director of Butterfield in Bermuda, said: "We always welcome an opportunity to support our community and our young people.
"Run Jump Throw is a programme aimed at getting all kids in Bermuda, aged 6-12 years, excited about physical activity.
"It gives them an opportunity to learn new skills, which can be applied in other areas of life, and to do it with their friends.
"Having had a couple of years where participation in events like these has been restricted, people are keen to get involved and we were happy to support.
"With free tickets to the USATF Bermuda Games itself, we hope the young participants are further inspired by seeing the elite athletes in action on home turf."

Read More About