[Written by Dale Butler]
I consider myself lucky to have been able to purchase a ticket to see another masterful/professional production by Troika Bermuda entitled "Resurgence – Return to the Stage" held April 22 and April 23, 2022 in the Earl Cameron Theatre at the City Hall to packed audiences eager to support their children and friends.
Billed as "a creative and explosive presentation—highlighting the choreographic talents and passions for dance by Bermuda's young people," they earn an A+ for the entire performance from:
The production of a first-class, attractive and informative programme.
The warm welcome given by Troika alumni players and volunteers.
The variety of dance that covered all of our emotions.
Allowing over 50 dancers to shine without highlighting one or two.
Showcasing excellent choreography and dancers.
I have been an avid lover of dance and actually took a class in tango in Bermuda and later Argentina. In Bermuda, it was part of the Bermuda Festival and if it was a competition, former MP Jon Brunson would have easily won. Be that as it may, I am proud to say I have seen dance in all of the major venues of the world and on every continent, having gained my interest in Bermuda, by attending all local productions and the Bermuda Festival.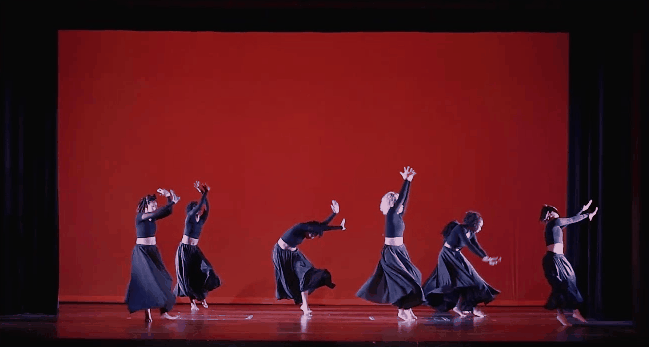 As a layperson with a background from Cuba, Ghana, UK, USA, Jamaica, Denmark, China, Vietnam and Australia, to name but a few, I know what I like and have to leave it to the experts to talk about the primary elements of time, space, energy and form. All I know is the impact it had on me and my measuring stick for movies, drama, food, etc. is the same for dance: would I have seconds? And my answer to their production is a resounding "yes." And I would take friends.
I once spent a day with the Cuban National Dance Theatre as they were choosing new entrants. Thrilling, but there appeared to be an overemphasis at the time [2005] about the weight of the dancers. As a professional company, that was one criteria they were preoccupied with, in my opinion. Troika Bermuda, however, is not a professional company and I salute them for giving every young person a chance to learn choreography and to stand confidently before a critical public.
The dancers did not disappoint, although some might have been slightly offset by the dwindling unprofessional cries from parents and friends shouting their names. I'll leave it at that, because the days of shouting at the big screen at the Island Theatre to warn the Indians that the cowboys were coming have almost disappeared, but can still be heard if you attend a North American graduation. If you are one of those parents or friends, just be mindful of the negative impact this can have on a dancer/performer who is in the mood to perform, only to be distracted by name-calling.
The 15 dances presented were a tribute to creative directors Sacha Dill and Shanna Henry, and choreographers Eryn Beach, Jadiyah Bailey, Janaesha Place, Jasiri Minors, Kevonte Jennings-Lathan, Monica Bruixola, Nasya Joell, Shia Bean and T'aja Williams, a formidable and very creative team who had to overcome practice via Zoom and in a variety of dance studios from Government community centres to United Dance Productions, DanceSations School of Dance and Vision School of Dance.
Their commitment was rewarded on the stage with their flawless performances and on a few occasions we heard choreographers/dancers give short personal insights to their development, unique and essential because we often think it is easy or they were born with the talent which they display. The development of confidence is indeed a tribute to their parents and teachers and companions. Here is just a taste of what we saw:
To Each Their Own – choreographed by Eryn Beach, an excellent opening with beautiful lighting in simple black and white dress.
Better – choreographed by Shia Bean – three women in white – expressive and smooth.
The Overflow – choreographed by Nasya Joell – frantic energy, depression.
The following could easily be made signature pieces if Troika was only a dance company. For example, Alvin Ailey has "Revelations", Washington Ballet "Fives", the Royal Danish Ballet "Napoli Act III", China "The Butterfly Lovers" to name but a few that I was fortunate to have seen. Troika could add its very impressionable:
Caged Bird – choreographed by Jadiyah Bailey – piercing and sad.
My Love – I don't need another "Sorry" choreographed by Shanna Henry also "The Revival" and "Verzuz".
Kulture – choreographed by Kevonte Jennings-Lathan.
The Evanescence of a Dream by Jasiri Minors performed by J'yindae Preece and Nahjae Rayner. To be honest, I did not like it at first, but it slowly slipped deep within me like a secret sauce and I thought about it all night. Yes! A signature piece.
With an executive board, production team, a list of supportive patrons, Seldon Woolridge and Shoa Wolffe, along with Robyn Dowling, G'ane Everheart and Chesney Robinson have achieved their mission "to educate, enlighten and entertain by producing significant theatrical experiences which are presented by a creative ensemble of young people who embody the highest professional caliber."
The fact that many of the dancers came from a variety of schools is also a highlight developing unity and I have no doubt it will be repeated. Commendable.
Conchita Ming, a local icon and legend, could easily add a chapter in her book Dance Bermuda highlighting the vast talent and outstanding schools of dance that currently exist and produce polished performances. In saying this, I salute Mrs. Ming and all of the former and current teachers, we have had over the years, for their commitment and dedication they've given over the years, and still give to develop young people who are showing that they can participate in the Bermuda Festival or advance internationally like John Theophilus Clarke and Llewellyn Basden.
For the upcoming production "Sarafina," you can reach them at info@troikabda.com or 531-1728. With such unusual and captivating music, I am sure future programmes will indicate the name and artist. And it really is about time that the Bermuda Government, through a lottery or small tax, provides funding for the arts. Yes, many schools continue to get it done, but Bermuda could take its place internationally if funding was not a worry for their productions.
- Dale Butler, educator and local historian is the Professor of Bermuda Music and also writes culinary arts, book and music reviews. Today he has added his first dance review.

Read More About
Category: All, Entertainment, News