SailGP— which will kick off their third season in Bermuda in May 2022 –  has released the first episode of Deep Dive, a sports punditry podcast taking fans behind the scenes of every aspect of its upcoming third season.
The SailGP website said, "Deep Dive is hosted by SailGP's international broadcast commentators and world-class sailors Stevie Morrison and David 'Freddie' Carr. As professional sailors, they bring a unique insight and knowledge of the sport and its stars, having raced alongside and against many of SailGP's world-class athletes. Morrison competed at the 2008 Beijing and 2012 London Olympic Games and Carr has taken part in six America's Cup challenges over the last 20 years.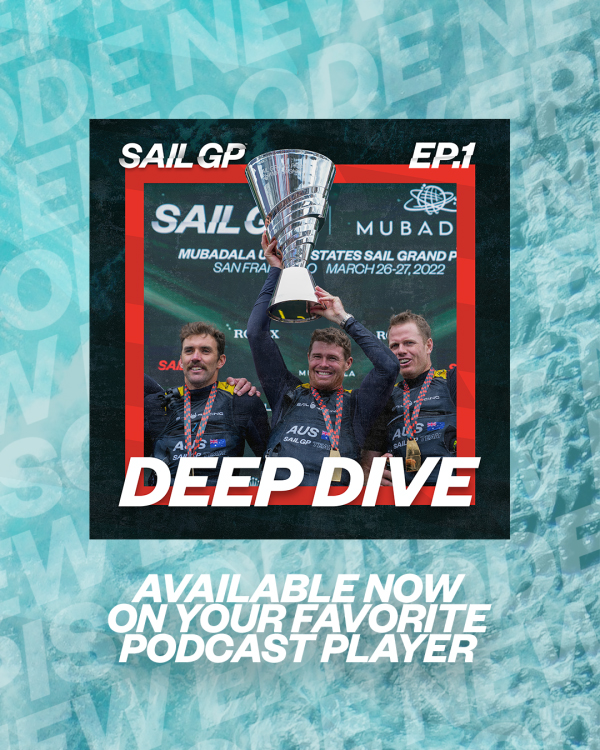 "Featuring the sports best athletes, SailGP Season 3 boasts an impressive global calendar of events starting with the Bermuda Sail Grand Prix presented by Hamilton Princess on May 14 and 15, culminating in the Grand Final in San Francisco in May 2023. In between, the championship visits iconic destinations including Chicago, Plymouth, Copenhagen, Saint-Tropez, Cádiz, Dubai and Christchurch.
"The first episode drops in the lead-up to the season opener in Bermuda and Morrison and Carr bring fans comprehensive coverage of the SailGP pre-season. Part one is available now and analyzes the first half of the Season 3 field, along with the hosts' predictions on what to expect this year and who might claim the SailGP Championship Trophy.
"Part two will cover last season's finalists and two-time SailGP Champion Tom Slingsby's Australia team and is set for release on May 6, 2022 – one week out from the season start.
"From there, each episode will recap the preceding Grand Prix weekend in full, and deliver predictions and news for the next event. The hosts will interview SailGP drivers to unpack the pivotal moments on the water that shaped the outcome of each event – as well as the drama off-water – plus add their own insight on how events unfolded.
Jose Garnes, Head of Content at SailGP said: "For SailGP Season 3, we want to make SailGP more accessible to our fans and bring them unique news and insights. To do that, we have increased the content offering and the platforms where our fans can go to truly get under the skin of SailGP and creating a dedicated podcast for our league was the next logical step. Having Stevie and Freddie as our hosts is incredibly exciting, I know they will bring the perfect combination of knowledge and banter to allow our listeners to deep dive into every Grand Prix."
Niall Killeney-Taylor, Head of Production at Cue Podcasts said: "When we first spoke to the SailGP team, we were incredibly excited to create a podcast that not only supports one of the fastest growing sports out there, but also connects with sailing fans all over the world. Producing a show that travels across several continents in a single championship is a challenge, but it's one we can't wait to deliver to listeners."
Co-host Stevie Morrison said: "We can't wait to take fans behind the scenes of the most exciting racing on water, analyzing every aspect of what looks like the most thrilling season of SailGP yet. We can promise our listeners exclusive insight into the sport's best athletes with a really exciting lineup of guests in the season ahead."
"SailGP is one of the fastest growing sports leagues. About to start its third season, two new teams have been added to the lineup with Canada and Switzerland joining the existing field of Australia, Denmark, France, Great Britain, Japan, New Zealand, Spain and the United States. The national teams battle it out in identical hydro foiling F50 catamarans, flying at speeds approaching 100 km/h which results in smashes, crashes and some very close calls – all of which will be dissected on the new podcast."

Read More About