Premier David Burt and Minister of Economy and Labour Jason Hayward acknowledged International Workers Day on Friday [April 29], with Premier Burt saying "I am privileged to be the leader of a labour party and labour Government that honours its roots and continues to stand shoulder to shoulder with Bermuda's workers."
Premier & Minister of Finance Burt said, "Although we are a few days from May 1, I want to say happy International Workers Day to everyone.
"First, I would like to welcome you all to the Cabinet Office and welcome the newest members of the BTUC Executive.
"May 1 is a day to recognise and celebrate the struggles, the sacrifices, the immeasurable strength, and lasting accomplishments of the labour movement as well as the invaluable contributions of workers to our society and our culture.
"I am privileged to be the leader of a labour party and labour Government that honours its roots and continues to stand shoulder to shoulder with Bermuda's workers and continues to work with our Union partners to protect and progress the rights of workers in our country in tangible ways.
"We have strengthened the protections for employees against bullying and sexual harassment in the workplace by making amendments to the Employment Act. We have increased protection during the probation period by requiring performance reviews to help employees understand areas where improvement is needed, rather than them simply being able to be let go putting the responsibility on the employer to nurture, train and provide feedback to individuals.
"We extended paid maternity leave to 13 weeks, giving more time for mothers to recover from birth and bond with their newborn child and for the first time in history we also passed legislation which provides 5 days of paid paternity leave to allow fathers time with their family without fear of losing pay.
"We have expanded bereavement leave to include grandparents, great-grandparents, grandchildren, and great-grandchildren and ensured through legislation that workers are entitled to a 30-minute lunch break after five hours of continuous work. And the Minister of Economy and Labour closed a record number of job categories to work permit applications, to create more job opportunities for Bermudian workers.
"Through continued partnership and collaboration with our Union partners, we developed and passed the Trade Unions & Labour Relations act 2020, strengthening Unions and workers' rights.
"I recognise that though much progress has been made, the last two years have been especially challenging for Bermuda's workers due to the pandemic. I am grateful that I can welcome you here on the Cabinet grounds today, without needing a Large Group Exemption, an example of things which are now in the past. And I am grateful knowing that these types of gatherings for the last two years were not possible.
"And, as we continue to move beyond the pandemic, we will not forget the dedication and sacrifice of all our frontline workers who worked tirelessly in the most difficult circumstances to ensure that our most critical services remained in operation and to ensure our people were taken care of.
"In addition to their hard work our public officers, our Union partners agreed to a 10% reduction in salary to assist the Government in our COVID-19 response and allowed the Government to provide over $60 million in support for individuals and families who needed it most. This would not have been possible without the selflessness of our public officers and the leadership of our Unions, so I say thank you very much.
"Much work has been done, but there is still much work to do and that is why the Government will continue to meet with our Union partners on a quarterly basis, and I have heard the view for more action to be taken on outstanding points. It is no secret that the Government's attention has been diverted due to the pandemic and it is unfortunate. But now that we have moved beyond the pandemic there will be action, as it is essential that we keep our promises to the workers of this country.
"We are committed to keeping our promises. And, through the implementation of the statutory minimum wage, social insurance and pension reform, unemployment insurance, and most importantly tax reform to reduce the tax burden on workers even more than we have done over the last 4 years. And for workers making $50,000 a year, cumulative tax savings have been $5000.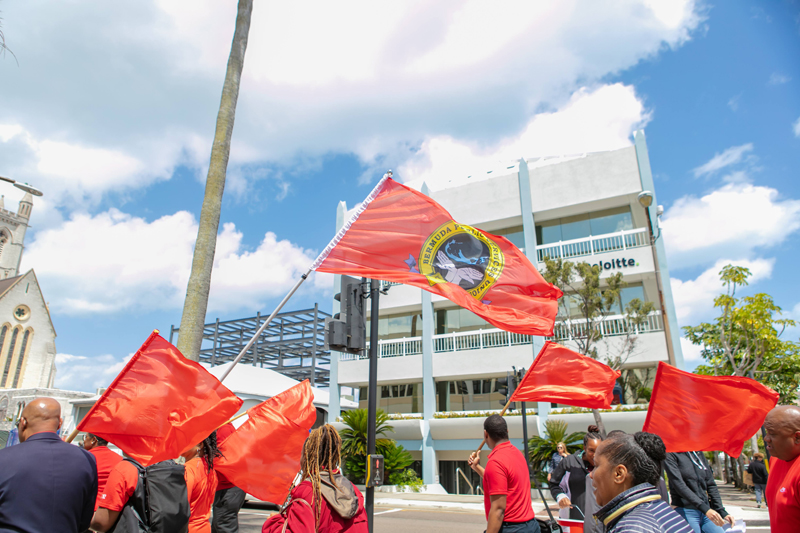 "I thank the Minister of Economy and Labour, the Hon. Jason Hayward for his hard work and devotion as well as the Cabinet who are ensuring that we see through our promises to workers, and that we not only do so with the present in mind but that we are working for a better future as well.
"And finally, and most importantly, I thank all of Bermuda's workers. You are the foundation of our economy, and our community and you embody strength through unity. I thank you for not only working with the Government but for always making sure to hold us accountable. I look forward to continuing to work with you, and I am honoured today, as we commemorate International Workers Day, to stand beside you."
Minister Hayward said, "Recognised on May 1, International Workers' Day or May Day is an opportunity to honour and celebrate the historic social and economic struggles that brought hard-won achievements. It is also to remind us of the extraordinary sacrifices, accomplishments and contributions of workers worldwide and their importance to the strength and prosperity of our country.
"The Covid 19 pandemic has brought to the forefront the adversity that many workers face and has caused governments worldwide to re-evaluate their policies to focus on a human-centred recovery that promotes equality, fairness, and respect for all workers.
"I want to take this opportunity to express my sincere appreciation to each and every worker as you continue to show dedication and selflessness during these challenging times and commit to getting the job done while being an example for others as you strive towards a better Bermuda for all.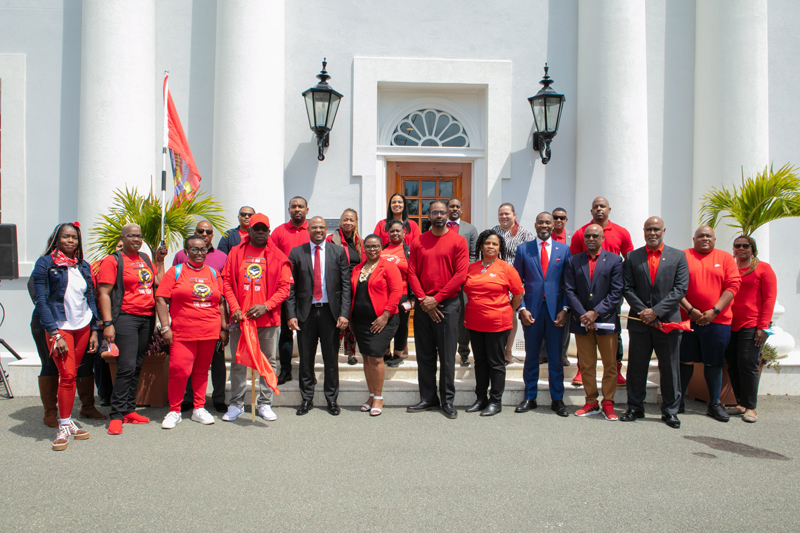 "The Ministry of Economy and Labour is committed to ensuring social justice and fundamental rights at work and is steadfast in its obligations to the workers of this country.
"Working in consultation with the Unions and Employer organizations, the Ministry is conducting a targeted review of the Employment Act 2000. The goal is to further strengthen employee protections, focusing on equal pay for equal work, formal guidelines concerning tips and gratuities, wage theft protections, and establishing guidelines to ensure independent contractors are correctly classified.
"Understanding the continued challenges that workers were facing due to the pandemic, the Ministry extended the Supplemental Unemployment Benefit to those workers who found themselves without a regular income.
"The Ministry is currently reviewing the implementation of a statutory minimum wage that will enhance the lives of those workers considered low-income earners and ensure that all workers will have access to a fair and decent wage. The Ministry continues to support the Wage Commission as it concludes its comprehensive review of a living wage for Bermuda.
"As we continue to move beyond the pandemic, the Ministry looks forward to building a better future for the workers of Bermuda. I thank you, the workers, for your invaluable service to your places of employment, customers, colleagues, and our country."
Read More About