As April marks Autism Awareness Month, Tomorrow's Voices Autism Centre is encouraging everyone to celebrate with a number of events and fundraising opportunities hosted by the charity throughout the month.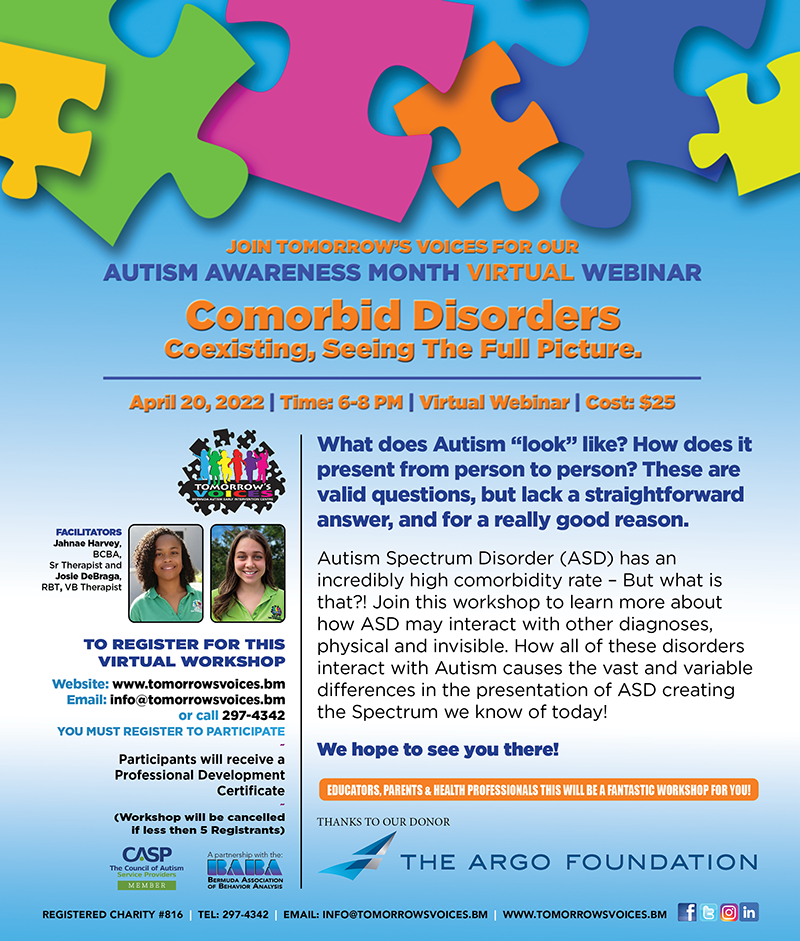 A spokesperson said, "On Friday April 1, the charity marked the beginning of celebrations with their annual "Autism Tag's It" Hybrid Tag Day. Anyone who wasn't able to donate at one of the supporting locations on the day, can still donate anytime during Autism Awareness Month through the website www.tomorrowsvoices.bm. The charity noted that any amount is appreciated and no amount is too big or too small.
"Tomorrow's Voices will also be partnering with several local businesses during the month of April to provide extra ways to support the charity. For the entire month of April, People's Pharmacy will host a Round Up for the Autism Centre. In addition, Terceira's Group of Companies will Round Up for Autism between April 1-8 and Miles Market will Round Up for Autism on April 22-23.
"While visiting these companies, shoppers are encouraged to round up their purchases to the next dollar to support the charity and its therapeutic programmes. Tomorrow's Voices thanks Lindo's Group of Companies, People's Pharmacy, Miles Market and Terceira's Group of Companies for supporting the charity by Rounding Up and celebrating Autism Awareness Month.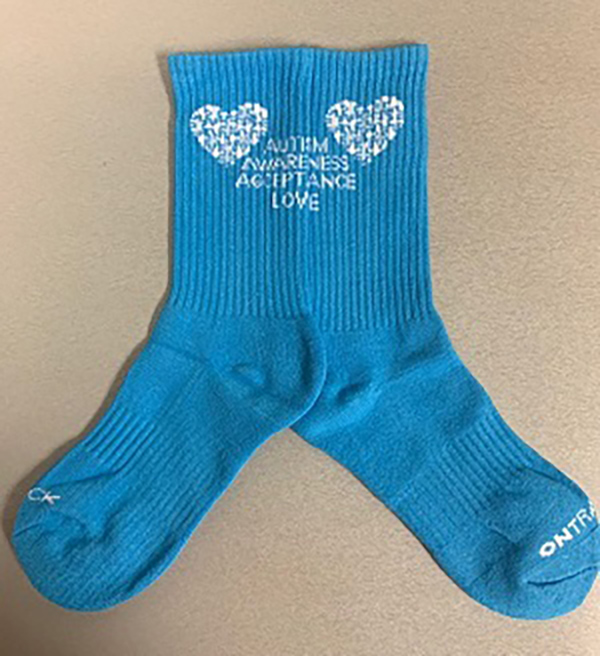 "On Friday, April 22 the charity will be hosting its 9th Annual "Autism Rocks Socks" Day. This is the day where schools, corporate and the community put on their crazy, wacky socks for Autism and make a $5 donation to the charity. This is a fun way to support the charity and do something wacky. Participants can show their support by posting photos to social media and tagging #autismrockssocks or #tomorrowsvoices.
"Tomorrow's Voices will be selling wacky socks again this year through their Sargasso store for pick up or delivery options. Schools or companies interested in supporting Autism Rocks Socks, can call 297-4342 or email info@tomorrowsvoices.bm to register. Donations can be made through the website www.tomorrowsvoices.bm
"Tomorrow's Voices is also excited to be partnering with OnTrack Bermuda who has sourced Autism Awareness socks designed by Tomorrow's Voices board chair Thea Furbert. This is a practical and fun way to raise Autism Awareness on island. OnTrack will donate part proceeds from the sale of the socks. The socks will be available through Tomorrow's Voices Sargasso store or through OnTrack's website www.ontrackbda.com.
"Those looking to support the charity can also purchase one of the charity's custom designed Autism Awareness t-shirts or other related Autism merchandise sold through their Sargasso store for a delivery option.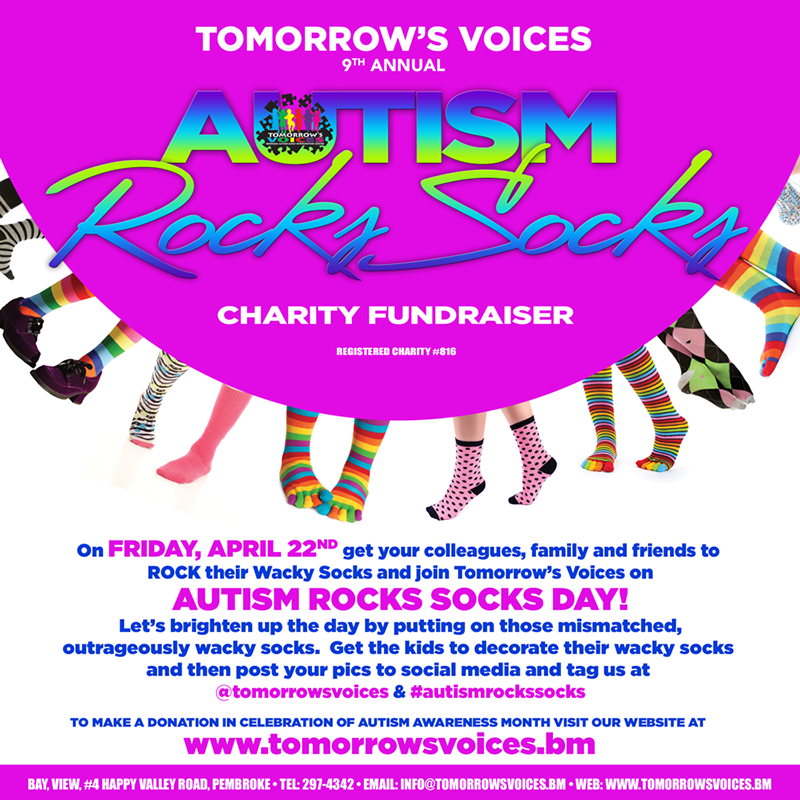 "Along with providing different fundraising opportunities to support the charity throughout the month, Tomorrow's Voices will also be raising awareness about Autism and the therapies that it provides through their Autism Centre.
"The charity will be hosting an Autism Workshop that will be held on Wednesday, April 20. Co-morbid Disorders – Coexisting, Seeing the Full Picture, will provide participants with insight into how Autism Spectrum Disorders [ASD] may interact with other diagnosis, and how all these disorders interact with Autism to cause vast and variable differences to create what is known today as the Spectrum. Those interested in participating in this workshop can register on the website www.tomorrowsvoices.bm or call 297-4342.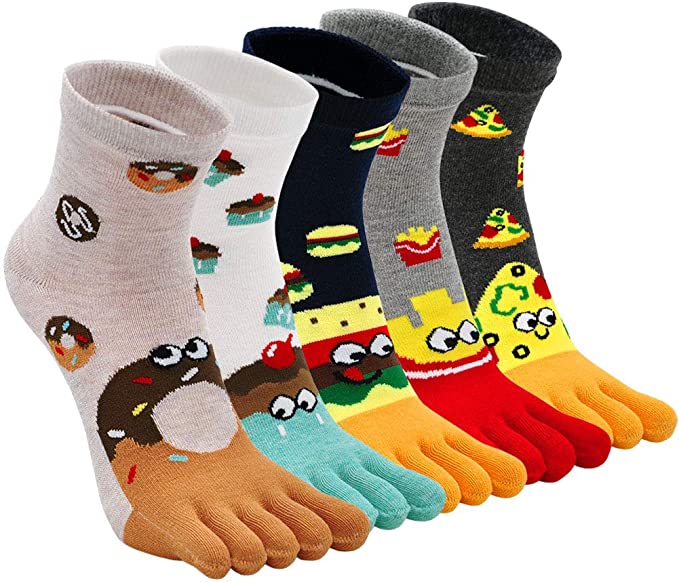 "Tomorrow's Voices is the only charity in Bermuda that provides 1:1 clinically recommended therapy based on Applied Behaviour Analysis [ABA]. For the last 14 years the charity has subsidized up to 80 percent of clients fees, so families can access these much needed services at a nominal cost. Every dollar raised and donated goes towards providing ABA therapy services for individuals with Autism and other developmental disabilities.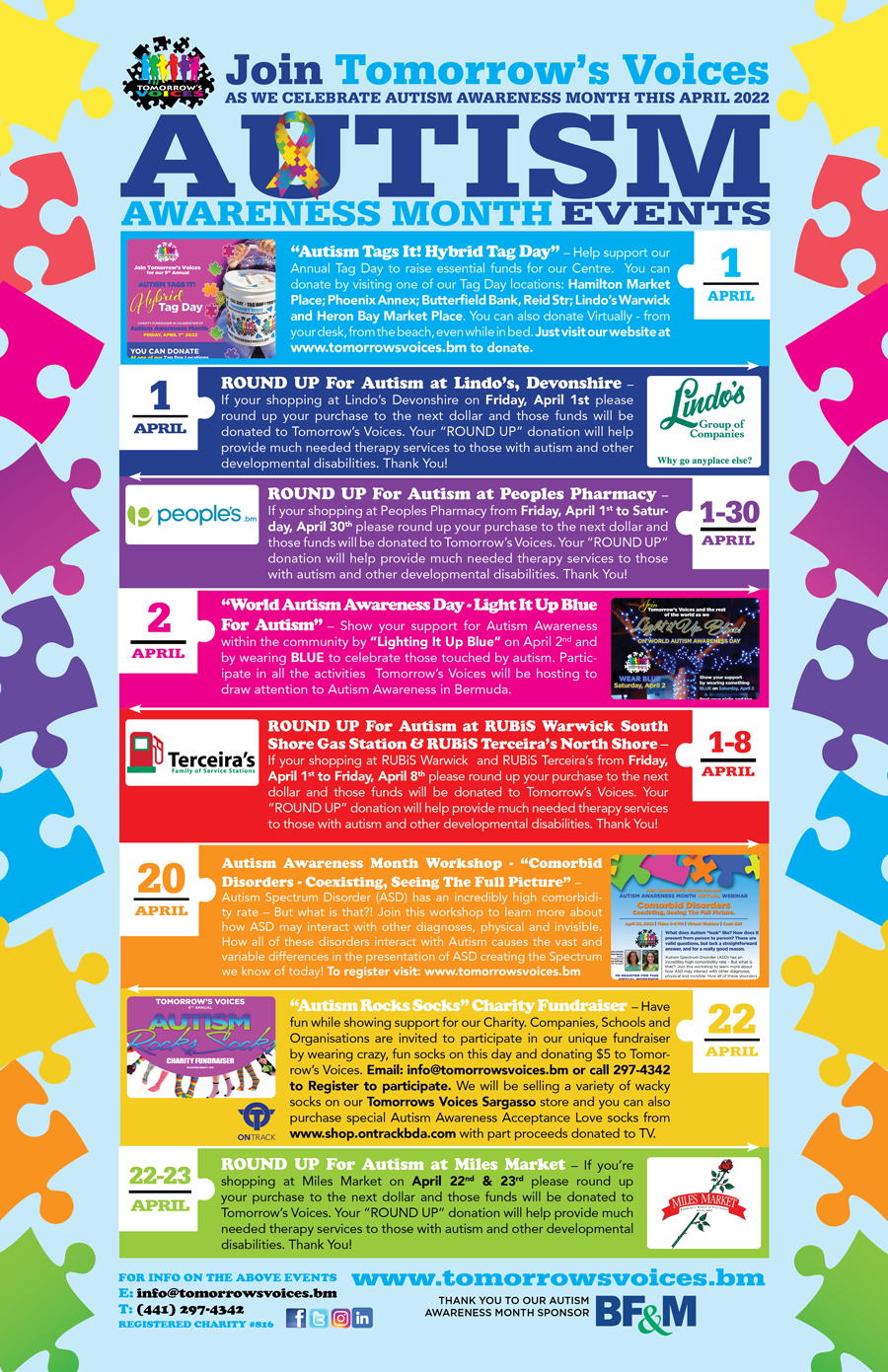 "Tomorrow's Voices thanks BF&M, The Argo Foundation, Lindo's Group of Companies, People's Pharmacy, Miles Market and Terceira's Group of Companies for supporting their Autism Awareness Month activities. For further information about Tomorrow's Voices Autism Awareness Month events, call 297-4342 or email info@tomorrowsvoices.bm."

Read More About
Category: All