[Written by Stephen Wright]
Nikki Bascome says he has embraced a tunnel vision mindset in his Las Vegas training camp while preparing for his upcoming fight against Jamaican Kevin Hylton.
Bascome has spent the past month sharpening his tools under the tutelage of Jeff Mayweather, the uncle of Floyd, the five-division unbeaten world champion.
The Bermudian faces Hylton at The Shed in Dockyard next Saturday [May 28] as he looks to improve his record of ten wins from 11 outings.
"Going back to Vegas helps me get into my zone," Bascome told Bernews. "I have no distractions and don't have to worry about handling the gym [the NB Boxing Gym in Warwick].
"I can focus solely on the fight in Vegas, and being out of my comfort zone also helps.
"When I'm home, I don't get to focus on myself too much. Coming out here helps me grow as a boxer."
The 31-year-old has worked intermittently with Mayweather for the past four years, a relationship forged after the death of his long-time mentor and coach Allan "Forty" Rego.
Anthony Stoneham, the son of Rego, has accompanied Bascome to Las Vegas and will be joined by Mayweather in the welterweight's corner on fight night.
"It's great to get Jeff's take on things," Bascome said. "He's always looking to add things to my game.
"I try and soak it all up and do what he's telling me.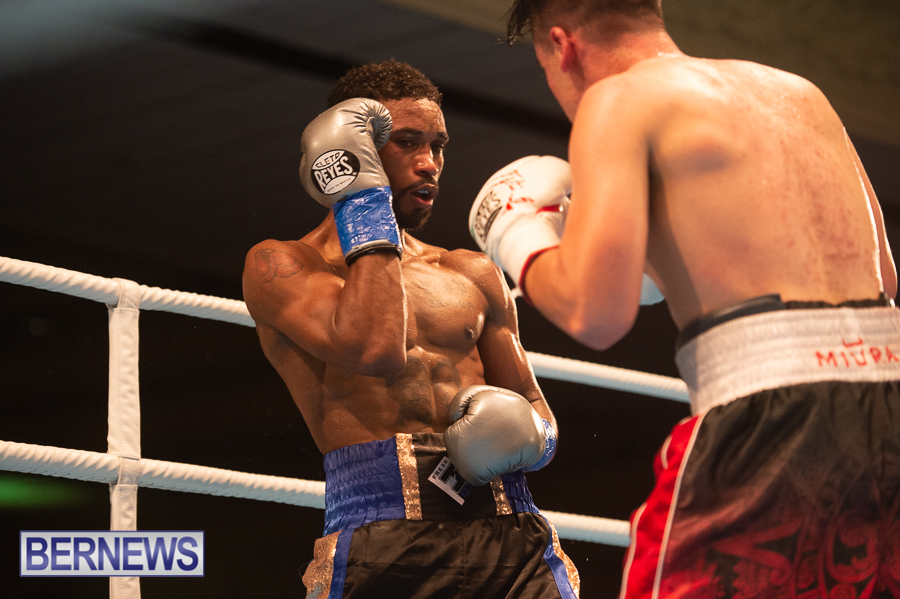 "I've been sparring a lot of amateurs at his new gym [the Jeff Mayweather Training Centre], and it's been good work.
"These guys are hungry, and I've been getting a lot of different styles, different looks, fighting bigger guys, switch-hitters, and guys with speed."
Bascome returned to the ring after a two-year hiatus because of the Covid-19 pandemic in January, defeating Canadian Dylan Rushton by a unanimous decision, and hopes to make up for lost time with a busy schedule of bouts.
"Before the pandemic, I planned to carry on heading to Vegas for my training camps and stay active," said Bascome, who got engaged to his partner, Marilyn Cupidore, at the USATF Bermuda Games last month.
"However, as soon as I was ready to get the ball rolling, the pandemic hit, and I was out for two years. I'm trying to pick up where I left off. I'm on a mission to stay active."
While Bascome insists he is not looking past Hylton, who has won six and drawn one of his 14 contests, he said there are big ambitions he hopes to achieve before he hangs up his gloves.
"We've been watching footage of him [Hylton]," Bascome added. "We know he's a bit bigger than me.
"I'm just focused on being the best me I can be and working on my game plan.
"I still want to fight for a [regional] belt, a ten-rounder. That's one of my aspirations and goals.
"Hopefully, I can win my next fight in a good fashion and take things from there."

Read More About