The Association of Bermuda Insurers and Reinsurers [ABIR] has appointed new leadership for two of its committees, drawing from the senior executive talent of member companies.
A spokesperson said, "Jevon Williams, of Chubb Bermuda, has been appointed Co-Chair of the ABIR Policy Committee, alongside continuing Co-Chair Gemma Carreiro, General Counsel of Hamilton Insurance Group. Williams replaces Edward Mishambi, who has relocated to the London offices of RenaissanceRe, where he serves as Senior Vice President and Chief Risk Officer of Europe.
"Appointed as Deputy Chair of the Policy Committee is Jim Paugh of Arch Re. Paugh replaces Tim Peckett, who has moved into a part time role as Special Counsel to Arch Re.
Gemma Carreiro, Jevon Williams, Jim Paugh, Ed Mishambi, Bill Wharton, Suzanne Williams-Charles, Catherine Duffy, Marc Grandisson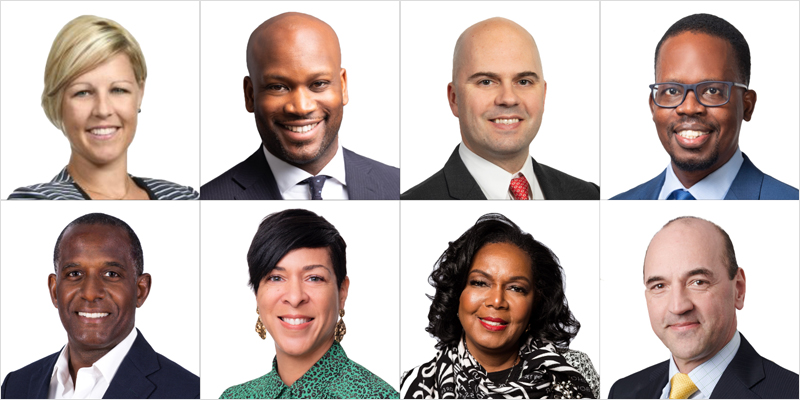 "The Policy Committee carries out valuable work for ABIR's member companies, reviewing insurance regulation in Bermuda and overseas, international regulatory standards, public policy in Bermuda, and US natural disaster policy and regulation.
"There is also a leadership change on the ABIR Diversity, Equity, and Inclusion [DEI] Committee, with Bill Wharton, Head of Argo Insurance Bermuda, appointed as the new Chair. He succeeds Catherine Duffy of AIG and will continue to build on ABIR's commitment to address diversity, equity and inclusion issues and opportunities.
"Suzanne Williams-Charles, ABIR's Director of Policy and Regulation, Corporate Secretary, and Data Privacy Officer, staffs both the Policy and DEI committees."
Marc Grandisson, Chair of ABIR and CEO of Arch Capital Group Ltd, said, "I want to thank Ed and Cathy for their tremendous leadership and significant contributions to ABIR's work on behalf of the Bermuda market.
"I commend all the talented executives who give generously of their time, knowledge, and experience, leading and serving on ABIR's committees and working groups. With their valuable support, Bermuda is well positioned to continue its global industry leadership."
The spokesperson said, "Carreiro is Group General Counsel and Corporate Secretary of Hamilton Insurance Group. Ms. Carreiro has responsibility for Hamilton's legal, regulatory and governance functions and serve on its Executive Committee. She came to Hamilton from PartnerRe and, prior to that, was an Associate at Conyers Dill & Pearman Limited, where she specialized in corporate law with a particular focus on insurance and reinsurance regulatory matters.
"Carreiro is a graduate of Napier University in Scotland and The University of Law in the United Kingdom. She has served as Co-Chair of the ABIR Policy Committee for the past two years.
"Williams is General Counsel for Chubb Bermuda and its affiliates in Europe. In this role, he oversees all legal matters concerning regulatory affairs and underwriting support. He came to Chubb from AIG, where he was Assistant General Counsel for the Bermuda-based operations. Williams had previously worked as Legal Counsel at XL Bermuda. Prior to XL, he also held positions at ASW Law, and Olympia Capital. Williams also serves as the Chair of the Coalition for the Protection of Children in Bermuda. Williams is a graduate of Bermuda College, Dalhousie University, and the City University London School of Law.
"Wharton is the Head of Argo Insurance – Bermuda and has more than 26 years of industry experience. He joined Argo in 2015 as an Underwriting Manager. Prior to joining Argo, he was Head of Financial Lines, Asia at Catlin. Before that, he served as Chief Underwriting Officer for XL Group's professional lines, and Vice President, Professional Lines for XL Insurance in Bermuda. Wharton graduated from the University of Pittsburgh with a Bachelor of Arts in economics.
"Paugh is the General Counsel of Arch Re Ltd. Prior to joining Arch at the start of this year he was SVP, General Counsel of Chubb Bermuda. Before his time with Chubb, Paugh was an attorney with the law firm O'Melveny & Myers LLP in New York. Paugh graduated from Vanderbilt University and the George Washington Law School."
John Huff, President and CEO of ABIR, said, "ABIR is pleased to announce these appointments, which reflect the deep bench of executive talent we have on island among our member companies. Bermuda is fortunate that these leaders commit to working together with ABIR to advance the public policy, advocacy and education interests of Bermuda's leading re/insurers, a group that covers the world's largest and most complex risks."

Read More About