The Association of Bermuda Insurers & Reinsurers [ABIR] today announced a slate of appointments of member company industry executives to lead committees and working groups.
"ABIR has a deep bench of talented, re/insurance executives willing to lead on important regulatory, policy and international industry initiatives," said ABIR Chair and Arch Capital Group CEO Marc Grandisson.
"I'd like to thank our tremendous industry talent for stepping up to lead the collective efforts of Bermuda's international re/insurance market. With this team in place, Bermuda is well positioned for the upcoming market opportunities around the world."
Edward Mishambi, Gemma Carreiro, Tim Peckett, Andrew Hughes; Middle Row [L-R]: Devin Page, Allen Wilson, Lisa Robinson, Randolph Simons; Bottom Row [L-R]: Catherine Duffy, Jim Paugh, Jeffrey Manson, Suzanne Williams-Charles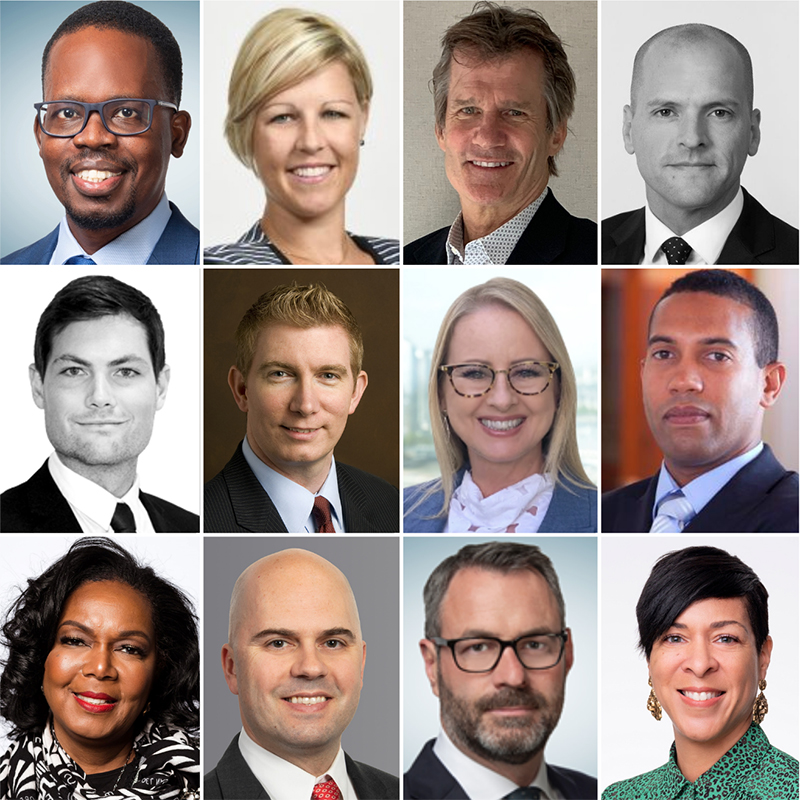 "ABIR's Policy Committee reviews public policy and re/insurance regulation in Bermuda and internationally and interacts closely with the ABIR Board," a spokesperson said.
"The Committee will be led by co-chairs Edward Mishambi, SVP, Chief Risk Officer – Europe, RenaissanceRe and Gemma Carreiro, General Counsel, Hamilton Insurance Group, with Deputy Chair Tim Peckett, General Counsel, Arch Reinsurance Ltd. The Committee is staffed by Suzanne Williams-Charles, ABIR Director of Policy & Regulation, Corporate Secretary and Data Privacy Officer.
"ABIR Cyber Working Group advises on market trends and products related to the growing cyber risk market and will be led by Co-Chairs, Devin Page, Head of Specialty Reinsurance, Hiscox Re and Allen Wilson, Chief Information Security Officer, Axis Capital.
"Andrew Hughes, CEO, Third-Party Capital, Partner Re will lead the ABIR ILS/Alternative Capital Working Group. ABIR Human Resources Working Group, focusing on all aspects of talent and culture, will be led by Co-Chairs Lisa Robinson, Head of HR & Operations, Convex Re and Randolph Simons, VP, Senior HR Business Partner – Global Reinsurance/Director, Compensation and Benefits, Chubb.
"ABIR Data & Privacy Taskforce will be chaired by Jim Paugh, General Counsel, Chubb Bermuda.
"Building upon Bermuda's legacy expertise in natural-catastrophe risk transfer, the ABIR Climate Risk Committee has been assembled to advise the membership on climate-risk issues globally and to help coordinate the work of ABIR with the Insurance Development Forum. The new group will be led by Chair Jeffrey Manson, SVP, Head of Global Public Sector Partnerships, RenaissanceRe.
"Continuing and building on ABIR's commitment to addressing diversity issues, the ABIR Diversity, Equity & Inclusion Committee will be guided by Catherine R. Duffy, Country Leader, AIG."
"ABIR continues its rich history of international leadership in re/insurance markets with the appointments of these global executives," said John M. Huff, President and CEO of ABIR.
"These accomplished leaders represent the best of the innovative and entrepreneurial spirit of Bermuda's leading insurers and reinsurers, which are vital to maintaining global economies around the world."

Read More About