A new company, Solar Roof Maintenance, has launched to serve the local solar market in Bermuda.
A spokesperson said, "Solar Roof Maintenance technicians can install, repair and maintain all types of solar panels including residential, commercial, industrial and ground mount. The company carries parts and service records for all manufacturers and racking types.
"Solar Roof Maintenance services include solar panel inspection, cleaning and repair, as well as removal, roof painting and reinstallation."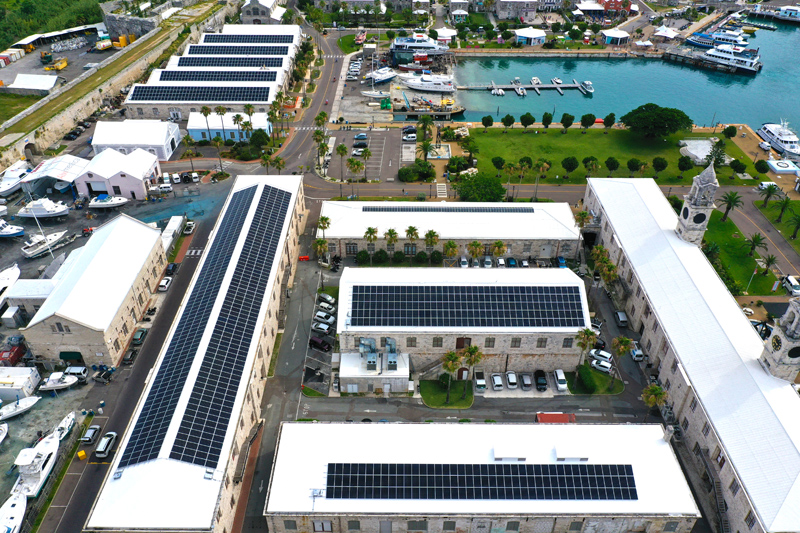 "Solar Panels are quite commonplace nowadays. They have been installed on many homes and businesses throughout the island. Many of the systems are over 5 years old and require regular servicing, but also the roof underneath the panels needs to be maintained as well.
"That is where the idea was born for Solar Roof Maintenance – a company that can paint and do roofing repairs as well service and maintain the solar panels. In short, we are full service when it comes to solar panels. Our mission is to make maintenance as seamless as possible for solar panel owners so they don't have to think about a thing. Instead of having to call two or more companies to remove, potentially repair, paint the roof and reinstall the panels, you can simply call one company now and we handle everything.
"We have qualified solar technicians who are familiar with all of the major solar panel brands found here on island. We have partnered with SunPower, Sonnen, Enphase, SMA, Unirac and S-5 but our expert technicians are also trained to service panels from LG, Mitsubishi, QCells, Piemar, Panasonic among others.
"If a customer does not see their solar panel brand listed then we encourage them to reach out to us to check if we may indeed have the parts and can service their specific solar panel system. Additionally when a customer signs up for a Solar Roof Maintenance service contract it can include the removal, safe storage and reinstallation of solar panels during a hurricane which helps to avoid solar panel damage during a storm."
The spokesperson continued "There is no need to have one company remove your solar panels, another paint and do roof works and another to service the solar panels and then reinstall them. Solar Roof Maintenance can do it all under one roof."
"For more information on Solar Roof Maintenance and its service offerings, visit: www.solarroof.bm . To book appointments or receive quotes please contact Stephanie Lynam, Office manager at Solar Roof Maintenance on 543-9170 or via email admin@solarroof.bm."
Read More About