Build a Brand Bermuda is getting set to host 'Summer in the Tropics' Vendors Market on Sunday [June 5] from 11.00am to 4.00pm at the Botanical Gardens.
Alicia Trott, Creator of Build a Brand Bermuda, told Bernews, "Build a Brand Bermuda is an Entrepreneur Community that inspires Bermudians to focus on growing their legacy and generational wealth by building the brand of their dreams. Our vision is to facilitate Monthly Vendors Markets, Local Business Highlights, Webinars, Entrepreneur Networking Events, and eventually expand to offer Internships/Employment."
"We are having our first Vendors Market this Sunday and will be joined by over 25 Bermudian entrepreneurs offering a wide range of products from Herbal Teas, Diverse Holistic Lifestyle Products, Accessories and Apparel, Handcrafted Decor, Candles, Scented Body Oils, Handmade Skincare and so much more!"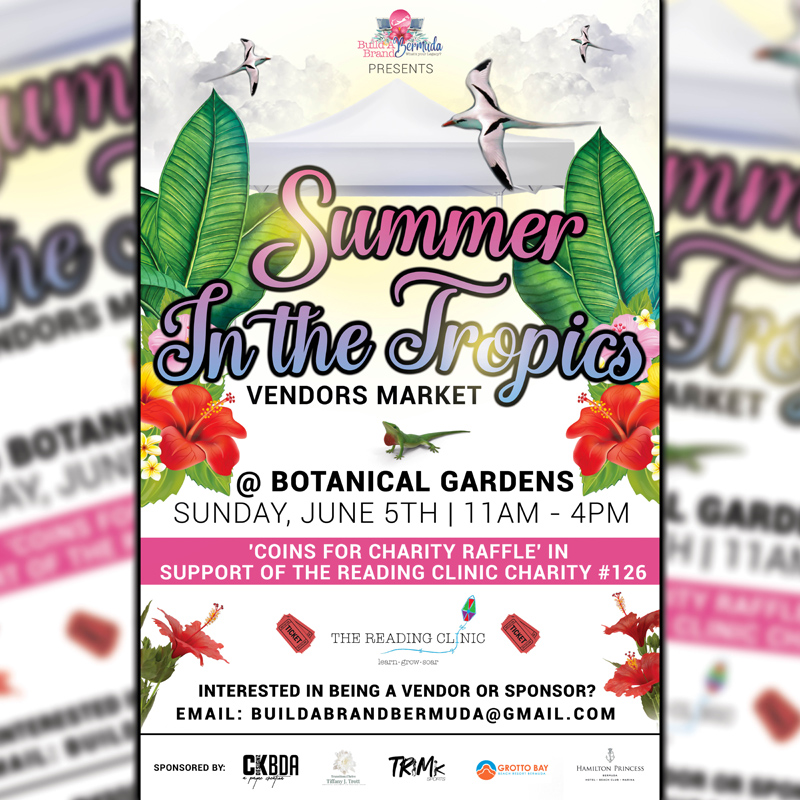 "To support Build a Brand Bermuda's vision of community building through philanthropy, at each of our Vendor's Markets we will be hosting a 'Coins 4 Charity' Raffle. Our first donation recipient is The Reading Clinic [Charity #126] as we aim to support them in providing research-based interventions to empower and support school-aged children in Bermuda who learn differently."
"Bermuda's children need our help now more than ever. For the past 2 years of the COVID-19 pandemic, there have been countless school/extracurricular disruptions that have impacted our children's academic abilities and confidence. Bermuda, let's use this opportunity to support both our Entrepreneurs and our children, as they are both the future of this country."
"Build a Brand Bermuda is passionate about inspiring and providing opportunities for Bermudians to embody their full potential. We are often told that "it takes a village", so here we are, a village ready to challenge Bermudians to rise to the occasion by prompting them with one question, "What is your Legacy?"
Find out more about Build a Brand Bermuda by following them on Facebook/Instagram [Build a Brand Bermuda] or by emailing buildabrandbermuda@gmail.com.
Read More About