[Written by Dale Butler]
I did not set out to visit four establishments in one night, but I did. Stepping into Henry VIII Restaurant, Sushi Bar & Pub, 69 South Shore Road, Southampton, always bring back memories of the larger-than-life late Charles H.B. Vaucrosson who, although a lawyer, relished the part of playing British King Henry VIII in full regalia and holding a giant leg of lamb.
"Senior Restaurant Manager, Anthony Faries, and Restaurant Manager, Rohan Kasturi, led the way with their very friendly and efficient team that created a perfect restaurant ambience.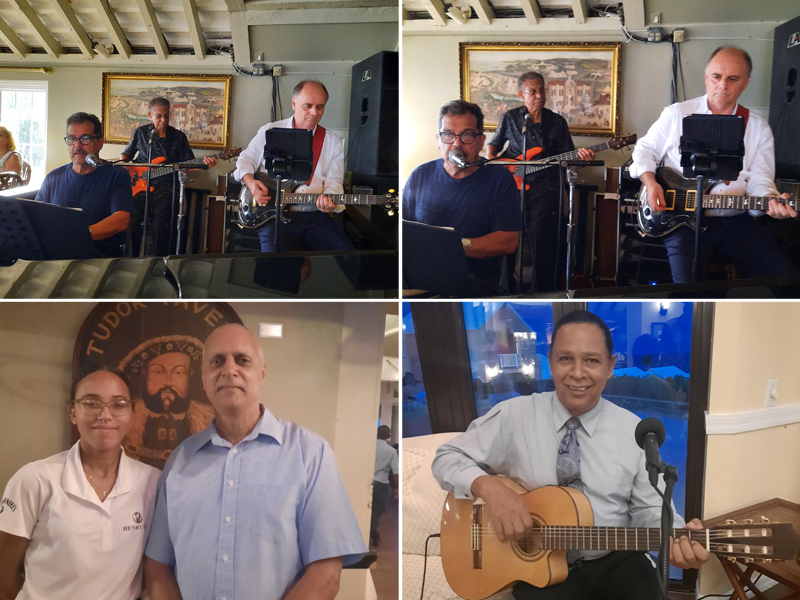 The facility has been well-maintained and still hosts lots of guests inside and out eager to sample many delights, and on Friday, June 24th, patrons had the pleasure of hearing a highly professional trio consisting of:
Ronnie Lopes [singer and congas]
The band has an extensive repertoire which was delivered to a well-disposed audience who enjoyed:
Don't Know Why – composed by Jesse Harris, made popular by top jazz vocalist Norah Jones and sung by Bermuda's own Ronnie Lopes.
[Sittin' On] The Dock of the Bay – co-written by soul singer Otis Redding and guitarist Steve Cropper and remains a popular classic since its release in 1968.
Wichita Lineman – composed by Jimmy Webb [1968] and made popular by Glen Campbell.
From that point on the trio caught a draft, as it were, and sailed on with the hit by Christopher Cross [Sailing], and there was no turning back as they seamlessly encountered:
If You Could Read My Mind
Save The Last Dance For Me, and
Ronnie Lopes and band could easily impress writer Bob Marley. With Stan relaxed on bass, covering every tune perfectly, it was only left to Tom to bring it all together with the electric guitar and he did Oh, What A Night. Having enjoyed a great glass of wine, escargot and their signature 'Rockfish' and superb service, both locals and tourists were immensely pleased when the band added Bermuda Is Another World by the late, great and legendary troubadour, Hubert Smith.
And this was just an insight into part one of the musical evening, as I left for The Reefs next door.
Nesting comfortably at The Reefs was Randy Lambert, the founder of the band Tempo that took Bermuda by storm in 1991. Now performing as a soloist, I call him the 'phantom shy guy', who is quiet until he starts to play his guitar. Randy is, indeed, a treasure with many years in the business, but he does not hug the limelight.
Extremely talented, he played a jazz version of Ave Maria that stunned the patrons and a visiting guitarist he had met on a previous stay at The Reefs. Add Quando, Quando, Quando, made famous by Pat Boone, Mambo, Ride The Donkey and Yellow Bird. Randy did all of that, and more, while talking to children and patrons enjoying his renditions. Randy also performs at the Henry V111on Sundays from 6 to 9pm.
I wonder if they knew he could play that guitar with his teeth, expound like Jimi Hendrix and had opened for many international stars like The Drifters, Sonny Turner of the Platters, Maxine Brown, The Commodores, Third World, Peaches & Herb and Jazzscape '96 which was headlined by George Benson and Gladys Knight. He is another Bermuda treasure.
My next trip on the way home was the Hamilton Princess Hotel, where comedian, actor, playwright, MC and Neighborhood Playhouse School of Theatre graduate, Nadanja Bailey was the DJ for the night. Always a showman. A great addition to the hotel entertainment calendar.
And here I stood, once again, at the historic Leopards Club International [1949] to hear Paradise led by Wendy Flood [singer and pianist]. The band with Edwin Ford [bass] and Ace Cepeda [lead guitar] have developed a fan club who enjoy old school and their signature song by Prince, Purple Rain. With the Bermuda Entertainment Union President, Selena "VaVa" Fields in the house, Leopards and friends had a ball. Thank you Paradise.
"Oh What a Night."
- Dale Butler is the Professor of Local Music and also writes restaurant, book and dance reviews for Bernews

Read More About
Category: All, Entertainment, Music