[Written by Mikaela Ian Pearman]
I've been covering events since I was 19 and it's rare for me to be shocked or surprised. Well, that changed big time early Monday morning at Pure Bermuda. I attended the event expecting to have a great time and I got much more than I bargained for.
Pure took place under the big tent at the National Sports Centre with Bermudian and International DJs alongside two international soca artists – Mr Killa and Olatunji. I was very excited to see Mr Killa as his antics on stage are pretty legendary, I'm a big fan of Grenada soca and I'd not had the opportunity to see him perform live.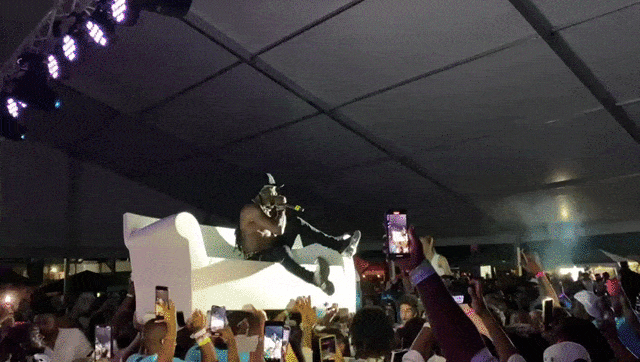 I went to Pure after attending Glow and the event was in full swing. My fave, DJ Rusty G was on stage entertaining the crowd and killing it as usual. Bermuda soca artist Fire Wayne got on stage to perform his hit "Full Stop" a few minutes after I arrived.
It was amazing to see a Bermudian artist on stage during Carnival performing his hit song. Wayne's stage presence was incredible as were his dancers and everyone was singing along. This was a big moment for Bermuda.
Trinidadian artist Olatunji hit the stage next and performed a few of his songs including "Oh Yay", "Winning Good" and "Ola", his hit from 2015. His stage presence was great and the crowd seemed to enjoy his performance.
International DJs Young Chow and Spin Citi were up next to entertain and entertain us, they did. Chow has been to Bermuda many times since 2010 and he brings the energy every single time. From jumping up and down on stage to jumping in the crowd, his energy was at 100 the whole time.
Finally, it was time for Mr Killa to hit the stage. Once he was announced, he danced his way across the stage with wildly high energy. I've never seen anything like it and was very entertained. It was really hard to film because I just wanted to dance the whole time.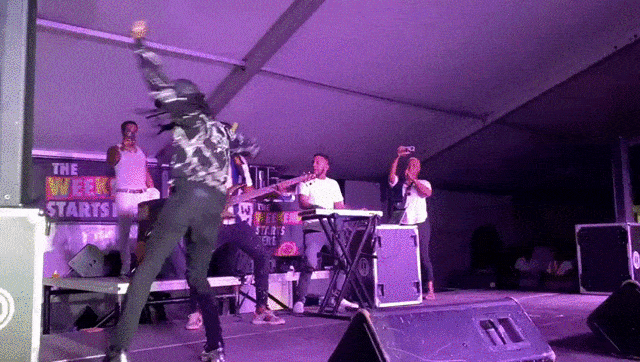 He performed his hits including "Pepa Wine" [one of my faves], "Oil It" and danced the whole time while talking to the crowd, encouraging them to dance and just truly being a highly entertaining artist. Mr Killa smiled, danced, laughed, ran up and down the stage and just killed it.
The show really started when he invited girls from the audience to come on stage for a wining competition. This was a precursor to his very popular hit "Rolly Polly" as the winners were the bigger girls, who I have to say were incredible. Then he went signature Mr Killa by dancing with the girls as he sang his hit.
Before I go on, I must say that the show could've finished after this segment and we all would've walked away feeling like we got our money's worth. But no, Mr Killa was far from done. Once the girls came off stage, that's when the real antics began.
If you know soca, you know the song "Run Wid It", which won Soca Monarch in Trinidad in 2019. It's a smash of a song that is still very popular to this day and it's Mr Killa's song. The lyrics go something like this:
Tell meh pick up something, anything
Rum tell meh to grab something, anything
I just want to pick up something, anything
Watch how i go grab something, anything
Rum tell me to
Run, run wid it
As soon as the hook starts, you are supposed to pick up something and start to run with it, literally. Well, before he even started singing it, the Casualty Of Alcohol [COA] crew picked up a girl, put her on what looked like an air bed and carried her to the front of the stage, delighting Mr Killa who proceeded to run from the stage, leap onto the mattress and be carried throughout the party. It was absolutely the highlight of my weekend.
I had a blast and I'm so grateful to have stayed awake to witness such an epic performance.
A big shoutout goes to my friend Rowan [Wild Apache] and his team for such an incredible event. It was a movie!

Read More About
Category: All, Entertainment, Music, News