[Written by Mikaela Ian Pearman]
Imagine this – a sea of people dressed in crisp, clean white clothing in a gorgeous park in the middle of the city. The music is blaring, the drinks are flowing. The guests are enjoying themselves as they party into the night.
This was Glow held on Sunday evening at Queen Elizabeth Park, billed as the premiere party for Bermuda Carnival. It started as a backyard party and as evolved into likely the best party of the Bermuda Carnival weekend.
Glow kicked off at 4pm and I arrived with my hubby at 7. As we walked in, we quickly got our wristbands and took a photo before doing a quick lap around the party. I was honestly shocked to see so many people! I don't think I've ever been to a party in Bermuda with so many people. The entire park was filled with people dressed in white.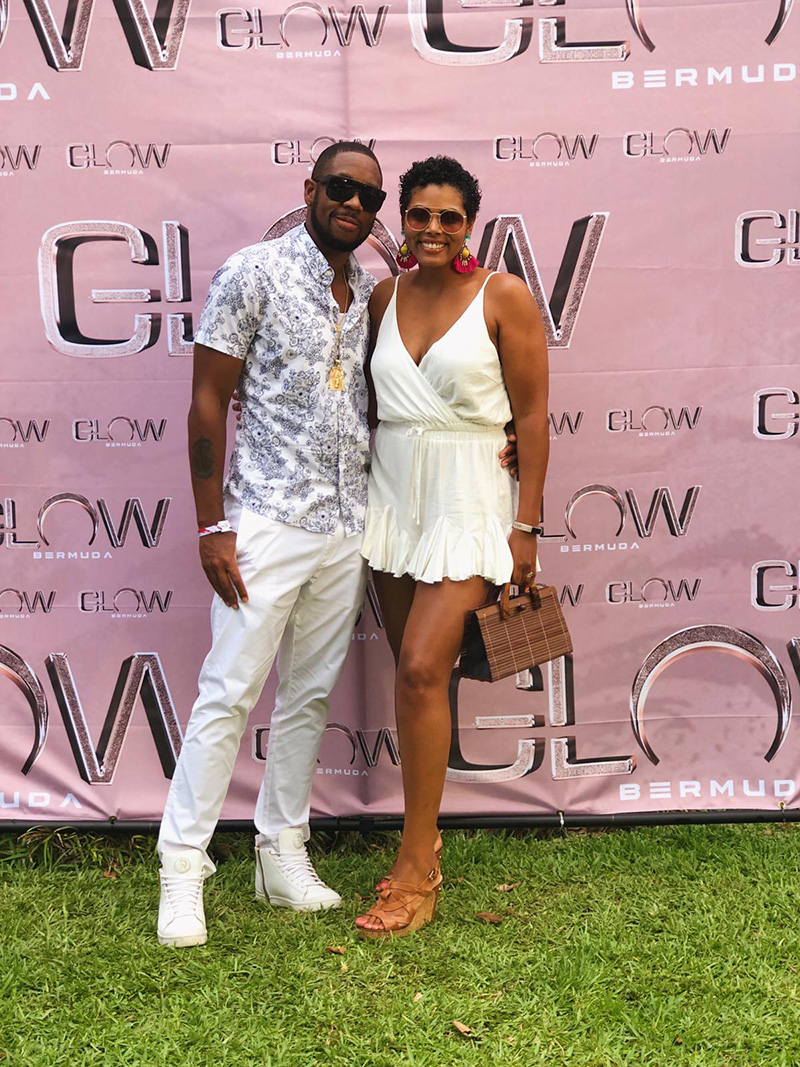 Glow is an all-inclusive party, which is great because you never have to pull out your wallet. There were two different bars and then a few specialty bars offering Johnny Walker, Heineken and Frosé. And if you were hungry, you could jump in one of the lines for food. There was a roti tent, jerk chicken and then another tent serving a small buffet.
The whole vibe was fabulous. It was more of an upscale party, which is absolutely right up my alley. DJ Chubb was spinning tunes for an early warm up before soca artist Preedy hit the stage.
I did not know Preedy was performing so that was a pleasant surprise. As a big fan of his music, I'm a big fan of his music so his performance was such a treat. He sang quite a few songs including "Away", "Veteran", "Walk Out" and many more. The crowd was definitely hyped during his performance.
Once Preedy was done, Jus Jay and Patrick The Hypeman hit the stage. Their set was epic to say the least. Patrick got the crowd hyped with Jus Jay effortlessly mixed songs and genres. It was ridiculous and one the highlights of the weekend for me. From dancehall to old school reggae and then back to soca, it was such a great set. They really made the party for me and im sure many other revellers.
Because I'm oldish and my knee hurt, hubby and I went to the back of the party for the rest of the evening to catch ourselves. It was so hot and being up in the front meant I was turning into a sweaty mess.
Glow was an amazing party and you definitely missed out if you didn't go. The one thing I would suggest organisers improve for next year is more food tents. The lines were ridiculously long, and it took forever to eat. Other than that, I wouldn't change a thing. Oh, expect I would book a cabana next time. Cabanas were definitely a good look.
Congrats to organisers for an epic, sophisticated, well-attended event. Looking forward to next year!
Read More About
Category: All, Entertainment, News