[Written by Mikaela Ian Pearman]
Bermuda Heroes Weekend came alive early Monday morning when soca king Machel Montano graced the stage at Pure.
The annual white fete, put on by Wild Apache Promotions, was set to be the biggest event of the weekend and it certainly lived up to expectations.
Bermuda Carnival or #BHW is now in its fourth year and this is the first year Machel has performed at the anticipated event. His presence basically legitimizes our carnival.
He came to the stage performing his 2018 soca hit "Soca Kingdom" to the excitement of the crowd. Despite performing without a band, Machel still churned out the energetic performance he is known world wide for. His DJ for the set was Red Bull 3Style World Champion DJ Puffy – one of the best in the game.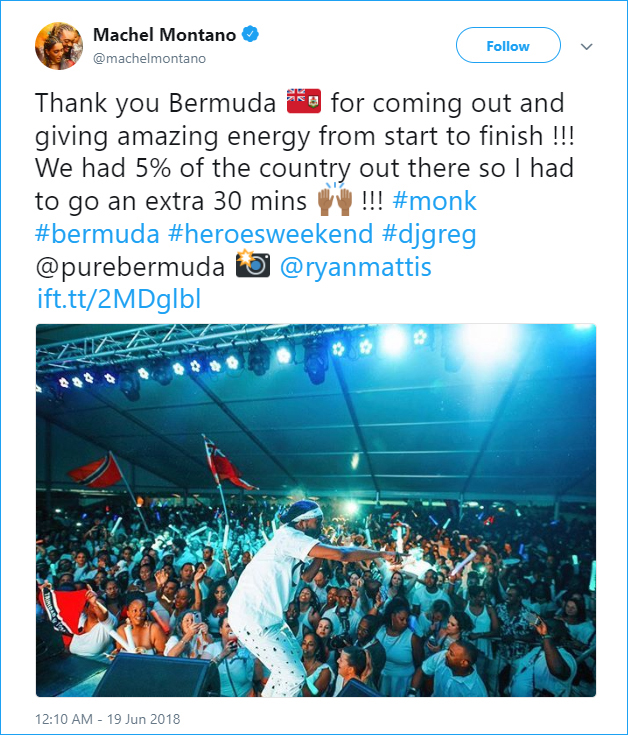 Hit after hit included "Doh Play Dat", "Showtime", "Fast Wine", "Like Ah Boss", "The Fog", "Mr Fete", "Bend Ova", "Band of the Year", "Carnival", "Ministry of Road", "Advantage", "Party Done" and many more.
Machel brought a few lucky ladies to the stage to dance with him including one was celebrating her birthday. She flew to Bermuda from Turks and Caicos for the weekend and met Machel on the plane. She was overwhelmed dancing with Machel and it was a sweet moment.
Three other girls came to the stage for a dance off during "Doh Play Dat".
The King of Soca also performed a reggae set with old school and new dancehall songs.
At 2:30am, Machel finished his set after performing for 90 minutes. Although I thoroughly enjoyed his set, it was much too short. Machel has a large catalog and a true fan like myself knows there were plenty songs he didn't get to.
Nonetheless, it was an awesome performance. Before he hit the stage, the crowd was entertained by Nailah Blackman who performed a few of her songs including "Sokah", "O Lawd Oye", "Bailah Mami" and "Workout" her hit song with Kes. DJ Young Chow from New York performed before her set and was her DJ for her performance.
DJ Rusty G played an energetic, fun set and hyped up the whole crowd. There's a reason he's won Best Club DJ four years in a row.
New Bermudian soca artist J3 also performed her winning song "Feeling For Ya" and for a great reaction from the crowd.
Pure was a great way to kick off the vibe before J'Ouvert, which of course comes right before Parade of Bands. If you weren't there, you missed a great show.
Shoutout to Rowan Ramotar, Declan Harris and Andrew Holmes for a job well done.

Read More About
Category: All, Entertainment, Music, News