[Written by Stephen Wright]
Dame Flora Duffy might be the Commonwealth Games defending champion, but some say she is not the favourite to win the individual triathlon in Birmingham on Friday, with Duffy noting "I'm the defending champion, although I don't think I'm quite the favourite."
That distinction belongs to Georgia-Taylor Brown, currently ranked No 1 in the world, who will be the darling of the home crowd at Sutton Park, Sutton Coldfield, the stage of the fast and frenetic sprint-distance race [750-metre swim, 20km bike, 5km run].
For Duffy, not being burdened with the favourites tag makes a welcome change for an athlete who already has an impeccable CV.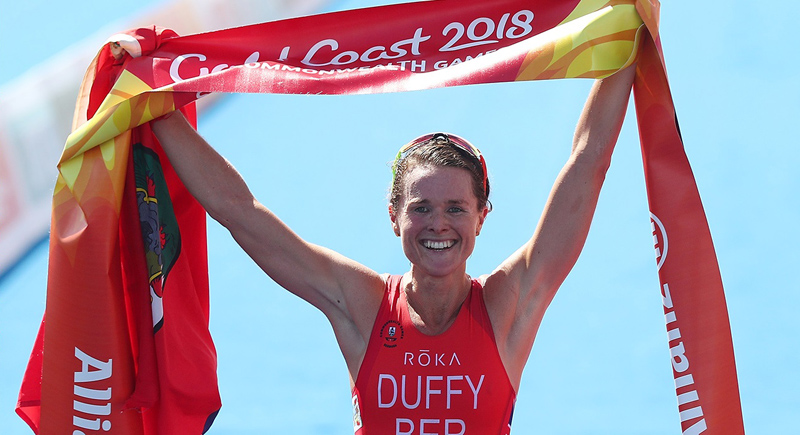 "I'm the defending champion, which is fine, although I don't think I'm quite the favourite," Duffy told Bernews. "That's probably more Georgia-Taylor Brown.
"It's nice not to be in that position. If I can win again, that would be great. If I don't win, then no big drama.
"Looking at the rankings, Georgia [England] is number one, I'm number two, and Beth Potter [Scotland] is number three, and we're all racing. Throw in Sophie Caldwell [England] and Non Stanford [Wales], and you've got a strong field."
Since storming to the gold medal at the Gold Coast Games in 2018, Duffy has become a three-time world champion and climbed triathlon's sporting Everest by winning the Olympic Games in Tokyo last summer.
Although she has nothing left to prove in the sport, Duffy admits her desire for battle still burns brightly.
"Winning still motivates me," Duffy said. "I like winning races, and I especially like winning big races.
"I've already won [the Commonwealths] and won the Olympics, so although this is important, this feels very different right now.
"[The Commonwealths] have caught me by surprise, to be honest, coming off the back of an Olympic year.
"Tokyo was such a difficult build; it was in the middle of a pandemic and postponed for a year. I'm still finding my form."
The 34-year-old showed signs of top form in Hamburg earlier this month, winning her thirteenth World Triathlon Championship Series race, despite picking up a 10-second penalty for not leaving her goggles in her equipment bin in transition.
"It's been a choppy year thus far, having Covid twice and some mixed results, which were largely out of my control," she said.
"The win in Hamburg was great, although I believed I could win in Birmingham regardless of whether I won in Hamburg.
"I made lots of mistakes in that race, but my form was reasonably good. I've had a couple more weeks of fine-tuning for Birmingham."
Duffy joins Tyler Butterfield, Tyler Smith and Erica Hawley in the mixed relay triathlon on Sunday, involving teams of two men and two women each competing in a short-course triathlon [300m swim, 5km bike, 2km run].
The format will be male-female-male-female, a change in order from the Gold Coast Games, where Bermuda claimed a superb fifth-place finish.
Duffy is backing the foursome to go one better and challenge for fourth in the rapid and unpredictable race.
"I'm most excited for the mixed team relay," Duffy added. "I think we can put together a great race. The order has changed, which actually changes things quite a lot, not necessarily for Bermuda but for other countries.
"It will hopefully play to our advantage. We need to have a perfect race and need a few teams to falter, which is not uncommon in the mixed relay. All sorts of stuff can happen.
"Some of the other countries aren't going to be quite as strong as they were four years ago."

Read More About