[Updated] Bermuda's Flora Duffy has done it again, putting on a first class performance to claim the gold medal at the Commonwealth Games in Australia this evening.
She entered the Games as the medal favourite and delivered this evening, defeating the world class field to capture the Commonwealth gold medal.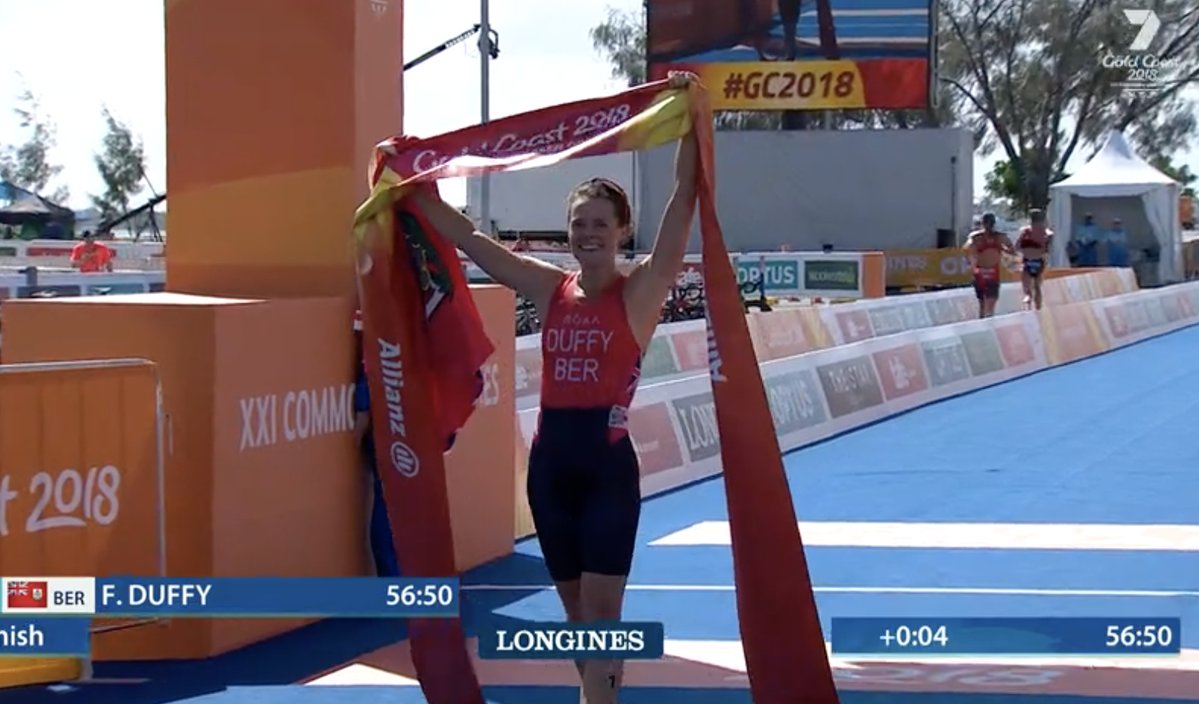 The 1990 Commonwealth Games in Auckland produced the first gold for Bermuda when Clarence 'Nicky' Saunders took gold in the men's high jump, and tonight Duffy added to Bermuda's gold medal tally with her first class performance.
This is the latest major accomplishment for the triathlete, who has won multiple world championships as well as major international races all over the world including in Canada, Sweden, Netherlands, Japan, England, Mexico, Italy, Germany, South Africa, Bahamas, Australia, Philippines, United Kingdom, United States and more.
More than 4,500 athletes from 71 nations and territories are competing at these Commonwealth Games, including an 8-strong Bermuda contingent. The race has just concluded and we will update as able.
Update 10.19pm | Report from Don Burgess: Flora Duffy pumped her fists in the air as she neared the finish line in her gold medal-winning bid at the Commonwealth Games. Duffy romped home to win the gold in the women's triathlon.
Duffy held off a spirited challenge from England's Jessica Learmouth. Canada's Joanna Brown was third.
Duffy continues to add to her legend as the reigning world ITU World Champion was never in doubt for a medal. She came out of the water in second behind Learmouth. The two dueled back and forth on the bike swapping first and second along the 20k course while building nearly a minute lead over the next competitors.
Duffy broke away on the run building up a lead that was never assailable. She grabbed a Bermuda flag from the crowd as she approached the finish line pumping both fists upwards. Her winning time was 56.50.
The victory also put Bermuda on top of the medal table as the event was the first one for the Commonwealth Games.
Teenager Erica Hawley, 19, showed Bermuda's triathlon pipeline is more than credible with a 16th place finish.
It is Bermuda's second-ever gold medal in the Commonwealth Games. Flora is also the first ever Bermudian woman medal at the Games. Bermuda's only other gold medal in the Commonwealth Games was in 1990 with Clarence 'Nicky' Saunders in the high jump.
The last time Bermuda won a medal in the Commonwealth Games was 20 years ago when Conrad Lister and Antoine Jones won bronze in tenpin bowling.
Update: The full women's Commonwealth Games Triathlon Results follow below [PDF here]:

Read More About