You can show your support for your Cup Match team while also supporting a good cause with the Family Centre Cup Match ribbon campaign, with ribbons available at various locations throughout the island.
A spokesperson said, "Family Centre kicks off its Cup Match Tag Day 2022 Campaign this week. This is Family Centre's major fundraiser for the year. The funds raised support critical therapeutic counselling services and community outreach programmes such as Youth Leadership Academy, Beyond Rugby Bermuda and Beyond Yoga Bermuda offered at no cost to children, teens, and their families.
"The community is encouraged to make a donation to Family Centre, which is a Bermuda registered charity [#378], and get your Cup Match ribbons in the colours of your favourite team. Your donation is critical to sustain their programmes and services that provide a safe and therapeutic space for healing and empowerment so that children and families can thrive.
"Ribbons are now available at various locations throughout the island. You are urged to get them ahead of the holiday to avoid disappointment. Family Centre Tag Day will be held on Wednesday, July 27.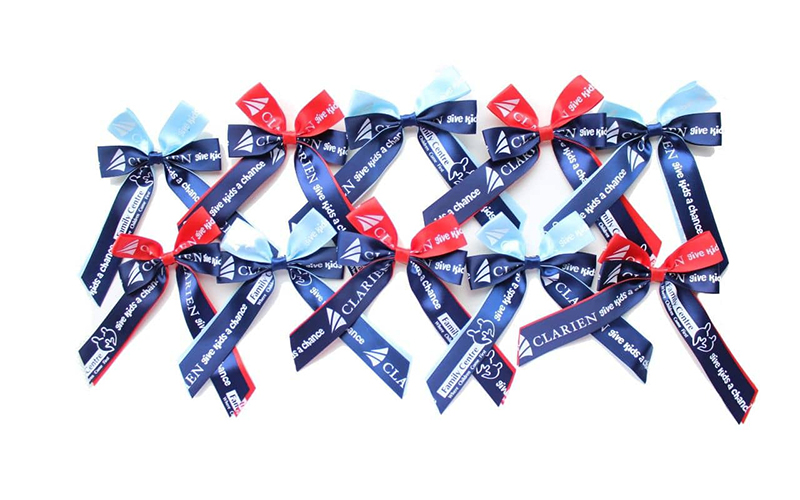 Dr. Sandy De Silva, Family Centre's Executive Director explains, "Family Centre is Bermuda's only social, behavioural, and mental health organization for children and teens in Bermuda that is a nonprofit and not hospital or government based. What is unique to Family Centre's therapeutic counselling services and community outreach programmes is our wrap around, holistic approach to children and teens who are experiencing social and emotional challenges. Sadly, the last two and a half years have had a significantly negative impact on the mental health of our children, teens, and families world-wide. COVID-19 has given rise to a mental health pandemic."
Clarien Bank is once again the Corporate Sponsor of Family Centre's Cup Match Tag Day.
"This is Clarien Banks's 21st consecutive year sponsoring this critical fundraiser for Family Centre. We are very proud of this strong and unwavering partnership that is vital to help us raise the funds we need to assist our families." states Thania Redman, Family Centre's Relationship Development Director.
Michael DeCouto, EVP, Chief Digital and Marketing Officer at Clarie Bank, said: "For decades, Clarien Bank has supported various youth, seniors and education based charities on the Island. Our long-standing partnership with Family Centre is one such example of this, allowing us to make a tangible difference in the lives of young people and families in Bermuda through the giving of our time and resources each year.
"Leading up to the Cup Match holiday, we encourage our clients, staff and the wider community to support the Family Centre Tag Day. Not only is this a perfect opportunity to support your favourite red-blue or blue-blue team, it's also something small we can all do to help strengthen families and make our island home a happier, healthier and safer place."
According to Susan Richardson, Family Centre's Director of Counselling Services, "Last year, Family Centre experienced a 47% increase in calls by parents, guardians, schools, and other community agencies requesting our therapeutic care for children and teens compared to 2020.
"The calls for help remain on the rise in 2022. Children and teens are experiencing fear, confusion, anxiety, depression, anger, grief, and some have thoughts about harming themselves or have already done so. Our services are in demand, and we are committed to ensuring that we remain accessible and support everyone who needs our assistance."
Leila Wadson, Family Centre's Director of Community Services reports, "Some of the pandemic related stressors affecting the youth we work with include school social challenges, difficulty focusing in class, and failing grades. Our community programmes – Youth Leadership Academy, Beyond Rugby Bermuda and Beyond Yoga Bermuda – aim to mitigate the negative impact of these stressors by recognizing, utilizing, and enhancing youths' strengths.
"These programmes promote positive outcomes for young people by providing opportunities, fostering positive relationships, and furnishing the support needed to build on strengths.  Our community programmes promote the mental health and wellbeing of young people by mitigating risk factors and enhancing the protective factors in their lives. These factors are so important because they directly influence a young person's ability to overcome adversity, demonstrate resilience and believe in and work towards a positive future."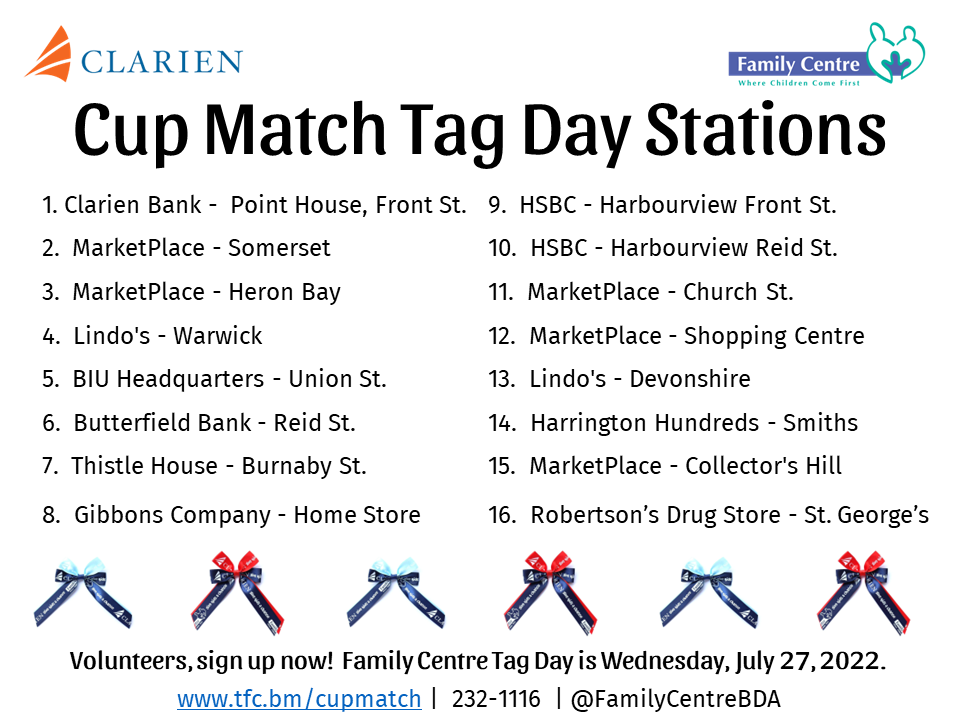 "Family Centre remains unwavering in its commitment to children, teens and their families receiving the support and therapeutic tools they need to work towards a brighter future." Dr. De Silva adds, "Cup Match is also a celebration of the end of slavery in Bermuda, and a celebration of Mary Prince who played a significant role in the abolishment of slavery throughout the British colonies.
"Family Centre is honoured to keep our Tag Day tradition alive on the day leading up to these important historical celebrations. Family Centre is privileged to play our part in the overall wellbeing of our community. It is only through the generosity of the community and our donors that our therapeutic programmes and services can be sustained."
A spokesperson added, "You can make a difference in a child's life through supporting Family Centre's Cup Match Tag Day fundraiser. Whether your ribbon of choice is St. George's or Somerset your support means families in Bermuda win. Family Centre ribbons are available now at the following locations:
27th Century Boutique
A.F. Smith
Accessory Box
Allure Salon
Bersalon
Brew
Dockyard Pastry Shop
Esso 24/7 City Center
Esso BIU Gas Station
Esso Warwick
Esso Port Royal
Esso St. Georges
Gosling's – Dundonald St
Gosling's – Front St
Howzat
Island Cuisine
Jazzy Boutique
Mailboxes
Makin Waves – Dockyard
Makin Waves – Hamilton
Orchid Nail Salon
RUBiS Boaz Island
RUBiS East Broadway
RUBiS Terceira's North Shore
RUBiS Paget
RUBiS Warwick
Salon Pink
Speciality Inn
Stationery Store
TABS
Treats
Tuck Shop
Village Pantry
"Visit Family Centre's website at https://www.tfc.bm/cupmatch to find out more about our Cup Match Tag Day activities and how you can help us strengthen families in Bermuda. We wish everyone a safe and fun Cup Match Holiday."

For extensive coverage of Cup Match spanning over a decade, visit our website BernewsCupMatch.com, the island's most comprehensive resource on the Cup Match holiday.

Read More About