Today [August 29], Bermuda Is Love is launching a campaign titled #NoNewClothes to challenge the public to purchase #NoNewClothes for the month of September.
A spokesperson said, "The purpose of the campaign is to allow ourselves to stop and reflect on our island's consumption habits and the role we can all play in changing the fashion industry going forward.
"The fashion industry produces 10% of all humanity's carbon emissions, is the second-largest consumer of the world's water supply, exploits garment workers globally [only 2% of garment workers earn a living wage], and profits off the unsustainable and unethical consumption of Earth's limited resources.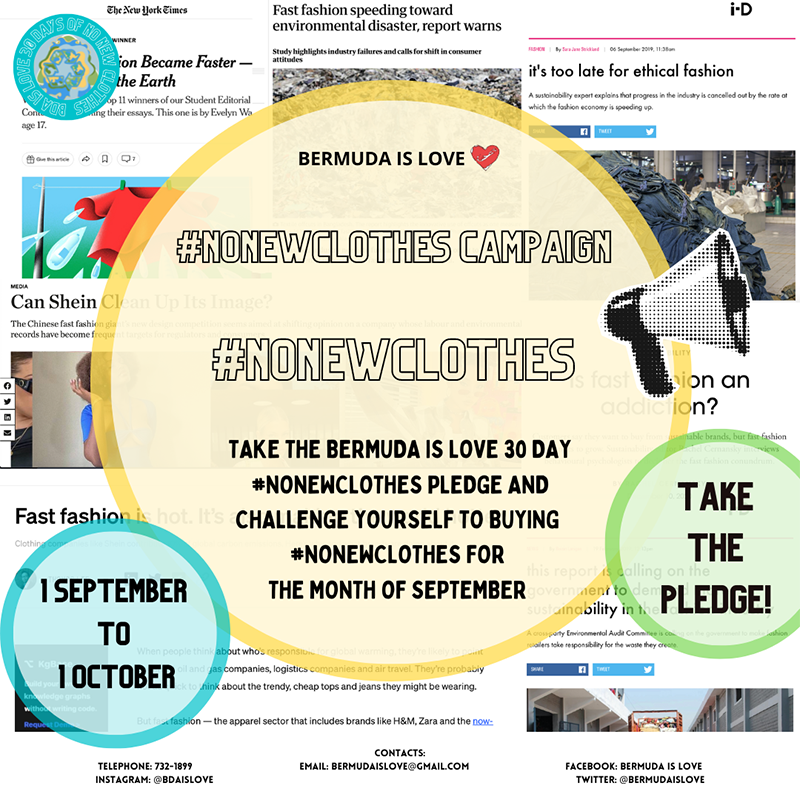 "By pledging to purchase #NoNewClothes during September – whether that's buying no new clothing at all, or only buying from secondhand stores or sustainable brands [it's your choice] – you will reduce your carbon footprint, limit the waste you send to Tyne's Bay, and keep your hard-earned money.
"Being committed to buying #NoNewClothes doesn't mean that you can't enjoy fashion. There is a plethora of alternatives when it comes to fashion and style. Instead of shopping for new clothing, consider upcycling your clothes to revive your love for pieces in your wardrobe, choose to buy from a secondhand store, swap clothes with friends and family, or research to find the most ethical, sustainable brands to buy from.
"The #NoNewClothes campaign will also consist of a variety of community events during the month of September to educate the public on the topic of fast fashion, its impact on humans and the environment, and what we can do about it. Please see below the Bermuda Is Love #NoNewClothes Campaign Schedule. Each event is free to attend and there is no sign-up required.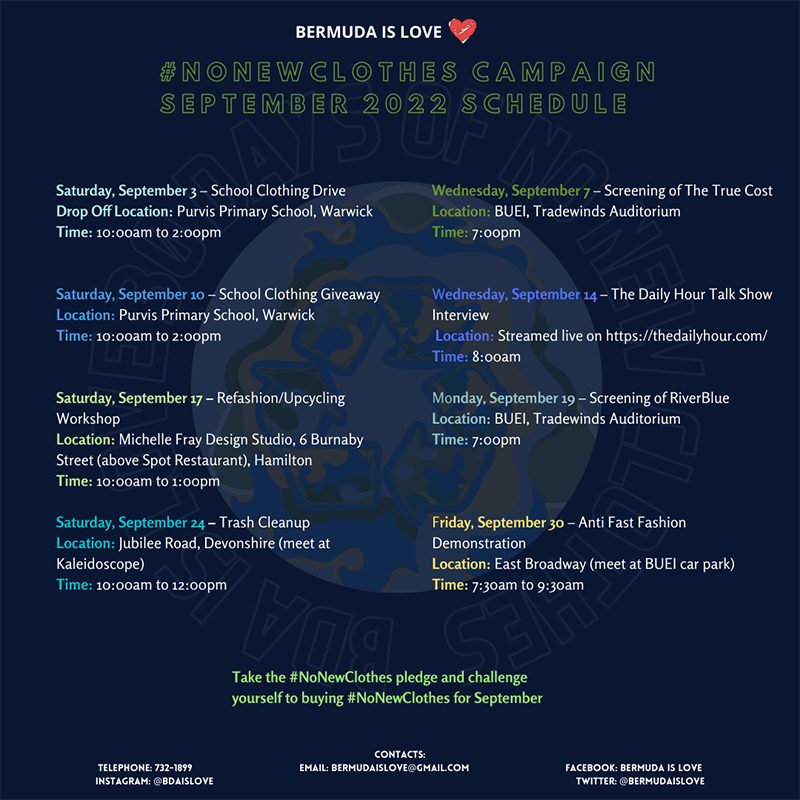 "Also, as part of the campaign, weekly articles, infographics, and videos on the problem of fast fashion and what we can do about it will be shared on Bernews and our social media platforms.
"Check out our Instagram for further information about #NoNewClothes and how you can get involved; and show off your thrifted outfit, a clothing swap with friends, or some upcycled clothing by tagging us on Instagram @bdaislove or on TikTok @bermudaislove.
"Do you have what it takes to take the #NoNewClothes pledge?"
Read More About