[Opinion column written by Taj Donville-Outerbridge]
This past weekend, Bermuda had the pleasure of hosting the post-Covid full-swing return of the annual Pride celebrations. Over the five official events held this past weekend thousands of people came out to protest for LGBTQ+ rights, celebrate, and support. Unfortunately, one thing was noticeably missing – government support.
As a lifetime member and avid supporter of the Progressive Labour Party, I was extremely disappointed and heartbroken this weekend. The PLP and its current elected representatives made no collective attempt to show up and show support for this community. The most unfortunate part is that they were alone in their absence. Almost every other sector of the government and society were represented this weekend, while the PLP, remained silent and absent.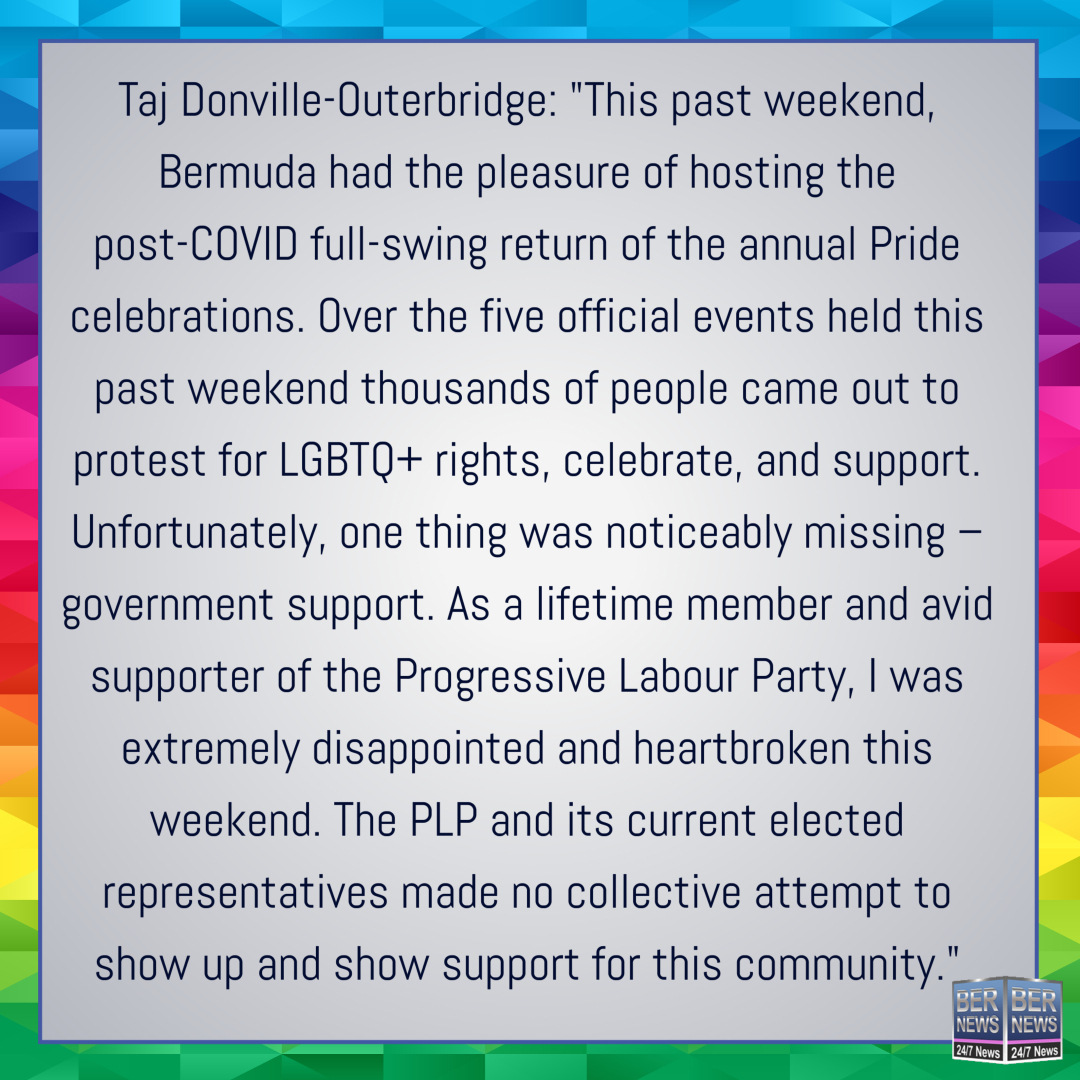 If this Progressive Labour Party government does not see the value in taking meaningful action to ensuring each and every Bermudian feels safe and welcome in their own country, then something is seriously wrong. This government, its elected Members of Parliament, and its appointed Senators have a duty to not only represent, but to serve and protect, each and every Bermudian regardless of their sexual orientation, gender identity, race, religion, or political affiliation. This government has failed in that duty.
This government has made absolutely no attempt to recognize and/or celebrate Pride Month, the pride celebrations held this past weekend, nor the Bermudian LGBTQ+ community. Furthermore, members of this government's cabinet have, on numerous occasions, tried to sell the Domestic Partnership Act and the Anti-bullying and Harassment legislation as successes for this community. These are not successes.
While certainly a step in the right direction, these mediocre half measures only come across as desperate distractions from a government too weak and too afraid to make bold steps toward a truly progressive and inclusive future and to do the right thing for this community. If this government is not willing to act on this issue, they most certainly need to re-examine and reconsider the use of the word 'progressive' in their name. From the outside this current government appears to be nothing more than an elitist conservative party concerned only with their own agendas masquerading as a grassroots movement for the people.
A quick look at some of this weekend's Pride Parade
Given this Progressive Labour government's utter lack of support and outright neglect of the Bermudian LGBTQ+ community, I cannot see how any LGBTQ+ person and/or ally can cast their vote for this party in the next general election. This government needs to see and understand that LGBTQ+ Bermudians will no longer be silent and that our vote matters!
To that end, I encourage every LGBTQ+ person and every ally to let your MP know that this government has failed. The next time they come knocking on your door asking for your support, you let them know that they will not receive it unless they take serious and meaningful action to ensure every workplace, every school, and every public space in this country is a safe, inclusive, and welcoming space for all LGBTQ+ Bermudians and visitors.
If this government wants to have a serious conversation about what the local LGBTQ+ needs, they should look no further than the articles written by myself this past June, the LGBTQ+ related content published and curated by Bermuda Youth Connect, Media Maya, Linda Bogle-Miezner, and Inclusion Bermuda on various platforms and the other vast resources available online via OUTBermuda and other LGBTQ+ charities and organizations worldwide. To gage the needs of the local community more broadly, this government should hold a town hall with the LGBTQ+ community like they do for other vulnerable and concerned groups like seniors, public school parents, gang/gun violence, and alike. This government could also learn a few things from the current Governor, US Consul General, and some others on what bold leadership in this space and showing up looks like.
 Taj Donville-Outerbridge with the U.S. Consul at this weekend's Pride Parade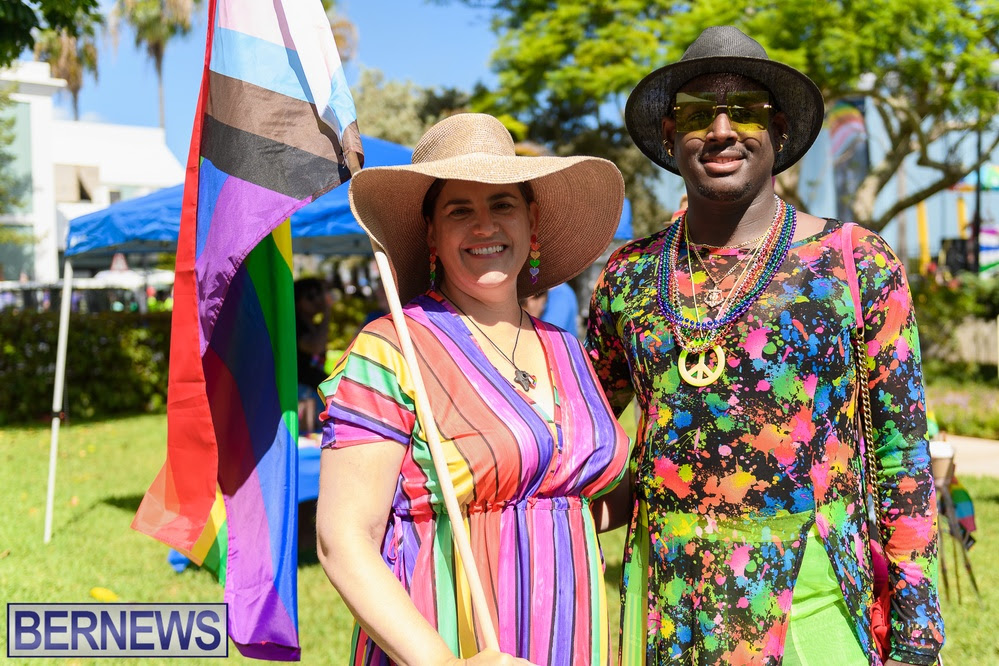 Lastly, I want to take this opportunity to thank the following people and groups who did show up this weekend and stepped up where our elected government and my party have failed:
Her Excellency Ms Rena Lalgie, the Governor of Bermuda
US Consul General Karen Grissette
Several members of the One Bermuda Alliance including Scott Pearman JP. MP., Susan Jackson JP. MP., Jarion Richardson JP. MP., and others.
Members of past PLP governments including Dame Jennifer Smith JP, Michael Scott JP, and Kim Wilkerson JP.
Members of the Bermuda Police Service in and out of uniform.
The Department of Health and the Bermuda National Library.
Wesley Methodist Church and other members of the religious community.
Many local small, medium, and large businesses.
Numerous international exempt companies.
Family, friends, and other allies.
And perhaps most importantly, other members of LGBTQ+ community.
As I said in the forum held this past Friday evening, showing up is the most vital thing anyone can do to show support for LGBTQ+ people and the community. Showing up, and the lack thereof, speaks volumes without the need for words. When it comes time to vote, we will remember who showed up and who didn't!
- Taj Donville-Outerbridge is a Bermudian activist and student studying at Kings College London. Most importantly, however, he is human. He can be reached via Instagram @_king.taj_ or via email at tdonvilleouterbridge@yahoo.com.
Read More About