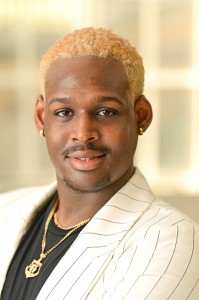 [Opinion column written by Taj Donville-Outerbridge]
"Without community, there is no liberation…" – Audre Lorde
Today, on May 17th, people, communities, companies, charities, and governments around the world recognize and celebrate the International Day Against Homophobia, Biphobia and Transphobia [IDAHOBIT]. While I can be sure countless individuals, a few charities and some international businesses in Bermuda will recognize this day, I am almost certain this important day will go by as another missed opportunity for the Government of Bermuda to show allyship to the local LGBTQ+ Community.
As has become somewhat of a routine in my articles, I will take this opportunity to once again challenge the leaders of this country that so many LGBTQ+ people call home to do better for us. At the very least, the government could and should make a clear declaration that any and all forms of homophobia, biphobia and transphobia are not welcome in the Bermudian community. I can only hope that one day my pleas will be heard and actioned. However, despite what many believe, chastising the government and its leaders, is not the aim of my writing. I write to educate because as I have said before education is the first, and perhaps most important, step to understanding, respect, and allyship.
So in that spirit…
The International Day Against Homophobia, Biphobia and Transphobia [IDAHOBIT] has existed in its current form since 2015 and is officially recognized by over 130 countries worldwide. This campaign was first conceived by Louis-Georges Tin, a French LGBTQ+ activist, in 2004 but wasn't celebrated until 2005 when numerous international LGBTQ+ related NGOs signed on to officially support the initiative. However, the origins of IDAHOBIT date back to May 17, 1990. On this date the World Health Organization made the monumental decision to officially remove homosexuality as a mental disorder from the International Classification of Diseases. This decision was very significant as it was really the first time any major health governing body recognized LGBTQ+ identities as a normal variation of human existence.
This important day serves as a vital reminder to both recognize how far we have come as a community but also to acknowledge that there is still work to be done to ensure equal treatment and protection for all members of the LGBTQ+ community. In my opinion, this day also provides perhaps the most salient opportunity for radical allyship from both outside and within the LGBTQ+ community.
For individual allies outside the community:
STAND UP. STAND UP for human rights. STAND UP for equity and inclusion. STAND UP for your LGBTQ+ loved ones. After you make the decision to take a stand on the right side of history, here are three things you can do to take your allyship to the next level:
The first and most vital step you can take is to SHOW UP. This is a simple, yet powerful act of allyship, that is often done silently. If your company is holding any events to commemorate this day, show up. If OUTBermuda plans any celebrations for this day, show up.
The second step you can take is to SPEAK UP. This can range from sharing a post on your social media to sending kind messages to the LGBTQ+ people in your life to writing a letter to government petitioning them to do what is right to having conversations with those less supportive of the community.
The third and final step, is to PUT YOUR MONEY UP. Let's be frank, nothing happens without finances. OUTBermuda needs more funding to support and expand their offerings.
For corporate allies:
While what is mentioned above does also apply to you, I have a few additional notes that I hope the international business community will take heed.
What you are doing is not enough. Sending a companywide email, flying a rainbow flag, holding internal events, and even sponsoring Bermuda Pride is not enough. This was an admirable start but it's time to move on, it's time to take your allyship to the next level.
The local LGBTQ+ community needs you start acting outside of the four walls of your company. Holding internal panels filled with often homogenous, non-Bermudian, and upper-middle class voices is only having marginal impact, if any. Community-wide and year-round initiatives with diverse voices is what is needed on that front. I would also argue that your company wide email should instead be a letter sent to the Governor, the Premier, the Cabinet [hopefully published in the media] challenging them to take a stand against homophobia, biphobia, and transphobia. It is time for the international business sector to start using the massive lobbying power they have on this island to do something positive for local Bermudians instead of being used to stop legislation in the name of their own self-interest.
For my LGBTQ+ siblings:
You must be allies too. Yes, being queer is hard enough and our simple existence is a form of activism, but we can no longer pretend that is enough. It is time for us to take a stand not only for our own rights but for the rights of our trans, nonbinary, and intersex siblings who still do not even enjoy the same rights and freedoms that we currently have.
To close, I'd like to reiterate that while we do have a role to play is not the responsibility of the oppressed to free themselves from their own oppression. The burden of addressing and ending homophobia, biphobia, and transphobia should not fall on the shoulders of the LGBTQ+ community alone. As I have said before and will say again, community and solidarity through radical allyship is the only way any of us will ever be free.
- Taj Donville-Outerbridge is an award-winning Bermudian human rights activist and student studying at Kings College London. Most importantly, however, he is human. He can be reached via Instagram @_king.taj_ or via email @ tdonvilleouterbridge@yahoo.com.
Read More About