[Written by Stephen Wright]
Bermuda cyclist Kaden Hopkins was the top amateur finisher in the men's time-trial after producing a thrilling ride at the Commonwealth Games in Birmingham.
All of the riders finishing ahead of Hopkins, who came an impressive eleventh, were UCI World Tour or Continental Team cyclists.
The 22-year-old completed the technical 37.4-kilometre course, which started and finished at West Park, Wolverhampton, in 50min 00.27sec
Quick look at our cyclists in action today
"I'm happy with my race," Hopkins said. "I paced it well and was pushing right to the end.
"I didn't feel as though I blew up at any point. It was a hard time-trial."
Conor White, 22, can also take plenty of encouragement from his display, finishing four positions behind Hopkins in fifteenth in 50:52.19.
Governor Rena Lalgie is at the Games, she is pictured here with Conor White and Dominique Mayho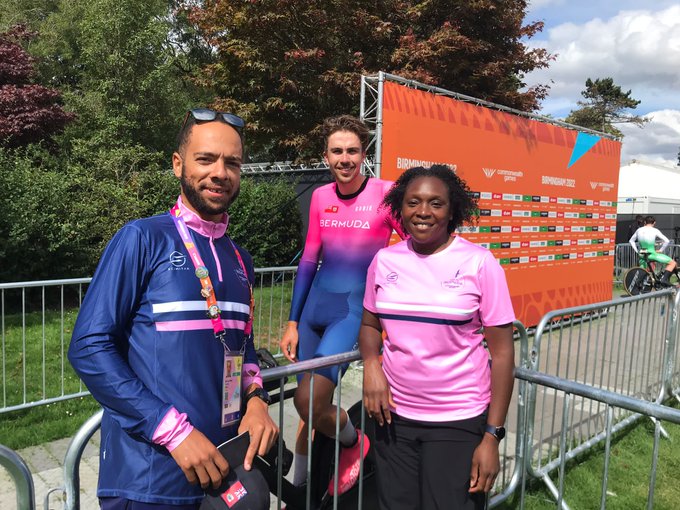 "It was hard out there," he said. "It was tough to get a consistent pace because there were so many climbs.
"I went out really hard because the first half was pretty much uphill and tried to recover on the descents.
"I was still doing some good power on the final two climbs. But they were climbs and don't favour me. It was a good result, and I'm happy with it."
Nicholas Narraway, the youngest of the island's riders at 20 years old, came 26th in 53:34.82, meaning that Bermuda's cyclists all finished in the top 50% in a very strong international field.
Nicholas Narraway, Kaden Hopkins and Conor White at the Commonwealth Games today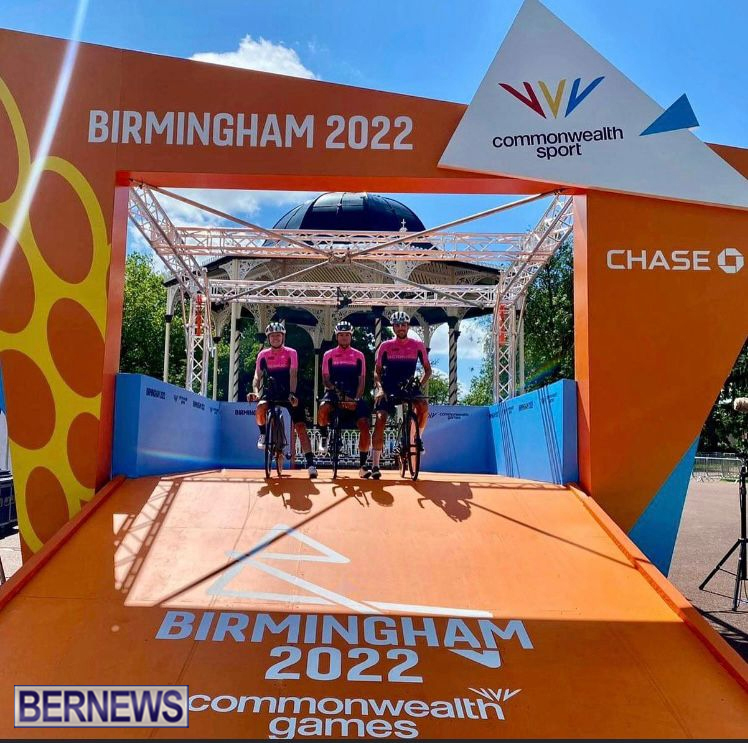 "It was a harder course than I thought," he said. "I'm pretty pleased with my race."
Rohan Dennis, of Australia, won the gold medal, finishing in 46:21.24, with England's Fred Wright taking silver in 46:47.52, and Geraint Thomas, who became the first Welshman to win the Tour de France in 2018, recovering from a crash to claim bronze in 46:49.73.
Bermuda's Caitlin Conyers missed the women's time-trial due to illness.
She will be hoping to be fit for the road race on Sunday.
For our ongoing daily updates of the 2022 Commonwealth Games click here, and for all our coverage of the Commonwealth Games over the years click here.
The Men's Individual Time Trial Results follow below [PDF here]:

Read More About