[Written by Stephen Wright]
Kaden Hopkins said the Bermuda men's cycling team hope to "throw a stick in the works" when they compete in the road race at the Commonwealth Games in Birmingham.
Hopkins, Conor White, and Nicholas Narraway will team up for the road race, which takes place in Warwick, a market town, 19 miles south-east of Birmingham, tomorrow.
The ten-lap, 160-kilometre route, which starts and finishes in St Nicholas Park, heads through Leamington Spa and Hampton Hill before crossing over the River Avon with views of Warwick Castle.
All three of Bermuda's riders produced impressive displays in the time-trial at West Park, Wolverhampton, on Thursday, with Hopkins finishing as the top amateur rider in the field in eleventh place.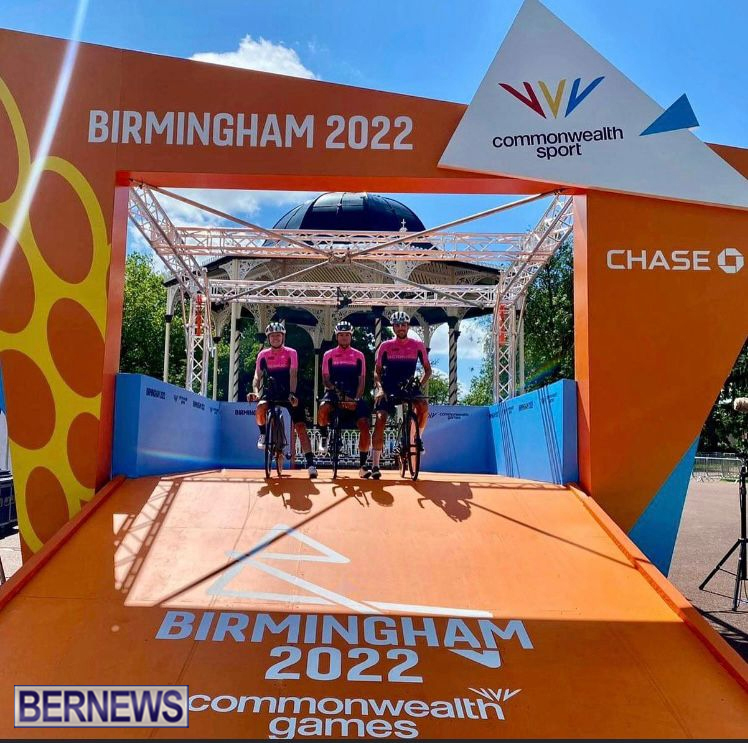 Although the larger nations will field teams of up to six professional riders, Hopkins insists the Bermuda triumvirate will endeavour to punch above their weight.
"It's a strong field, and it's not a course where it's easy to make a difference," he said. "It's pretty flat.
"The bigger teams like Australia, England and Canada will try and control it.
"We'll go out there, give it all we have, and try and throw a stick in the works."
Conor White, who finished fifteenth in the time-trial, added: "We're looking to have fun with the road race and see what happens. It's going to be a great experience."
Narraway, who placed 26th in the time-trial, heads into the road race in fine form, having come second at the recent inaugural Caribbean Games in Puerto Rico.
Peter Dunne, the Bermuda Bicycle Association president, said he is excited to watch the island's trio working together as a team against some of the top riders in the world.
"Sending more than one athlete in the sport of road race cycling makes a huge difference," said Dunne, who is also the Bermuda Olympic Association president.
"The top place of our best athlete may not change that dramatically [from previous Games], but it does allow us to create a team strategy.
"At previous Games, it was Dominique Mayho [the Bermuda cycling team manager] against the Commonwealth. It's far more beneficial to have three guys competing."
At last check, Bermuda's Caitlin Conyers, who missed the women's time-trial due to illness, remains a doubt for the road race.
For our ongoing daily updates of the 2022 Commonwealth Games click here, and for all our coverage of the Commonwealth Games over the years click here.

Read More About