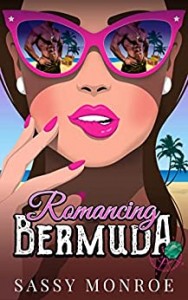 A newly published book by author Sassy Monroe entitled Romancing Bermuda is now available.
The book description says, "Mismatched partners. A hunt for pirate gold. When sparks start flying, will they discover love is the true prize?
"Vicky is set on an adventure. While studying a museum painting linked to riches lost at sea, the bold art historian is ready to dismiss a muscled hunk who's gorgeous… but so rude. But when she learns her employer expects them to be teammates looking for sunken loot, her irritation wars with waves of undeniable attraction.
"Miller has buried a broken heart under a tough shell. Discovering a simmering chemistry with his beautiful companion, the Navy SEAL fears the job is too dangerous for the inexperienced treasure hunter. But after he bungles his attempt to leave her behind, the normally unflappable military man struggles to deal with her fury and their extremely passionate kiss.
"Refusing to be shunted to the sidelines, Vicky flies to Bermuda to play her part in their charade of a couple on vacation. But when secrets threaten to separate them, Miller worries circling dangers could drown any chance at a future.
"Can the fiery pair find the X that marks a happy ending?
"Romancing Bermuda is the action-packed first book in the Romancing The Treasure romance series. If you like feisty heroines, enemies-to-lovers attractions, and piracy on the high seas, then you'll adore Sassy Monroe's spicy quest."

Read More About
Category: All, Entertainment