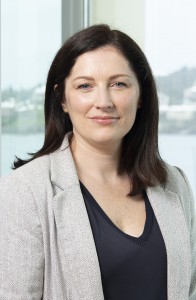 BF&M Limited announced the appointment of Stephanie Hanson to the role of EVP, Group Chief Operating Officer.
In her new role, she will be responsible for overseeing all support operations across the 15 jurisdictions in which the BF&M Group operates.
Stephanie Hanson has been with the company since 2017, most recently serving as EVP, Chief Legal and Compliance Officer and a member of the Executive Committee.
President and Group Chief Executive Officer, Abigail Clifford commented: "I am delighted to announce Stephanie's promotion. She has been an integral member of our Executive Committee leadership team since 2020 and has played a critical role in not only strengthening the capabilities of our operations but also ensuring we have the right talent in place.
"Stephanie will now have direct oversight of our Legal, Compliance, HR, Facilities, Information Technology, and Marketing and Communications teams across our Bermuda, Halifax and Caribbean offices. I look forward to continuing to collaborate with Stephanie and our entire Executive Committee team in the execution of our strategic plan."
Ms Hanson stated: "I'm excited to be appointed to this role. It represents a unique opportunity to drive impactful change and help Abby shape the future of the BF&M Group with her clear strategic vision. I will work to continue the critical job of enhancing our existing capabilities and leveraging synergies across the Group; all geared at realising the significant opportunities that lie ahead."

Read More About