Thousands of people are lining the streets of London today [Sept 19] as the Royal Family, British people and world leaders gather for the State Funeral of Queen Elizabeth II, and the funeral procession passed the flags of the British Overseas Territories, including Bermuda.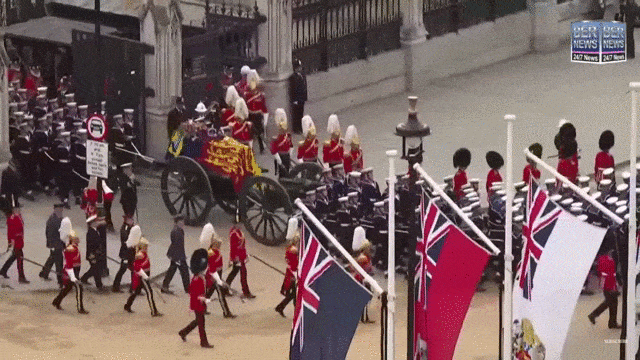 The BBC reported, "The Queen's 'lifelong sense of duty' has been remembered in her state funeral service at Westminster Abbey.
"The Dean of Westminster, who led the service, expressed gratitude to a congregation of 2,000 people including world leaders and royalty.
"King Charles III led a sombre procession behind his mother's coffin from Westminster Hall to the abbey. The Queen's coffin has arrived in Windsor, where she will later be buried with her husband of more than 70 years.
"King Charles, Princess Anne, Princes Andrew and Edward, as well as Princes William and Harry, walked behind the hearse in the procession to St George's Chapel. A smaller committal ceremony, attended by about 800 guests, is being held there.
"The Queen will be buried at a private family service on Monday evening."
"Some 2,000 mourners bid farewell to the Queen at the state funeral, with presidents, prime ministers and foreign royalty among the guests."
Read More About