The Bermuda Underwater Exploration Institute will present their Youth Climate Summit [YCS] from November 21 to November 26.
A spokesperson said, "The Bermuda Underwater Exploration Institute is pleased to announce the return of our Youth Climate Summit November 21 to 26th. Once again, students ages 13-22 will have the opportunity to liaise with local and internationally acclaimed youth activists, subject matter experts and local environmental organisations and be provided a platform to voice their concerns of climate change and to identify their own opportunities to address the climate crisis.
"Following the success of the inaugural summit last year, the 2022 Youth Climate Summit will feature virtual and in person sessions that engage participants in answering the following questions:
Why should climate matter to me?
How can climate change impact my future?
What can I do about climate change?
Which of my can actions make a difference?
"Virtual sessions, running Monday, November 21st through Thursday, November 24th from 12:15pm to 1:30pm, build a common understanding of climate to foster meaningful conversations on the topic. Each session focuses on the theme of 'Global View, Local Impact,' with local and international subject matter experts providing background and context, and youth activists sharing their stories, challenges, and successes.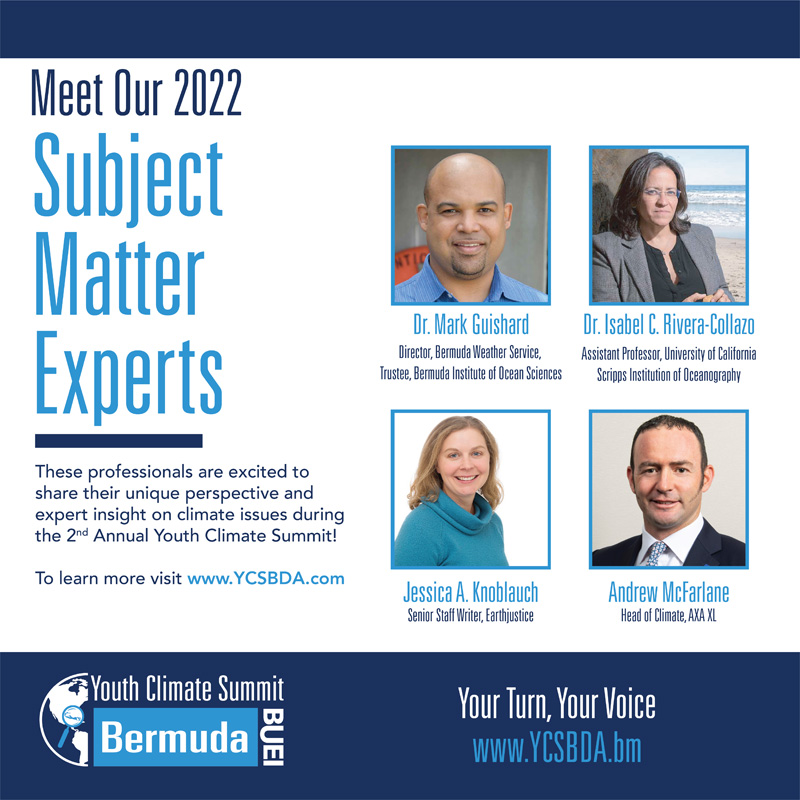 "Presenting subject matter experts are:
Dr. Mark Guishard: Director, Bermuda Weather Service Trustee, Bermuda Institute of Ocean Sciences [BIOS]
Isabel C Rivera-Collazo, PhD: Assistant Professor of Biological, Ecological and Human Adaptation to Climate Change at the University of California, San Diego
Jessica A Knoblauch: Senior Staff Writer for Earth Justice
Andrew McFarlane: Head of Climate, AXA XL
"Friday, November 25th, is the Environmental Showcase, designed to identify local resources and collaboration opportunities for students, and to inform their own action plans. Held onsite at BUEI, this session includes presentations by Bermuda's environmental agencies and supporting partners. Participants return to BUEI on Saturday, November 26th to collaborate and propose their own solutions for ways to address the impact of climate in Bermuda.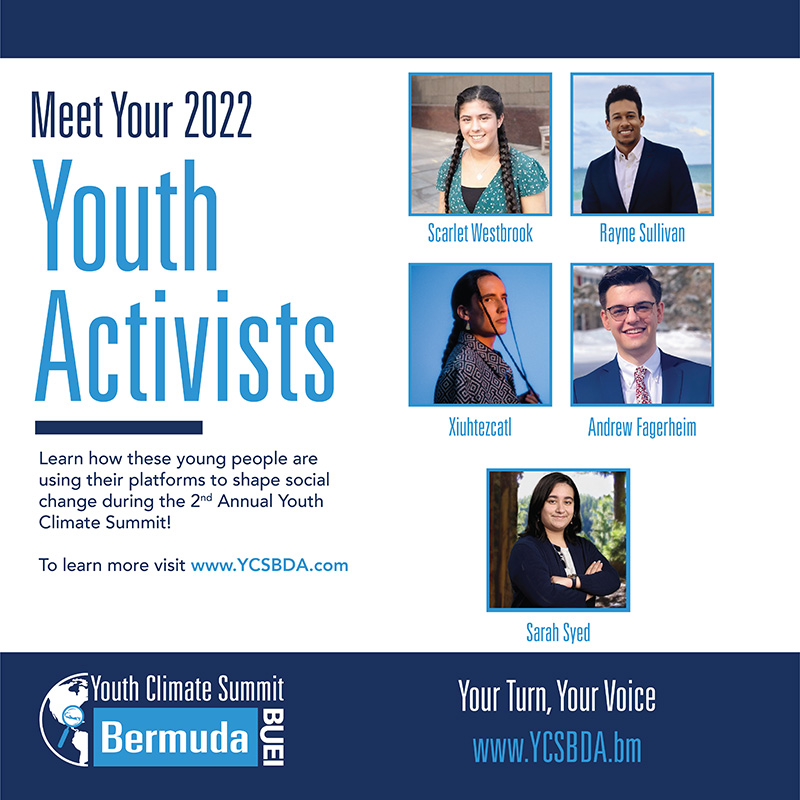 "International youth activists participating in this year's Youth Climate Summit are:
Rayne Sullivan, USA [online and onsite]
Scarlett Westbrook, UK [online and onsite]
Andrew Fagerheim, USA [online and onsite]
Sarah Syed, Canada [online only]
Xiuhtezcatl, USA [online only]
"The Youth Climate Summit is a free event. Participation is limited and students must register their interest to participate by October 23, 2022. The summit is a great opportunity to network, build resumes and form new friendships, and to earn volunteer hours for the Duke of Edinburgh Award or community service hours. It also provides personal and professional development while making a difference working with major companies, NGOs and environmentalists.
"For more information about the Youth Climate Summit, visit www.YCS.com."

Read More About
Category: All, Environment