The Bermuda Underwater Exploration Institute [BUEI] announced that the 2nd annual Youth Climate Summit will be taking place from November 21 – 26.
A spokesperson said, "The Youth Climate Summit [YCS], a weeklong event for students ages 13-22, engages young people on global climate issues and is the foundation for a year of youth-led activities focused on local climate mitigation. Throughout the week, students will again actively engage with local and global climate and environmental experts, leaders, and young activists in areas covering Conservation, Sustainability, and Climate Justice."
"By providing young people with background information, the opportunity for group deliberation, and access to a resource panel of experts, the Youth Climate Summit has proven effective in offering a unique opportunity for young people to work together, develop informed opinions, and produce actionable plans," said BUEI CEO, Karla Lacey.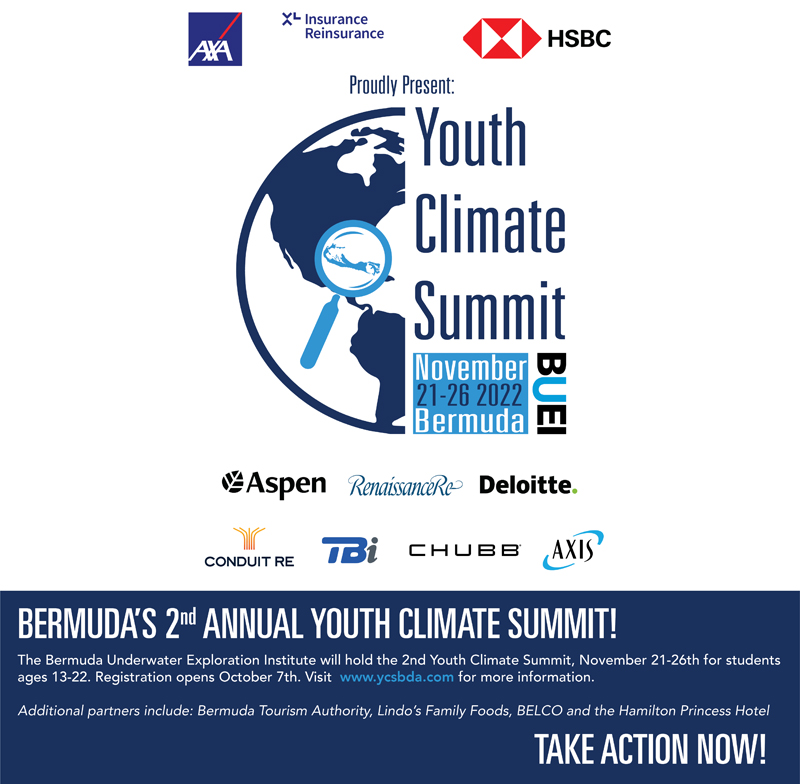 The spokesperson said, "Founding Partners, AXA XL and HSBC Bermuda, have continued to support the vision of the Youth Climate Summit since its introduction in 2021. Throughout the past year, these valued partners have equally contributed a range of resources beyond financial contributions, including knowledge, expertise, connections, credibility, and people, to support young people in their pursuit of transformative solutions to systemic problems.
"HSBC's global 'Climate Ambition' strategy includes progression towards a Global Net Zero Economy by the year 2030. Locally, that translates to incorporating green strategies in its own operations; supporting initiatives that foster community engagement in environmental sustainability projects and supporting its customers in their respective climate transition journeys through the provision of green financing solutions."
Louise Twiss-West, Head of Wholesale Banking, shared, "Last year's Youth Climate Summit provided a catalyst for the Island's young people to take tangible steps towards Climate Action through various environmental projects. We continue to be impressed by their passion and efforts towards progression in Sustainability, Climate Justice and Conservation in Bermuda. HSBC Bermuda is honored to once again be a part of this important educational initiative, and we look forward to supporting the Youth Climate Summit's new cohort of student-environmentalists".
The spokesperson said, "As one of the world's leading re/insurance companies, AXA XL already has a number of robust climate-based initiatives underway, ranging from commitments around underwriting and investment, through to managing its own emissions associated with its operations to ensuring all employees receive training about the risks and opportunities associated with a changing climate."
"We are focused on leading by example internally and externally," said AXA XL's Head of Climate Andy MacFarlane. "After all, the issue of climate risk is one that impacts all of us so it's important to not only demonstrate our leadership in knowledge and research about it but also to work together with all stakeholders, including current and future policymakers, educators and students, to address it."
The spokesperson said, "As sea levels continue to rise, and the frequency of devastating hurricanes increase each year, Bermuda is not free from the threats of climate change.
"Given Bermuda's unique ecological/geographical standpoint, and our experience in re/insurance, the Youth Climate Summit provides an opportunity to demonstrate the immense impact our Island can make in leading climate initiative."
"Bermuda's size gives us the ability to unite to solve problems quickly and effectively," said Lacey. "Being innovative in all aspects of our approaches to climate change can be a model for citizens around the world."
The spokesperson said, "In addition to the Founding Partners, the Bermuda Climate Summit is supported by returning Visionary Partners Aspen Bermuda, Renaissance Re and Deloitte. Returning Inspiration Partners Conduit Re and TeleBermuda have been joined by Chubb and Axis Speciality Limited, among other valued organizations. For more information on Bermuda's 2022 Youth Climate Summit visit www.YCSBDA.com."

Read More About
Category: All, Environment