[Written by Stephen Wright]
Jasmine Spence hopes to build on her debut for Newport Pagnell Town Women after signing for the Buckinghamshire outfit last week.
Spence played 80 minutes in their 4-0 defeat at home to league leaders Chesham United LFC Development last weekend and believes her performances will only improve as she builds her match fitness.
The Bermudian expects to be involved in her team's away match against Milton Keynes City Women in the Thames Valley Counties Women's Football League Division 3 North on Sunday.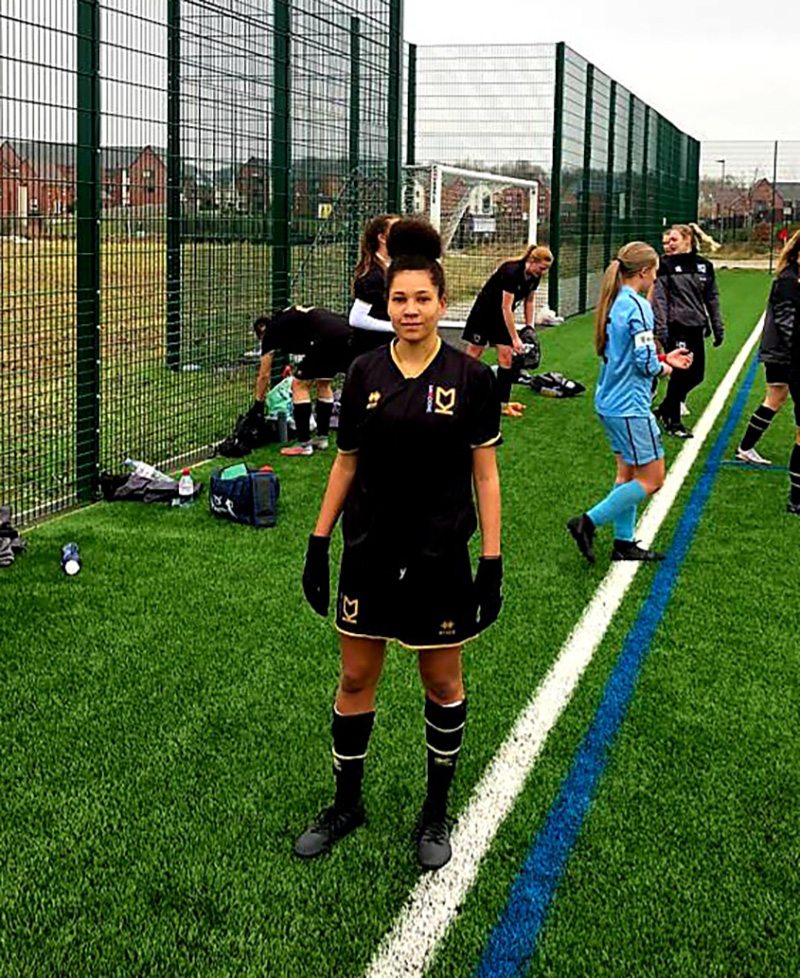 "I felt unfit [on my debut], but it was nice to play, and the result sounds worse than it was," Spence told Bernews.
"Fitness is my Achilles' heel right now. I'll be talking to the coaches tonight about my fitness programme. Once I get that under my belt, I hope the universe steps in and guides me."
Spence, 24, spent the second half of last season with Milton Keynes Dons Women's Development squad, playing a handful of games.
Although the attacking midfielder admits she has dropped down a level in pursuit of regular first-team action, she believes she has joined a club on the rise after the joint-managerial appointments of Ryan Hill and Lou Barry.
"The level isn't as high as MK Dons, but they have a good philosophy, and I like the direction they are heading in," said Spence, a former Wales Under-16 and Bermuda Under-17 international.
"I had a few trials [after leaving MK Dons], but I wasn't very fit, and I know the best way to get fitness is playing regularly.
"I reached out to a few teams, and Newport Pagnell Town got back to me quickly and invited me to an open trial.
"The coaches liked me and asked me to sign. They said it would be an easy transfer if I wanted to go to a higher-level team [in the future]."
Spence, a former futsal coach on the island, added: "I'm just happy to be playing again. It's a brand-new set of players, and the club are restructuring the women's programme.
"The men's team won the FA Vase Final last season, so a lot of money is coming into the programme, and they have big plans."
Newport Pagnell Town Women are eighth in the table with one point from two matches, although they have games in hand on most of their rivals.

Read More About