The City of Hamilton is inviting everyone to the 'Rockin' Around the City Tree' event on Friday November 25th.
A spokesperson said, "With the festive season nearly upon us, the City of Hamilton invites members of the public to stop by City Hall for Rockin' Around the City Tree on Friday November 25th from 6:30pm till 9:00pm for the lighting of the iconic City Hall Christmas Tree.
"Join Santa for some free photo ops with the man in red himself! A professional photographer will be on hand to take free portraits which attendees can walk away with on the night as a special holiday keepsake.
"Complimentary Santa hats and cups of hot chocolate from Ashley's Lemonade will be given to attendees. There will be live entertainment and dynamic performances on the lawn to keep spirits high!"
"Nothing signifies the start of the Christmas season more than a visit from Santa and hot chocolate around the iconic City Christmas tree!" said Senior Events and Marketing Coordinator at the City, Tamara Smith.
"For the past two years, the City had to pivot away from its annual tree lighting event and adopt a different format for the evening as per COVID-19 restrictions. However, this year, we are so pleased to bring back the traditional Tree of Lights event which has always been a highly anticipated occasion as it is the official way that the City welcomes Christmas to Hamilton."
A spokesperson said, "The City encourages families to make a night of it and add a stop at a City restaurant for dinner or tackle some holiday shopping with a City retailer before heading to the event.
"In the spirit of giving, on-site donations will be encouraged to charitable partner, Tomorrow's Voices – Bermuda Autism Early Intervention Centre, which has been a longstanding collaborator of the annual tree lighting ceremony. Tomorrow's Voices has been the charitable partner with the City for the annual Tree of Lights event since 2017.
"Designed to meet the needs of those diagnosed with autism and on the autism spectrum, the contribution to the Bermuda community that Tomorrow's Voices has made since its inception in 2007 has been invaluable as they help parents and guardians subsidize the therapeutic costs associated with their child's developmental needs."
Tomorrow's Voices' Funding & Development Officer Stacy Hill said, "Tomorrow's Voices is happy to partner with the City of Hamilton for the annual lighting of the tree ceremony event. Rockin' Around the City Tree is a great opportunity to spread awareness on the significance of Autism in our community as well as highlight the services of Tomorrow's Voices supporting those touched by autism. We thank the City of Hamilton for giving us an opportunity to be a part of this historic event."
A spokesperson said, "For additional information, contact the City of Hamilton at events@cityhall.bm with any questions about either event or visit the City's website at www.cityofhamilton.bm."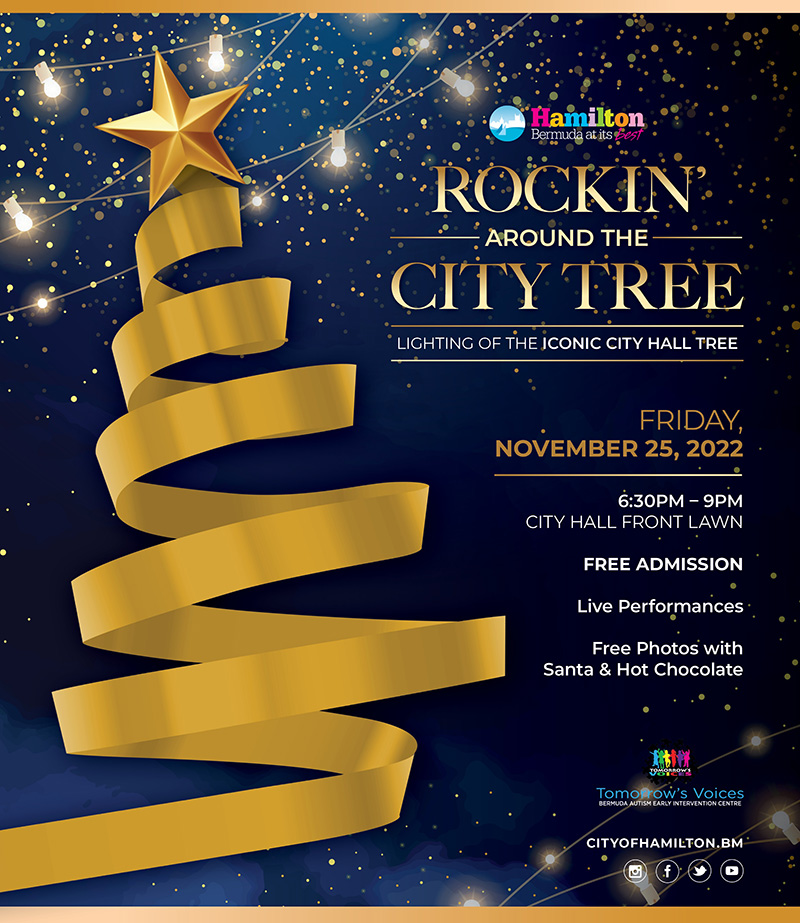 Read More About
Category: All