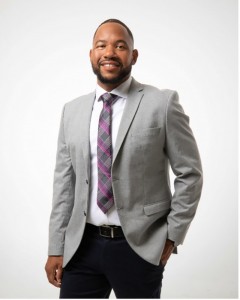 Daniel Woods has become a member of the prestigious Royal Institution of Chartered Surveyors [RICS].
Mr. Woods, 33, from Southampton, graduated from Saltus Grammar before heading to university in Ontario, Canada in 2007. In 2016, Mr. Woods initially entered the industry by attaining his Bermuda Real Estate license followed in quick succession by a scholarship from Kitson Real Estate to study Real Estate Management overseas at Kingston University London. Upon completion of his studies, he specialized in property valuation and management while working for Fulcrum Property Consultants.
Most recently, Mr. Woods joined the Department of Public Lands and Buildings within the Ministry of Public Works, he said he was 'thankful' for the genuine support he has received over the years.
The Royal Institution of Chartered Surveyors is a globally recognized professional body that promotes high standards in the development and management of land, real estate, construction, and infrastructure. With this respected qualification, Mr. Woods has the technical expertise to value, manage and develop multiple types of property on the island, while upholding core principles of best practice and ethics.
Mr Woods said, "It's been quite the journey to say the least, six years of sacrifice, continued learning and life lessons. But to be honest, I wouldn't trade any of that time because it was all necessary in the grand scheme of things to develop me not just into a real estate professional but also as the person I am today."
Mr. Woods, who recently was promoted to Designate Estates Surveyor, said he was indebted to the all of his mentors.
He said, "There is a long list of people who have steered me in the right direction and provided continued support. Most of all, I would like to acknowledge the Kitson family, Jane Burt, James Redrobe, Nana Turkson, my team at Estates and my family. The support of my mentors has been critical in reaching this goal and I sincerely look forward to paying it forward and setting a great example for whoever comes next."
Mr. Redrobe of Fulcrum Property Consultants said "It was a pleasure having Daniel as a mentee, he is hardworking and has promising future in the professional side of real estate. I'm happy to hear he is having great success in the public sector and am proud to of played a part in the development of a young Bermudian surveyor.
As for the career opportunities in surveying, Mr. Woods explains, "Most people outside of my closest friends or industry colleagues generally don't understand what I do. I think therein lies the problem as Bermuda would definitely benefit from much need for Chartered Surveyors on island. In Bermuda right now, I'm pretty sure I'm the only qualified Bermudian valuation surveyor under 40, and when you think about how often the different surveying services are required I am hopeful we can place more emphasis on creating opportunities in this space."
He added that Government was "very active in promoting this field" by offering bursaries and trainee roles to encourage Bermudians to move into the profession. The prestige and worldwide reputation of an RICS qualification meant that he could work around the globe if he wanted to.

Read More About