[Written by Dale Butler]
On Saturday, December 10th at 7 p.m. at St. Paul A.M.E. Church's Centennial Hall, the legendary Rev. Dr. Kingsley Tweed will share his memories of the famous 1959 Theatre Boycott organized by the secretive "Progressive Group."
Exiled for over 41 years, historians would often mention his name, but were unaware of how to contact him. It wasn't until the late filmmaker Errol Williams had blessed Bermuda with his award-winning documentary film, "When Voices Rise", featuring Rev. Dr. Kingsley Tweed, the "Progressive Group" and others who preceded them that the avenue of communication was established.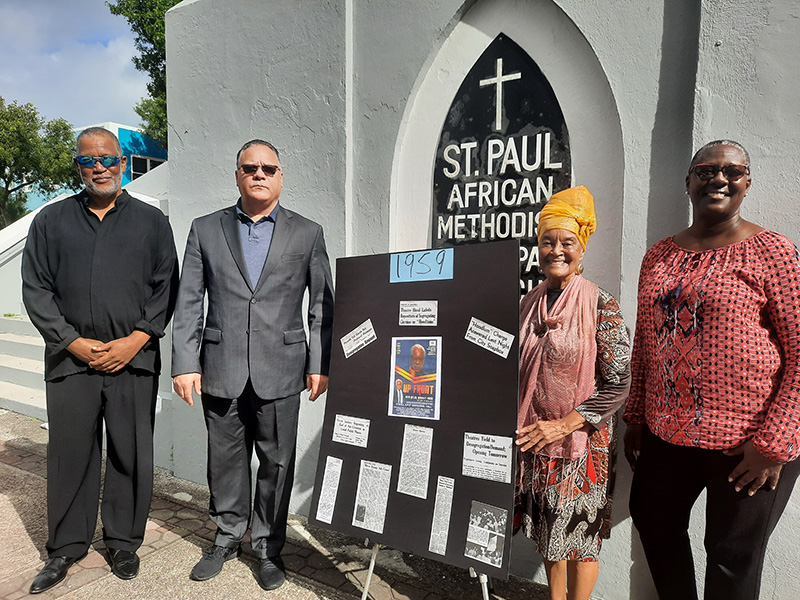 The night will provide an opportunity for him to entertain questions, which is a good thing, so that the audience can broaden their knowledge.
Produced by Atlantic Publishing House, with Director Rotimi Martins, the audience will also have an opportunity to enjoy singer Toni Robinson [pictured] and poetry by June Caisey [pictured], along with Bermuda's musicians Keith Lee and Miles Manders [pictured].
The audience will get to participate. So, it's an event not to be missed. Mrs. Peggy Burns will be selling "The History of the Bermuda Industrial Union" written by the late Ira Philip. The book contains a significant section on Rev. Tweed.
Rev. Dr. Kingsley Tweed served as the general secretary of the BIU for a few years and was known as an outstanding pianist. He's excited about returning to the country of his birth to share his stories, and he will also grace the audience with piano selections.
It is rare that we get to hear personal narratives from our legends. Mention the 1959 Theatre Boycott – responsible for the integration of Bermuda's theatres, in the first instance, followed by hotels, restaurants, our schools and other places, and inevitably you will hear the name of its principal organizers – the "Progressive Group" and the boycott's protagonists – Rev. Dr. Kingsley Tweed and the late Comrade Richard Lynch.
Tickets for the event are: General Admission – $25; Patrons – $50 Singles and $75 Couples. Cash sales only are available at The Music Box, Hamilton [Tuesdays to Saturdays, 10 a.m. to 5 p.m.]; Caesar's Pharmacy, Somerset; Robertson's Drug Store, St. George's and St. Paul A.M.E. Church, Hamilton.
Read More About