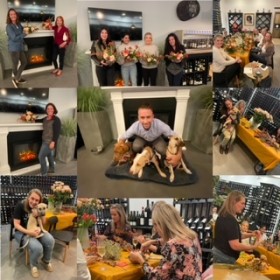 The SPCA held its third Fizz and Flowers fundraising event yesterday [Nov 22].
A spokesperson said, "On Tuesday, November 22, the SPCA held its third 'Fizz and Flowers' fundraising event, kindly sponsored by Helen Sawden Flowers and The Tasting Rooms.
"The event once again was a huge success, with proceeds this time going towards the purchase of a new van for the SPCA.
"The SPCA is fundraising to buy a van after our second van completely gave up on us over the summer and is beyond repair.
"As well as attending emergency calls, we need our van to take animals on vet visits, home checks, collecting feed and supplies for the shelter, food bank delivery within the community, taking our camp kids out and about and so much more. Our vans are a lifeline to our charity, both as used multiple times per day, to all of a sudden be down to 1 van is unsustainable for us, therefore we need to raise the funds to replace our second van ASAP."
Ben Pewter, Assistant General Manager of The Tasting Rooms, said, "The Tasting Room was delighted to host the third addition of Fizz and Flowers on November 22, organised by the SPCA and Helen Sawden. Wine lovers gathered for a fun evening of champagne and cava rosé set among Thanksgiving inspired flower arrangements.
"All proceeds from this fundraiser went toward the purchase of a new van for the SPCA.
"The star attractions of the night were Sarbi, Togo, and Luigi, dogs looking for a new home and who would be a wonderful addition to any family. Please contact the SPCA for details on adoption.
"We are looking forward to hosting the next Fizz and Flowers event in the spring of 2023."
Helen Sawden of Helen Sawden Flowers said, "I am forever grateful for the wonderful staff and volunteers that allow the SPCA to come to the aid of those in need. This is our way of saying thank, so they can continue caring in the most selfless ways they do."
The spokesperson said, "To make a donation towards the van fundraiser or to donate something from the SPCA's Wish List please visit:
Read More About
Category: All