Students from Paget Primary, Purvis Primary and Warwick Academy joined today in a symbolic gathering at the grounds of Warwick Workman's Club.
Glenn Fubler said, "Students from Paget and Purvis Primary, as well as Warwick Academy- led by their Principals: Sonia Haley-Raynor, Enid Jacobs-Furbert and Dave Horan- joined today, in a symbolic gathering at the grounds of Warwick Workman's Club.
"These students were involved in highlighting significant milestones; both the centennial of the Warwick Workman's Club, and the anniversary of the launch of Cobb's Hill Methodist Church- the Club's adjacent neighbour – which opened almost a century prior to the Club.
"As our friends to our west observed 'Thanksgiving', remembering their nation's 'founding'; these students were encouraged to appreciate aspects of our Island's legacy.
"The principals of the schools involved, along with Reps of other stakeholders of the Paget/Warwick area – clubs, churches, etc. – have been collaborating since this past-April, in response to community challenges, such as violence. This, with the goal of strengthening our Island's social fabric, by promoting community networking and drawing from the best of our shared past.
Photo by Staphen Dill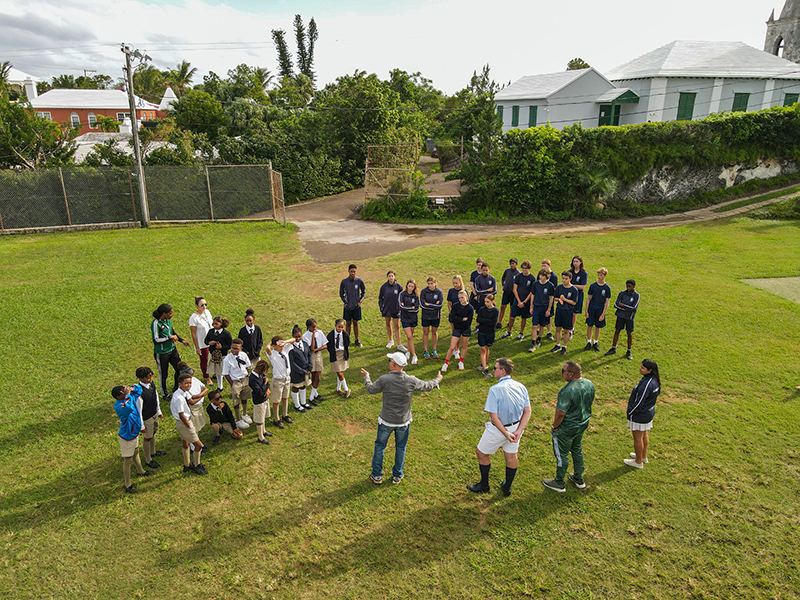 "This gathering focused on examples of our forerunners 'transforming barriers into stepping stones'. In 1825, a group of enslaved and 'freed' men and women, demonstrated their agency by voluntarily building the iconic Cobb's Hill Methodist Church under challenging circumstances. They were able to open their sanctuary in November 1827; providing an example of cross-community collaboration, even during the 'dark ages' of slavery; offering inspiration across generations.
"As Warwick Workman's Club observes it's centennial, we are reminded that it was founded through discussions amongst a group of men at the Martin Wilson Store on Middle Road. Those founders, would have been inspired by the legacy of those who built the Cobb's Hill Methodist, a century earlier. Consequently, they took steps to establish the Club in 1922, making the best of a then-segregated society.
"Over their first hundred years, the Warwick Club lent momentum to the movement of networking community organizations, which has served to sustain Bermuda. In light of the current challenges being experienced at home and abroad, this foundation has become increasingly important; offering 'lessons' for our navigating today's difficulties.
"This opportunity for students from these three 'area' schools joining on this site of living history captured the spirit of UNESCO's global initiative – Learning Cities. That UN body is encouraging communities across the Globe to leverage the reality that significant learning takes place beyond the walls of schools; throughout societies.
"In addition to this gathering, the various schools will be using this multi-layered story to supplement their curricula, providing added depth for the appreciation by students of the legacy of those on whose shoulders we all stand."
Read More About