Mid-Atlantic Wellness Institute [MWI] said they "encourage the public to be joyous and celebratory this holiday season."
"Positive thoughts engender positive feelings, which promote good mental health," said Preston Swan, vice president of MWI clinical operations and acting chief operating officer for Bermuda Hospitals Board.
"This December, we will again light the outside of our sister facility, King Edward VII Memorial Hospital's Acute Care Wing, in green."
A photo of KEMH's green light in a previous year: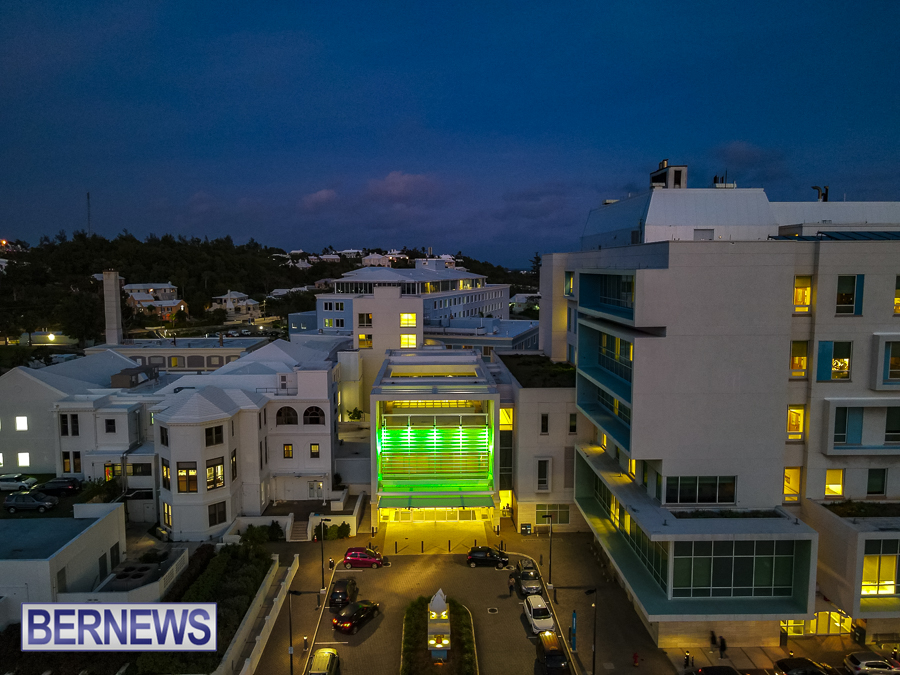 The spokesperson said, "This year's theme for mental health awareness is Make Mental Health and Wellbeing for All a Bermuda Priority."
"Making mental health and mental wellbeing a Bermuda priority is not only a matter for the island's mental health professionals," said Chief of Psychiatry Dr Anna Neilson-Williams. "We can all reflect and recognise where we may be feeling stressed or pressured, and take small steps to address our mental health, particularly considering the challenges of recent years."
Here are a few measures you can take, particularly during this season, to support your mental wellness.
1] Go outside and be with nature. Disconnect from devices.
2] Don't get caught up trying to create a perfect holiday setting or experience. Set small, meaningful goals with family or friends and connect where you can.
3] If you are feeling overwhelmed, reach out to a professional who can help. Seeking support is not a sign of weakness.
"We encourage you to contact MWI, your GP or one of the many mental health professionals available within our community if you need support," said Dr Neilson-Williams. "You are not alone."
The spokesperson said, "The green light for mental health awareness will start at dusk tomorrow, Thursday 1 December 2022.
"If you need assistance, please call the MWI Acute Community Mental Health Service at 249-3432. For serious mental health crises at any time of the day or night, call 239-1111."

Read More About