[Written by Stephen Wright]
Maria Duffy, Julia Hawley and Karen Smith will demonstrate where their triathlete offspring inherited their sporting genes from when they race in the World Triathlon Championship Series Bermuda age-group events.
The three mothers compete tomorrow, Duffy in the 70-plus and Hawley and Smith in the 50-59 age divisions, before turning their attention to supporting their children, Dame Flora Duffy, Erica Hawley and Tyler Smith, in the elite women's and men's races on Sunday.
Triathlon is very much a way of life for the three families.
Inspired by her daughter's early promise in the Tri-Kids programme, Maria Duffy took up triathlon about 20 years ago, often competing overseas, finishing nineteenth in the 60-64 age category at the ITU World Triathlon Sprint Distance Age Group Championships in London in 2013.
Erica Hawley and her mom Julia Hawley, both will be in action this weekend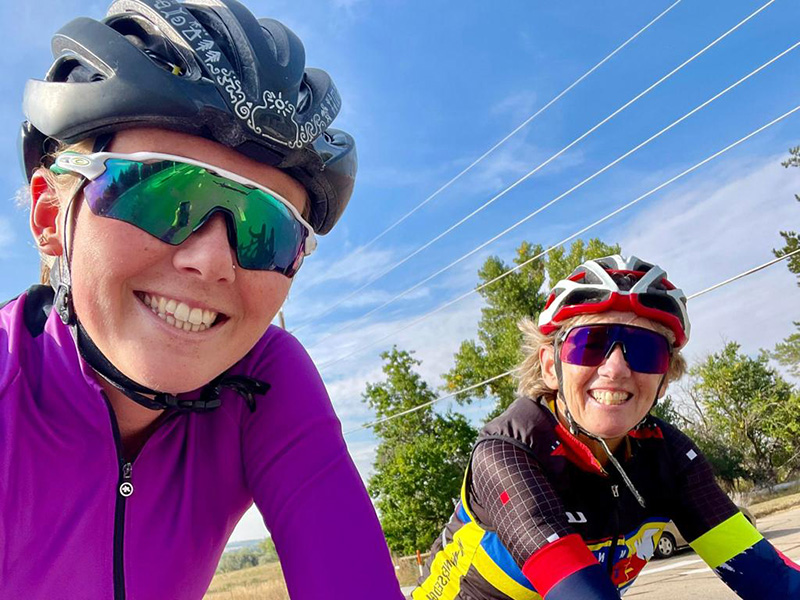 "It was actually Flora who inspired me to get into triathlon," Maria Duffy told Bernews. "It's great for your mental health, getting out there and training. It's something I still love doing. Some people stop and never come back. The key is not to quit and keep on going!"
Julia Hawley and Karen Smith, who still train together, have also delivered impressive displays internationally, having raced at multiple Ironman World Championships in Hawaii.
Smith became a world champion after winning the 45-49 age division at the world's toughest triathlon in 2014.
She finished fourth in her age category [50-54] in 2019, seventh in the same division in 2018, third [40-44] in 2010, eighth in 2009, and sixth in 2007 [35-39].
A two-time national champion, Smith also represented Bermuda at the Commonwealth Games in Manchester in 2002, finishing fifteenth, and Melbourne in 2006, placing 24th.
Karen Smith will race the day before her son Tyler Smith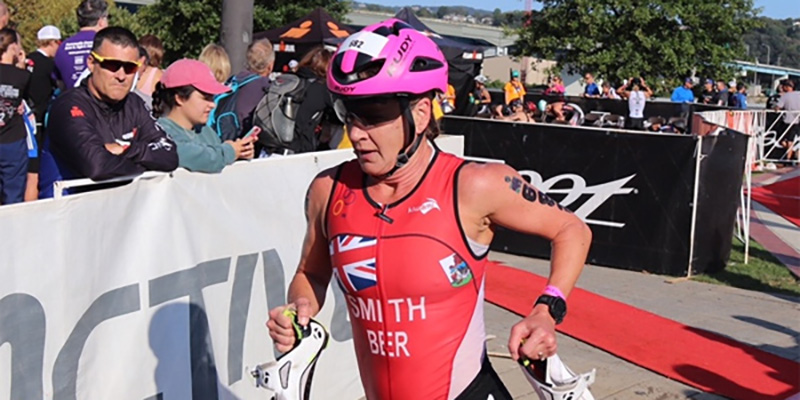 Hawley, a cyclist at the Commonwealths in Manchester and Melbourne, has also enjoyed plenty of success as a triathlete.
The 59-year-old came fourteenth in her age group [45-49] at the Ironman World Championship in 2009, 44th [50-54] in 2013, and fourth in her age division [50-54] at the Xterra World Championship, the earthier form of triathlon, in Hawaii in 2014.
Hawley believes her passion for the sport inevitably helped inspire Erica to follow in her footsteps.
"Amazingly, all three mums are competing this weekend," Hawley told Bernews.
"Maria and Karen continue to inspire me. There's no stopping Maria! I train with Karen all of the time. We went to the Ironman World Championship twice together, and the kids came along.
"It obviously influenced the children, but it's not just about being at the elite level; it's about being outdoors, doing competitions and staying healthy.
"I have some problems with my knee and feel lucky I can get through sprint distances. It's not about trying to win my age group or anything; it's about the enjoyment."
Hawley, who intends to compete for as long as possible, admits watching Erica take on the world's best triathletes this weekend will be far more nerve-shredding than racing herself.
"I do get nervous," she added. "I think it's because you know how much work they've put in. You want them to have a great race. You want that for them so badly."

Read More About