[Written by Stephen Wright]
Dame Flora Duffy believes a victory in front of her home crowd in the World Triathlon Championship Series Bermuda this weekend will set her up for a record fourth title.
She is second in the WTCS standings with 3,482 points, including wins in Hamburg and Abu Dhabi, 443 points behind overall leader Georgia Taylor-Brown, of Britain.
The Bermudian, who won titles in 2016, 2017 and 2021, said she hopes to head into the Abu Dhabi Final from November 23 to 26 in a powerful position to become world champion.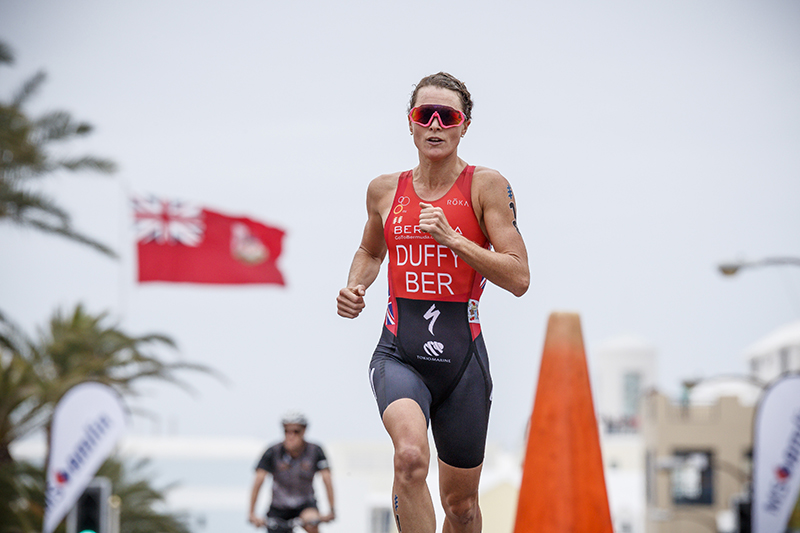 "A good race in Bermuda keeps me in the running to win the overall title in Abu Dhabi," Duffy told Bernews. "It's an important race for my chances.
"Winning the overall title wasn't my main focus this year. I wanted to go from race to race and see how things shook out towards the end of the year.
"It's been challenging, having Covid twice, especially the second time, which was the end of May when I was trying to get my season going. It's great to be in a position to challenge for my fourth title."
Duffy, racing at home for the first time as Olympic champion, demolished the rest of the field on the packed streets of Hamilton at MS Amlin World Triathlon Bermuda in 2018, the first to be held on the island. She missed the race in 2019 because of a foot injury.
The World Triathlon Bermuda in 2020 and the World Triathlon Sprint and Relay Championships last year suffered cancellations because of the Covid-19 pandemic.
"I'm just glad it's happening after the last few years of Covid and postponements," Duffy said.
"It will be great to race at home, and I hope the community comes out and supports the event.
"I have such fond memories of 2018. That was pretty unbelievable when I think about how I won the race, going off from the front.
"The atmosphere was incredible. It was crazy and such a special day.
"I hope there will be a similar magic this weekend. I know my fellow competitors are looking forward to competing in Bermuda because it's a great course and the atmosphere the crowd creates."
For the first time, Duffy will compete on the course that carries her name, Flora Duffy Hill, formerly known as Corkscrew Hill, renamed last December to honour her achievements in triathlon.
"I've had a few of my fellow competitors say they are excited to ride up Flora Duffy Hill," she said. "I'm sure that will be quite an experience for everybody!"
Duffy heads to Bermuda after an encouraging fifth-place finish in her first Ironman 70.3 Championship in St George, Utah, last Friday.
"It was a goal of mine this year to do something different," Duffy added. "I wanted to explore the distance, and I'm reasonably happy with how the race went."

Read More About