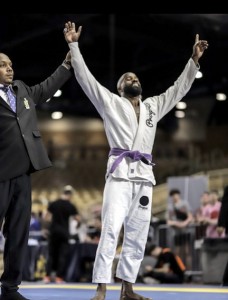 Lonnie Bascome was crowned the master 2 male purple lightweight champion at the World IBJJF Jiu-Jitsu No-Gi Championships in Anaheim, California.
Bascome — representing open mat mixed martial arts  –defeated Victor Bay to claim the title.
Bascome posted on social media, saying: "Reflecting on Worlds! In a way, all the hard training wasn't to defeat my opponents but to defeat the older versions of myself. To be better in every way. 2022 has been an exceptional year for me. Winning Pans Gold and Worlds Gold.
"None of this could be possible if I didn't have my family of ever-growing quality training partners at Bermuda's top Brazilian Jiu-Jitsu Academy Open Mat Bermuda to push me, Chris Regan to guide and coach me, and definitely Reina Maypa to strengthen and condition me.
"This year is redemption for me in so many ways, on and off the mats…those who know…know! I love you all who have wished me well on this jiu-jitsu journey and I can't thank you enough for supporting me. This is to me, the definition of progress."

Read More About