The 2023 Carnival in Bermuda will be held from June 16 – 19, and the organisers said they are working hard to make it "another epic experience."
A spokesperson said, "This year, after a two year hiatus, the Bermuda Mas Bands Association [BMBA] and carnival stakeholders were able to facilitate and reintroduce the return of the fetes you love and take revellers on a new and extended carnival route, through the streets of Pembroke, Bermuda.
"The Association and the associated committees have started 2023 planning and are continuously focused on moving Carnival in Bermuda into an amazing and innovative direction. We remain dedicated to improving the quality of the product, and ensuring that locals and international visitors alike enjoy every moment of the Carnival in Bermuda experience.
"Carnival in Bermuda will kick off in 2023 with Launch Season in January and February. Each band will present their themes and costumes for the upcoming season, with the main events taking place during the National Heroes Holiday weekend [June 16 – 19, 2023].
"We are pleased to announce that the events that that have become staples within Bermuda's carnival weekend have all been confirmed. Additionally, Party People Entertainment, Nova Mas International and Code Red Bermuda will all be back on the road! Keep your eyes and ears peeled for more details.
"It's time to spread the word, start getting your costume down payments ready, and telling your international friends to secure their flights. With the country now being completely open and the Travel Authorization coming to an end [being replaced with the digital Bermuda Arrival Card], getting to our beautiful island is now easier than ever.
"There will be ample sponsorship opportunities available for businesses and organizations. If interested please contact us via email [info@carnivalinbermuda.com] to discuss all the ways that you can get involved.
"Looking forward to taking this journey with all of you as we work together to make 2023 Carnival In Bermuda another epic experience!"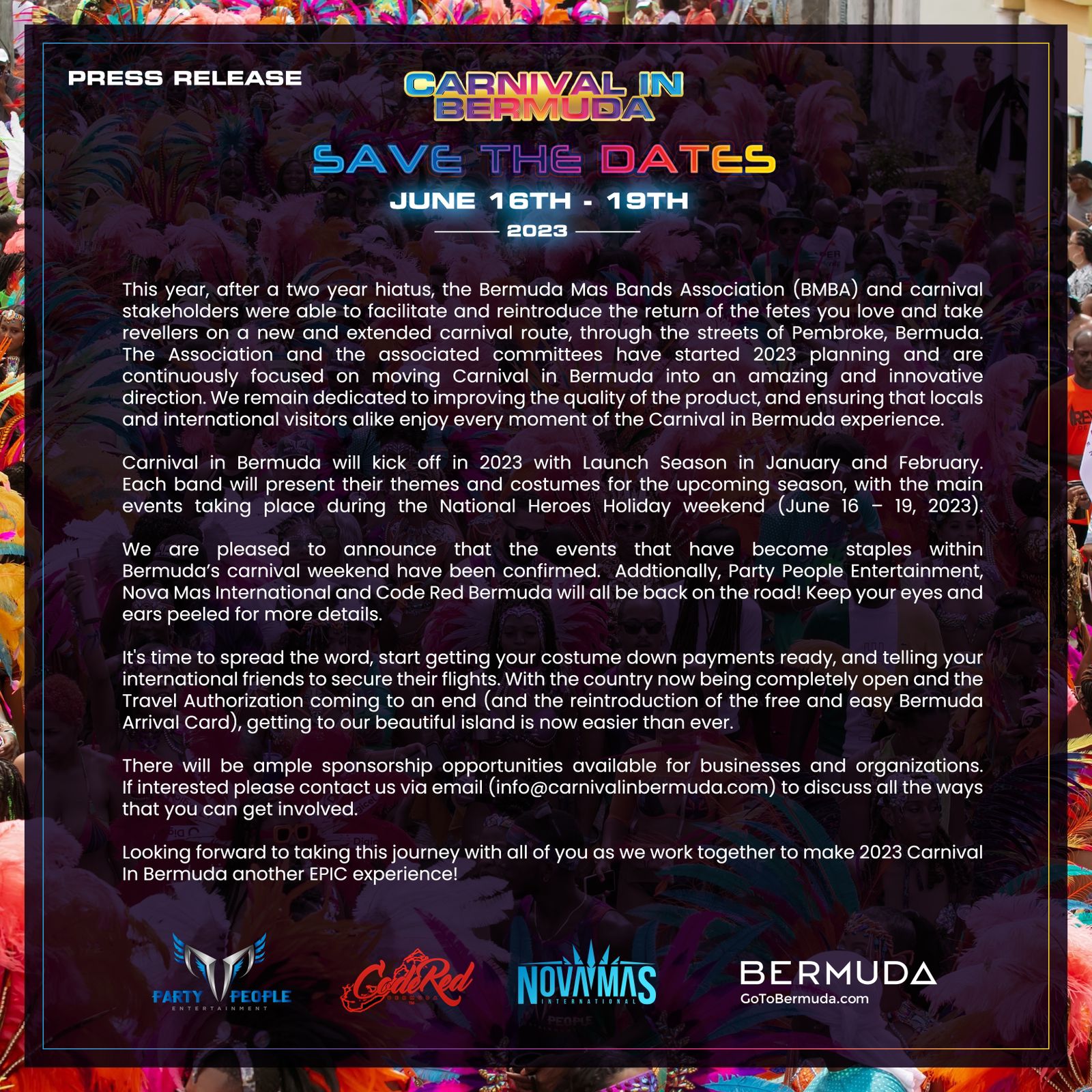 Read More About
Category: All, Entertainment, News