[Written by Stephen Wright]
A local clothing and apparel company is helping to provide funds for a scholarship in collaboration with the family of the late Osagi Bascome in memory of the Bermuda footballer.
OnTrack Bermuda has launched a range of colourful socks carrying the name of Bascome, who died after being stabbed in St David's last December. He was aged 23.
Part proceeds will go towards establishing the scholarship in his honour.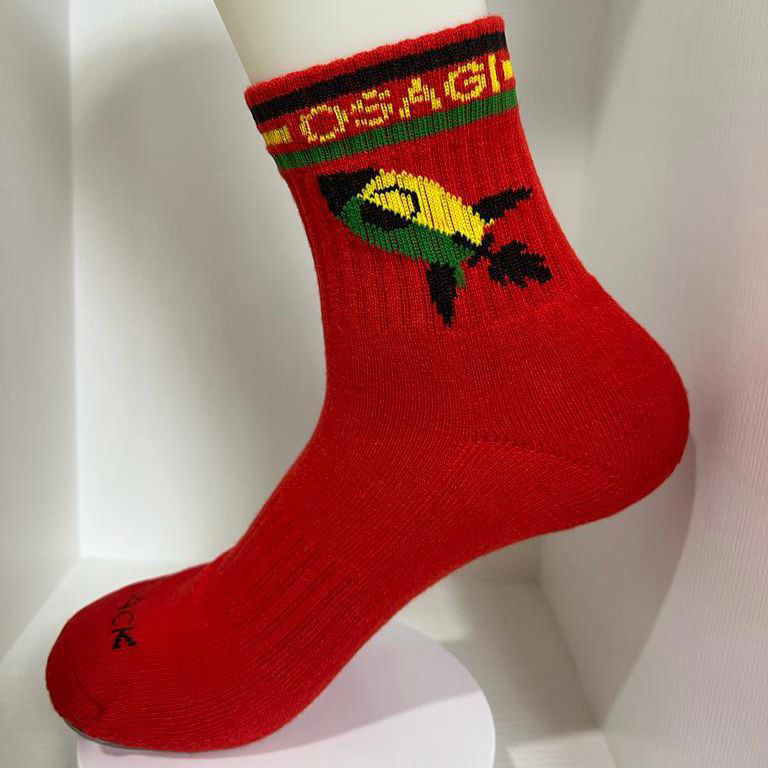 The midfielder was part of the Bermuda squad that made history by qualifying for the Concacaf Gold Cup in 2019, starting all three group matches at the tournament. He also played professionally for English non-league side Darlington.
Roger Lee, the OnTrack spokesman and a former Bermuda team-mate of Bascome, said the idea for the scholarship transpired after a family member of Bascome made a special request for socks to be designed, and produced for their personal use.
"The number of socks they wanted to order was drastically lower than our minimum order amount to work with our distributor," Lee told Bernews. "We received the approval from Osagi's family to proceed with producing a high quantity [of socks].
"With Osagi being like a little brother and a Bermuda team-mate, I felt I wouldn't want to use his name and reputation as a benefit to OnTrack, so I decided to give a percentage of the profit to his family to assist in establishing a scholarship in Osagi's name.
"We would like to thank the community for supporting this initiative and encourage everyone to assist in keeping the Osagi Bascome legacy alive."
A statement from the Bascome family, who will set the requirements for the scholarship, read: "Osagi Bascome was the fourth of five sons born to Herbie and Carla Bascome.
"A fearless and courageous young man, his trailblazing nature was evident throughout his childhood. Osagi was a natural leader. He had an infectious positive vibe and selflessly always encouraged others.
"He created his opportunities, and this independence landed him trials with professional teams. His steely determination to succeed was always evident, and Osagi's technical capabilities and ball awareness were superior.
"We hope that Osagi's legacy will continue not only through his family, but also that his indelible memory will be honoured by the scholarship.
"The family hopes the recipients of this award will share Osagi's passion, dedication, courage and positive vibe and that they will use any opportunities they may have to play it forward to others in need."
For more information or to purchase the socks, which are offered in a range of different colours, please visit shop.ontrackbda.com.
Read More About